How to make slime without borax and learning the basics of slime making. Go below to understand more how to make slime for all sorts of sensory science play.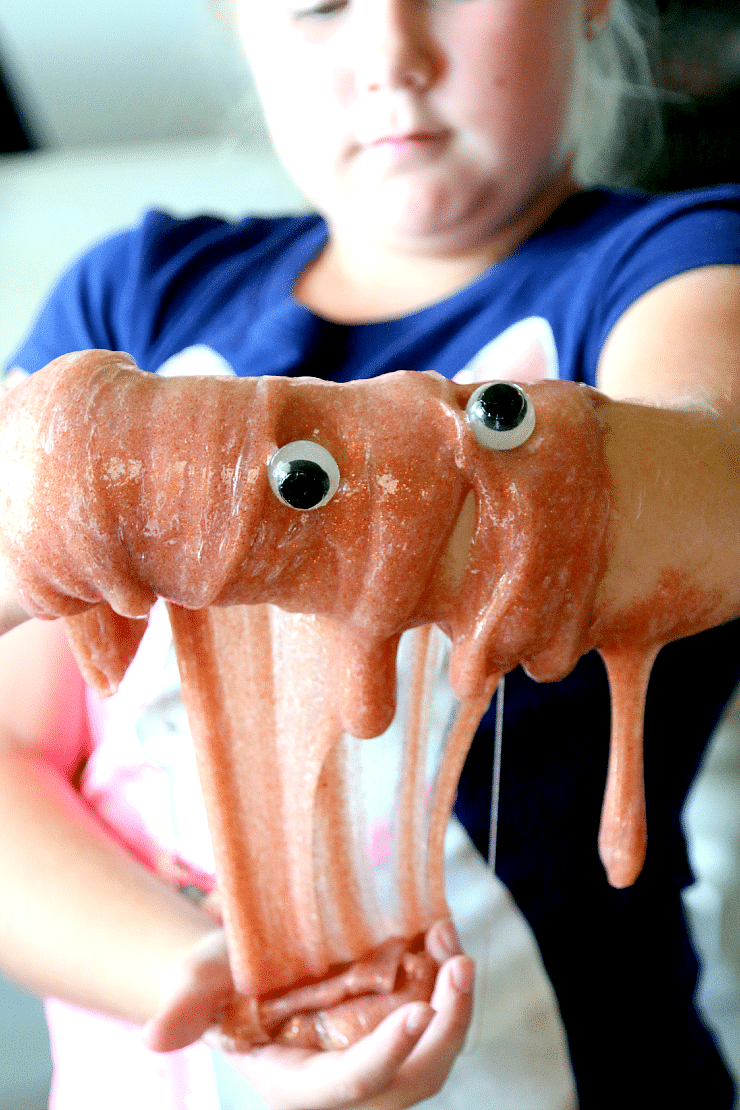 We are slime novices. Oh, sure, we make big huge messes. I actually LOVE big huge messes and am one of those rare parents that do not cringe (too badly) when my kids go nuts in the kitchen. And while we do tons of soap projects, play dough and hand print painting, we have yet to dive into the world of slime.
Until yesterday that is.
Like most people, I fully understand how slime works and the basics. You need glue
and starch
. Basically a sliming agent and a sticky agent. Plus if you want to make it pretty, lots of glitter or paint or food coloring and some other themed items to make it fun. No matter what you prefer to have inside your slime or what color you want to make your slime, you first need to put it together. In the interest of science, we decided to "wing it" and I hope you do as well.
The reason we loved that part was that it was pretty entertaining and a lot educational to understand what ingredient did what while mixing the recipe. Also please note that working with starch
(even for crafting) and working with glue is not for little kids that still put these items in their mouths. This is not an "eat safe" slime so this is best for older kids that understand you can't eat everything you can touch.
Slime without Borax
Purex Sta-Flo Liquid Starch, 64 Ounce
PRO TIP: Many people do not like to deal with borax and water when making slime. You can also make slime by using LIQUID STARCH and glue. It's a ton easier. Just mix about 1tsp in 4 oz of glue and add starch little by little until you get the slime consistency you want. Once it's set, then separate the white slime and dye the colors you want in solo cups.
It can be pretty hard to find liquid starch, so pick this one up here (it's the one I use) as well as a huge thing of glue so you can make tons of slime for all occasions. Buying this way is a lot more cost effective and once you start making slime, you will def want to have glue on hand!
&
Purex Sta-Flo Liquid Starch, 64 Ounce
Elmer's School Glue, Washable, 1 Gallon
Slime Recipe without Borax
Ingredients: 
Directions: At first, to create our slime recipe, we dumped our big bottle of glitter glue into a glass bowl. Then, because we need far more slime than that, we added a full bottle of clear glue
as well. We then added about 2 tablespoons of liquid starch.
It was gooey. Super gooey. Not really play slime but more like runny, gross, snotty slime.
SUPER OOEY GOOEY SLIME RECIPE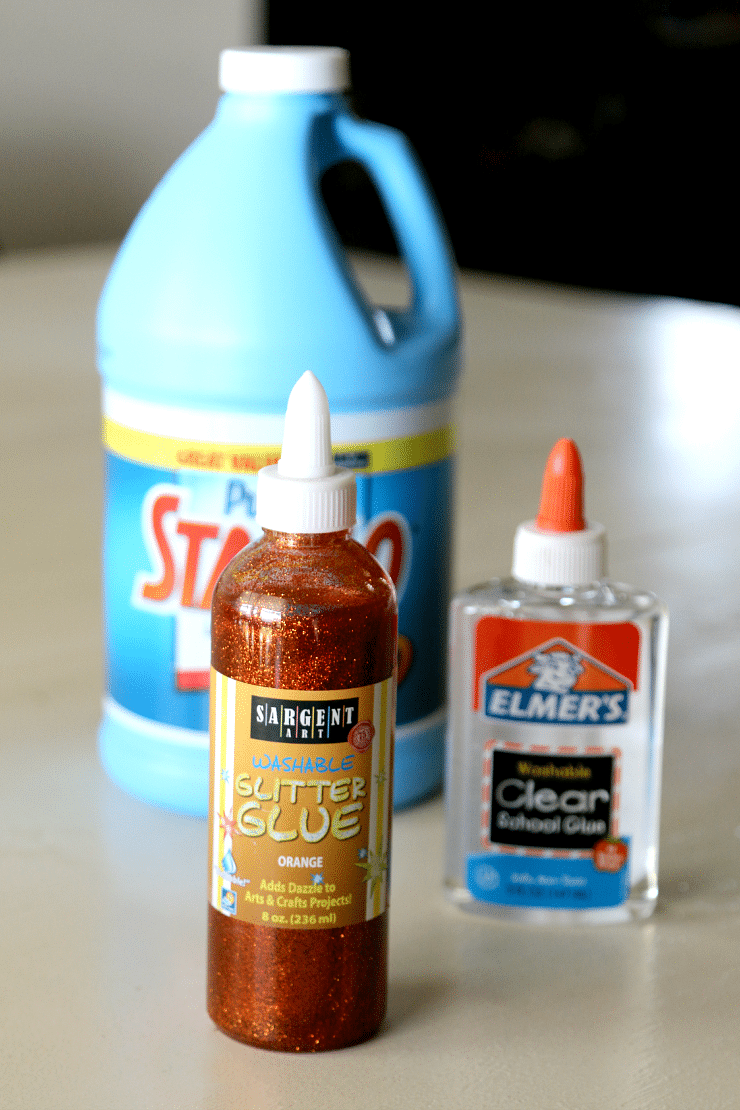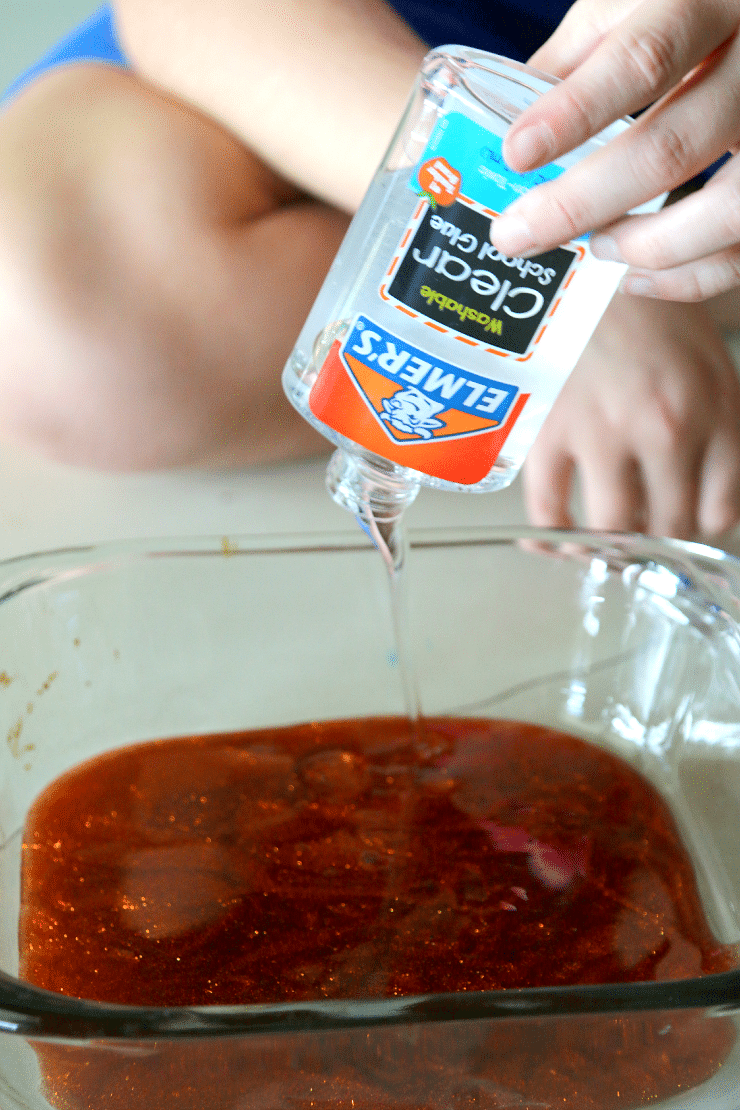 Slime Fails
And while you could play with our creation, it was far too messy and drippy to be any use OUTSIDE of the bowl. So we scrapped off the slime from our hands and put in a lot more starch, about 1/3rd cup. Then it really started to take shape! I might have over done it a bit and we poured a tiny bit out, but overall when it comes to starch, you do not have to be stingy. If you add too much just even it out with some glue till you find the consistency you want.
When our slime did this, we found our slime happy place.
And because it's Halloween, we also added some crazy sticky eyes that we found at Hobby Lobby. They don't stay stuck to it for long, but t hey are fun to push and pull inside the slime. Other ideas are to add pompoms, spiders, bats, glitter, or confetti pieces!
This absolutely won't be the last of the slime on this blog or the last of testing out new ways to produce it. If you have a surefire way you love to create your own, please feel free to tell me in the comments. For now, share and save our HALLOWEEN SLIME recipe on Pinterest for later!
Happy Halloween!
Trisha
Try other Slime!