Slime is everywhere these days!  This sticky, gooey stuff irresistible to kids and adults alike – you'll want to be sure to make a batch for yourself to avoid fights with the kids.  As you search for great slime recipes, you'll find many of them include Borax, a controversial product that many people use for laundry or disinfecting. Personally I do not use it because it yields far too unpredictable results when it comes to making slime. Its very easy to end up with your slime hard as a rock.  Some parents are skeptical about using Borax in kids' slime, but you can still make slime with other readily available ingredients.
---
SLIME BOOK AVAILABLE!!
Love the Slime Recipes on MomDot? Our first book has been published and you can pick up a copy right on Amazon for yourself or to gift to a slime fan in your house! It features not only some fun basic slime recipes and how to get started on creating your own, but also some ways to use slime for holidays and gifts! Check out the book here! 
---
Here are three NON-BORAX unique slime versions to try.
Fantastic slime recipes that don't use Borax!
Cornstarch slime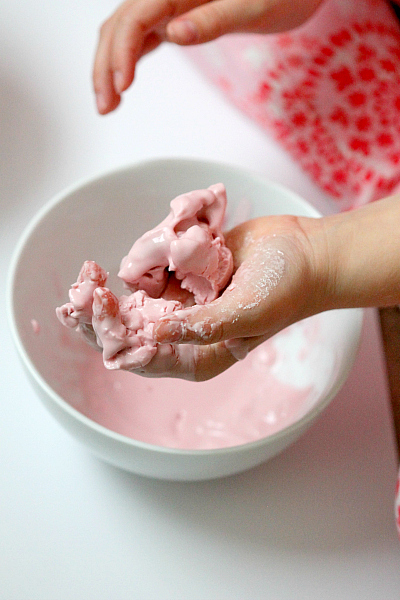 Cornstarch slime is one of the easiest recipes to make, and you can throw it together with ingredients you probably have in your cupboard already.  To make, you simply need to combine cornstarch and water in a 2 to 1 ratio.  So, for example, combine two cups of cornstarch with one cup of water.  Add food coloring to spice things up.
This slime isn't so much solid but functions as both a solid and a liquid at the same time – you'll need to play with this one in a tub or container to contain the mess.  When finished, this can store for a day or two, but you'll probably just want to toss and make a new batch when play is finished. In my house we call it "quicksand".
Liquid starch slime
This is the kind of homemade slime that momdot makes! It yields a slime that is more like what you might picture in your head – gooey, sticky, and stretchy.  The more you work with it, the more fantastic the texture becomes.
You can get full instructions by vising one of the great slimes available here on MomDot.
If you are going to work on making liquid starch slime, you will absolutely need a gallon of glue and liquid starch.
---
No Borax Slime 
Purex Sta-Flo Liquid Starch, 64 Ounce
PRO TIP: Many people do not like to deal with borax and water when making slime- I know I don't. You can make slime by using LIQUID STARCH and glue. It's a ton easier.
That being said, it can be pretty hard to find liquid starch, so pick this one up here (it's the one I use) as well as a huge thing of glue so you can make tons of slime for all occasions. Buying this way is a lot more cost effective and once you start making slime, you will def want to have glue on hand!
When it comes to the gallon size glue, if this one is out, go to the "Available by these sellers". Due to the popularity of many of MomDots recipes, stock seems to come and go on this item. If you see one, grab it! Its IMPOSSIBLE to find gallon glue in the stores!
&
Purex Sta-Flo Liquid Starch, 64 Ounce
Elmer's School Glue, Washable, 1 Gallon
---
---
See how multi-colored slime is made here! I made this super short video to show you how to make slime and see some of the stages! Check it out~
---
Heat sensitive color-changing slime
After you've mixed up some liquid starch slime, you're ready to take your recipe to the next level.  By adding thermochromatic pigment, which is easily available online, and adjusting the ratios of the other ingredients, you'll create a sturdier slime that changes colors in response to temperature.  So awesome.  Start by deciding what color combination you'd like for your slime.  The color of the pigment you choose is the color of the slime when cold or at room temperature.  Choose a contrasting color of food coloring that the slime will be when hot.
Thermochromatic Pigment – Purple to Red Transition (20g)
Temperature Activated Thermochromic Bi-Color Powder Pigment BLACK to
20g of Thermochromic Temperature Activated Pigment – Multiple
Red Thermochromic Pigment – Changes From Red to
Mix a ¼ cup of white school glue and one tablespoon of water and stir well to combine.  Next, add five drops of food coloring and stir.  Add three teaspoons of the thermochromatic pigment until well blended.  Add 1/8 a cup of liquid starch and stir until one ball forms.  Then, turn the slime out and knead thoroughly so be sure all the ingredients are well combined.  If your slime is sticky, you can add more starch and knead until it isn't sticky anymore.  Store in an airtight container for up to a month.
If you want to learn more, including videos on how to make the perfect slime, make sure you go to the slime vault before you go.