I have been sitting on this idea for the past week because I was pretty sure it was so simple that no one would really care….but here it goes. Maybe someone out there, some foodie, someone doing a Valentines Day party…someone….may find it helpful.
Simple Food (Cupcake!) Toppers
The past two weeks Phoenyx and I have been playing with a lot of food coloring dye.
We have made Shaving Cream Paint and Sensory Play dough. As you can see in the following pictures, my nails are permanently dyed at this point. In any case at some point throughout that play I had toothpicks on the counter and a "AHA!" moment struck me.
I may be artsy but I am no baker. Anything I can do to decorate food is a win. Honestly, it distracts you from the terrible frosting job I probably did.
I am sure there is someone out there that feels me on that.
So here is a great way to dye toothpicks to pretty colors and then decorate for any food, dessert, or appetizer that needs something festive!
How to Dye Toothpicks
toothpicks
food coloring
water

To dye toothpicks all you have to do is squirt a little food coloring dye into a bowl of water and mix. Then toss in your toothpicks. I tested this out with vinegar AND water and it did not make a difference in the how well the dye took. Your best bet is to let these soak overnight to get the maximum amount of color on the toothpicks.
After they were the color I wanted, I took them out and let them dry on parchment paper.
Pretty, right?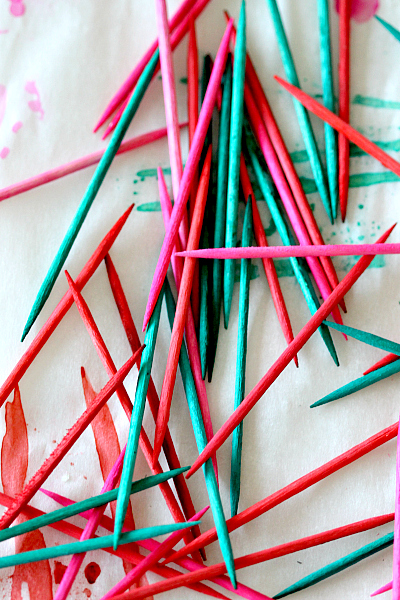 They are fine to use at this point. You can use your colored toothpicks for cheese, meats, olives or whatever you want to dress up! Or you an also take it one step further and add little decor at the top to make the perfect dessert or cupcake topper!
I had these Valentines Day Styrofoam balls laying around (literally…..all over the entire house) that I picked up from the craft store. They slid perfectly on the toothpicks and held solid.
I also punched out some hearts and attached them. The possibilities are endless!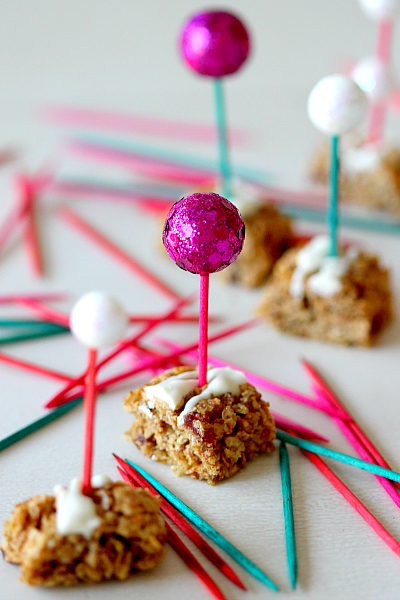 Easy…and even the biggest novice in cooking or crafting can pull it off. I hope this inspires you to do something fun for your next party. Ready to see more inspirational ideas? Head over and check out my idea on how to display ketchup at your next picnic (the kids will love it!).
Trisha
Do you love Valentines Day Crafting as much as we do?

We have great full picture and DIY tutorials (denoted with a

) or you can check out some of our amazing blog resources for tutorials from other talented bloggers!