Hurricane season runs from June through November. Now is the time to get your hurricane prep stuff together. Flashlights, non-perishable, food, water, medicine, clothing, and more that may not have crossed your mind.
While hurricanes often give warnings days in advance, if you live in a hurricane-prone area like I do, you know that getting to the store for emergency supplies, water, and life-saving medicines can be overwhelming and exhausting.
Even day-to-day activities like filling up your gas tank and taking out cash can often take hours. And even worse, standing in your house and not sure what to pack or where to start when faced with an evacuation creates extreme anxiety.
Hurricane Supply List
I have created a hurricane preparation checklist that helps remind you of important essentials that you need to grab prior to leaving your home or even if you are hunkering down in place.
This list is not all-encompassing, meaning that you may need extra items, not on this list, but it does provide a great jumping-off point to making sure you have the items you need when the shelves go empty.
Either hit the printable link or hit the image to begin your instant download.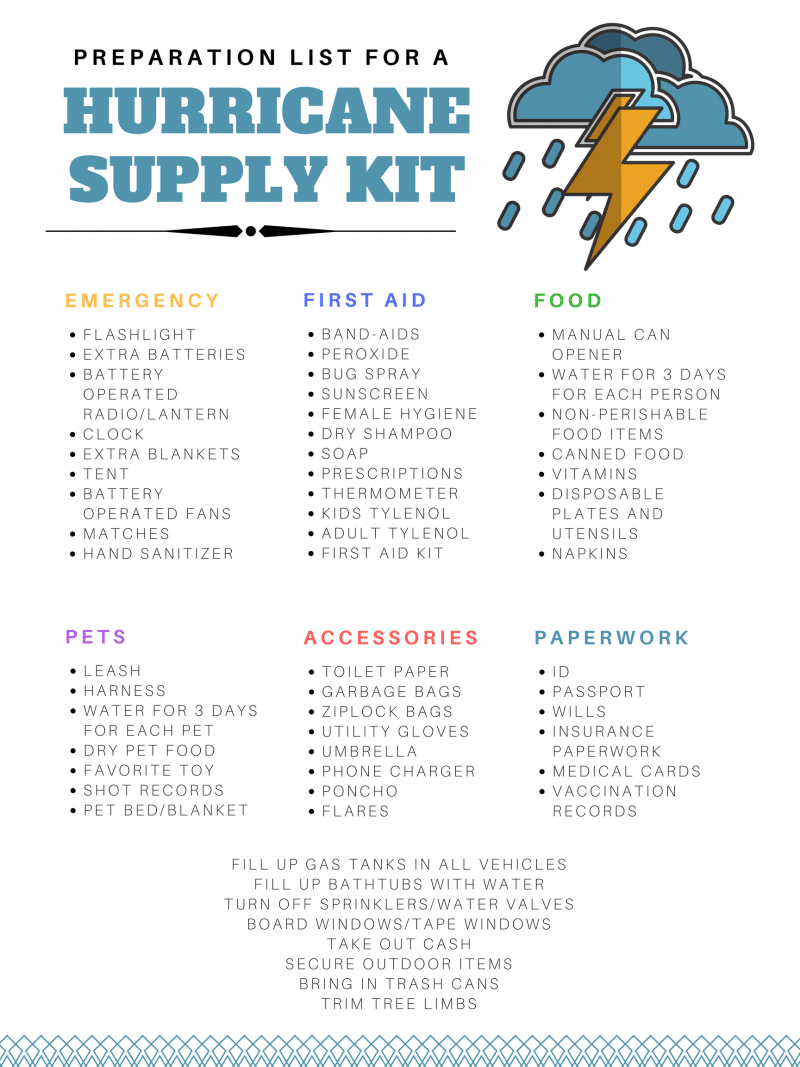 Emergency Phone Number Printable
Additionally, I have provided a secondary printable to include emergency medical numbers and insurance information, which can come in handy when faced with damage or medical needs.
This two sheet hurricane preparation guide is a free printable and can easily and quickly be downloaded and used. While it may not be distributed online, you may use it for personal use. Please message me for all other uses.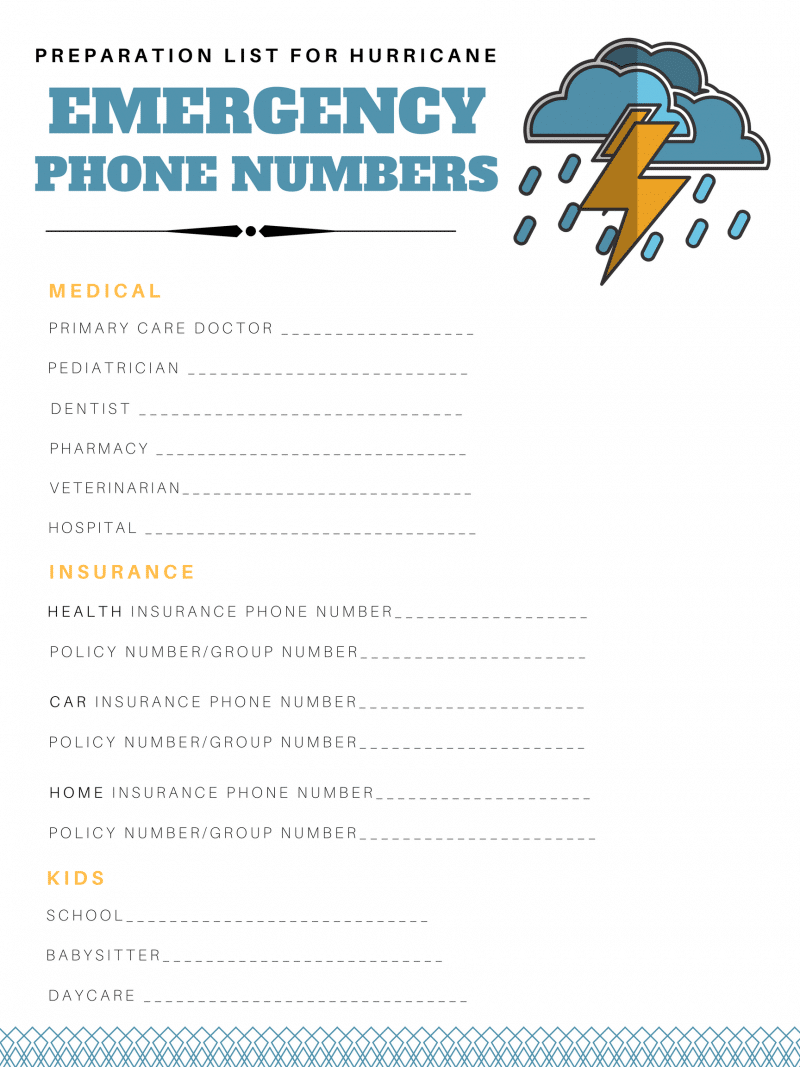 ---
Hurricane Preparedness List
Start preparing now with your Hurricane Prep List! I always find the closer we are to a hurricane, the harder it is to get supplies.
Here is a list of some of the items you may want to purchase and keep in your home. I prefer to use Amazon as it's easy to order and get quickly.
To build yourself a hurricane supply kit, simply add these items to a large Tupperware container, secure the lid, and store them. It's easy to get out quickly when you can simply grab your box of supplies and go.
Refer to your printable sheet to add to your purchased supplies.
---
HOW TO PRINT A PRINTABLE PAGE
People ask me all the time the best way to print a printable or coloring sheet. Simply download the sheet and send it to your printer.
Tips:
RULES ON MomDot PRINTABLES
The printables on MomDot are free of charge and I hope you find them helpful, however, I do ask that you do not link directly to the PDF file, resell, or use it commercially.
This is a violation of the terms of the graphics. You may use it for personal use (parties, classrooms, home school, church) as desired.  Love these printables? Try my printable category for more fun!
---
FAQs on Hurricane Preparedness
Q: What floor is safest in a hurricane?
A: Stay on the lowest floor in your home, away from doors, windows, and skylights. You can buffer your safe area with bedding to help protect yourself and stay warm.
Q: Why should I fill my bathtub with water during a storm?
A: Even if your building or home isn't damaged by the hurricane, you'll probably experience a power outage and possibly a water outage. The water in your bathtub can be used to flush toilets while the water isn't running so you have a sanitary living environment.
Q: What should you not do during a hurricane?
A: Never go outside to see or feel the storm, even as it subsides. Weakened trees, limbs, and power poles may yet fall over – causing injury or death. Don't ever run your generator indoors – this will cause carbon monoxide buildup and kill the family.
Don't cook on a camp stove indoors, even if the power is out. This will also build up deadly carbon monoxide. Don't choose to "ride it out" after authorities have mandated evacuations. You run the risk of needing a rescue when there is no one available to help you.