Chris called me the other day and said he saw an OTC boy/girl gender test by Intelligender at the store. After some research and chatting with others online, it appeared that the test was approximate "80%" accurate and could be taken, get this, anytime after 6 weeks. I figured since you have a 50/50 shot at guessing right anyway, the statistics didn't overwhelm me.
I mean how accurate is the intelligender test?
However, because we are a sucker and it was a novelty item of fun, we decided to see if we are having a boy or a girl and test out this over the counter gender test.
So last night we were out for our Valentines dinner and on the way home stopped at Rite Aid and bought a test. This morning I go to take it and open it up and someone had stolen the entire testing unit out of it. Really, who the hell does that? Is the maybe gender of your child worth STEALING a $30 cup out of a gender kit?
Having to pee but not ready to be defeated, I ran back up to the store and they had one more kit. I opened it this time and it had the proper parts, so I took it home.
Here is everything you should have in the over the counter Boy or Girl Gender Testing kit… a cup, a syringe, and a test strip cup that has chemicals loose on the inside.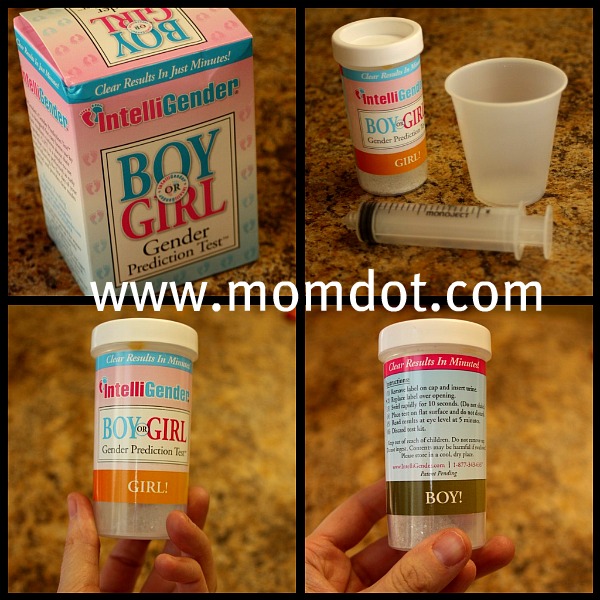 Now you may be asking yourself, do over the counter gender tests work? I mean can you actually use an over the counter test to determine gender of baby?? Let's find out!
How to use the OTC Gender Test
Step 1:
Pee in a cup. Yum. Then have your husband (he he) add the pee in the cup via the syringe. It has an open hole on the top and a sticker to seal and then swirl.
Step 2:
Once the pee is inside, you have to swirl and sit down. The chemicals inside start to react. You have to wait 5 full minutes for the chemicals to stop bubbling and the color to be prevalent. You cannot read the test past 8 minutes or it can become invalid.
Unchanged, orange, or yellow indicates girl.
Green, dark green, or grayish green indicates boy.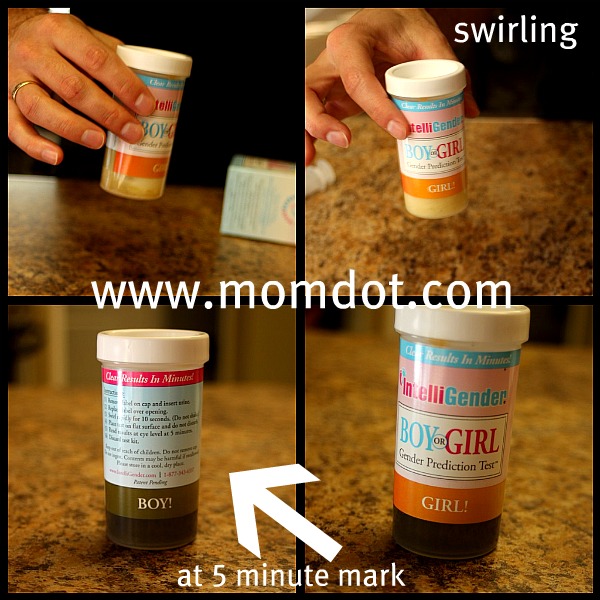 Intelligender Accuracy? According to this test….its a boy. Ill update when I see a real dr.
Charlotte cried.
~trisha
 UPDATE: WE HAD A BOY! Here is is, its been 3 years since I wrote this post and from that up there to this down here!