October is kicking off and it's time to start collecting the pass out candy. I don't know about you but it takes me like 3 weeks to gather enough for all the kids in our neighborhood and somehow spreading it out makes it easier on the pocket book. No matter the cost, however, Halloween remains one of my very favorite holidays. With all the pumpkins, costumes, and pure fall, it puts me in a great mood. Which is why I wanted to bring back some of the old school fun for this generation with this Lollipop Ghost Craft.
I am sure you can remember Lollipop ghosts. I always had a tootsie pop or blow pop wrapped up in one in my bucket and they were so cute. They are also surprisingly easy to do and you can whip out a whole bucket full quite easily. And because this craft requires very little skill, it's also a fun one for kids to help out with as well if they are building up treats for a classroom. I was reminded about them when I saw the Lolly Pop Ghosts on Pinterest by One Little Project and couldn't wait to share this simple and old school craft with our audience !
Lollipop Ghost Craft
To get started you need some mini Tootsie lollipops. They are not something you can get year round in all places, but you can on Amazon market place. I grab a few packs there to make this super easy. I cannot stand to have to drive around and find ingredients, so I order and done! Check out these prices:
You will need
Tissue paper (some people use Kleenex but I find that far too expensive to use)
Mini rubber bands (you could use twist ties, zip ties, string or pipe cleaners in a pinch)
Googly eyes OR a marker for eyes
optional: String around neck
Now this can be as basic or as interesting as you want. Simply cut the tissue paper into squares, fold in half (I used mini pops here, if you are using full size you will likely need to double the paper instead of folding in half to avoid seeing the wrapper through the ghost) and wrap your sucker inside
Secure with a loom band (Every parent has like 900 of those around the house, am I right?). You could also use a pipe cleaner, string, pretty much anything at all that can wrap around the sucker.
Once your lollipop ghost is formed, you can easily add on eyeballs, string for a bow or any other decoration you want to make these ultra cute.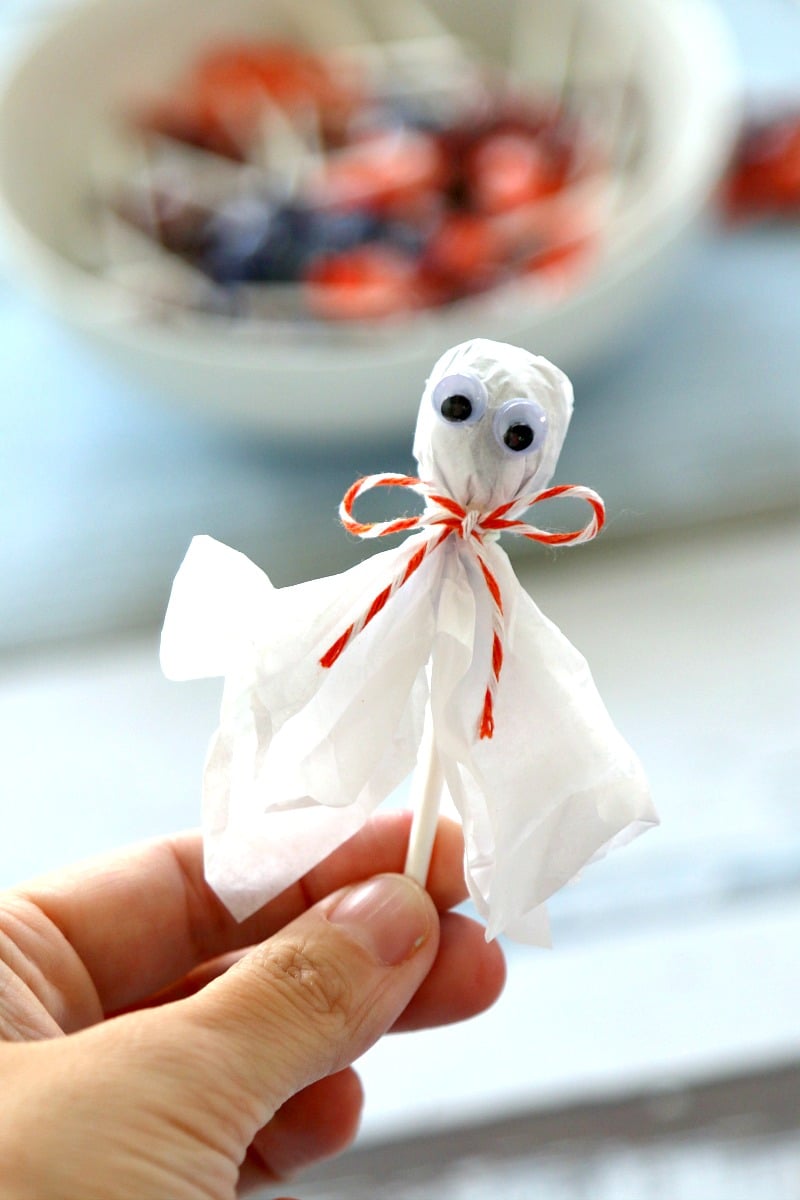 Love the ghosts? Try Lollipop Monsters and mix it up!