This post in Partnership with Beneful
When it comes to the holidays, we are always talking about food and travel. Both of those things are awesome and we do a lot of them around here from October through New Years. But one thing we all fail to really talk about is our pets during this time. I know that our dog, Jedi, gets really spastic and even frightened when it comes to us leaving all the time for shopping, our schedules being out of whack and of course taking him out of town (or having a dog sitter!). One thing we want to make sure of while traveling with him is to keep some of his most familiar things normal. That means a blankie he loves, his bed, his familiar toy, and his own dog food. This year as we head to my in-laws for Christmas, I'll be bringing his Beneful sealed tightly in a mason jar to keep it fresh.
And to keep it festive, I wanted to show a great way to store your own dog food, in a gorgeous glitter mason jar. Whether it be due to travel or gifting (after all, your dog and mine would both love his favorite food under the tree), a mason jar is a great way to store (and keep from spilling) those delicious crunchies.
Let's get started!
Holiday Mason Jar Tutorial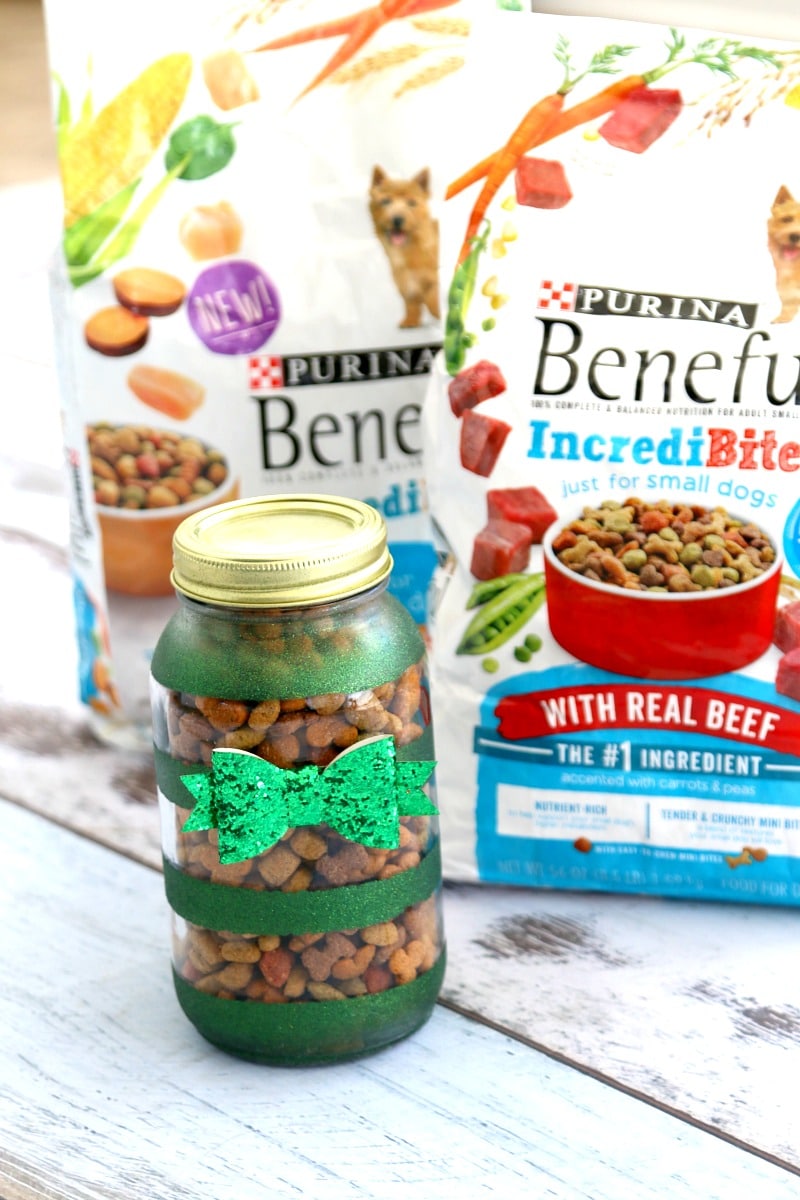 You need
Ball Pint Regular Mouth Jars and Lids
Ball Half Pint Regular Mouth Jars and
If you are looking to create glitter stripes on your jar, put your masking tape all around the jar, end to end. For the purposes of this demonstration, I only wrapped half of the jar to show you. However, if you are doing this for your own gifting or dog food travel, I would suggest wrapping all the way around. Press tightly against the jar so there are no loose seams or bubbles.
Now spray the jar, slowly and in a steady stream, and be careful not to soak the jar too much or the paint will run. I learned that when I first did the jar and it's best to do it in coats.
Let jar dry complete and then peel the masking tape off.
Note that glitter will not have a perfect neat line as its…glitter. Once you fill with your dog food, it will look fantastic.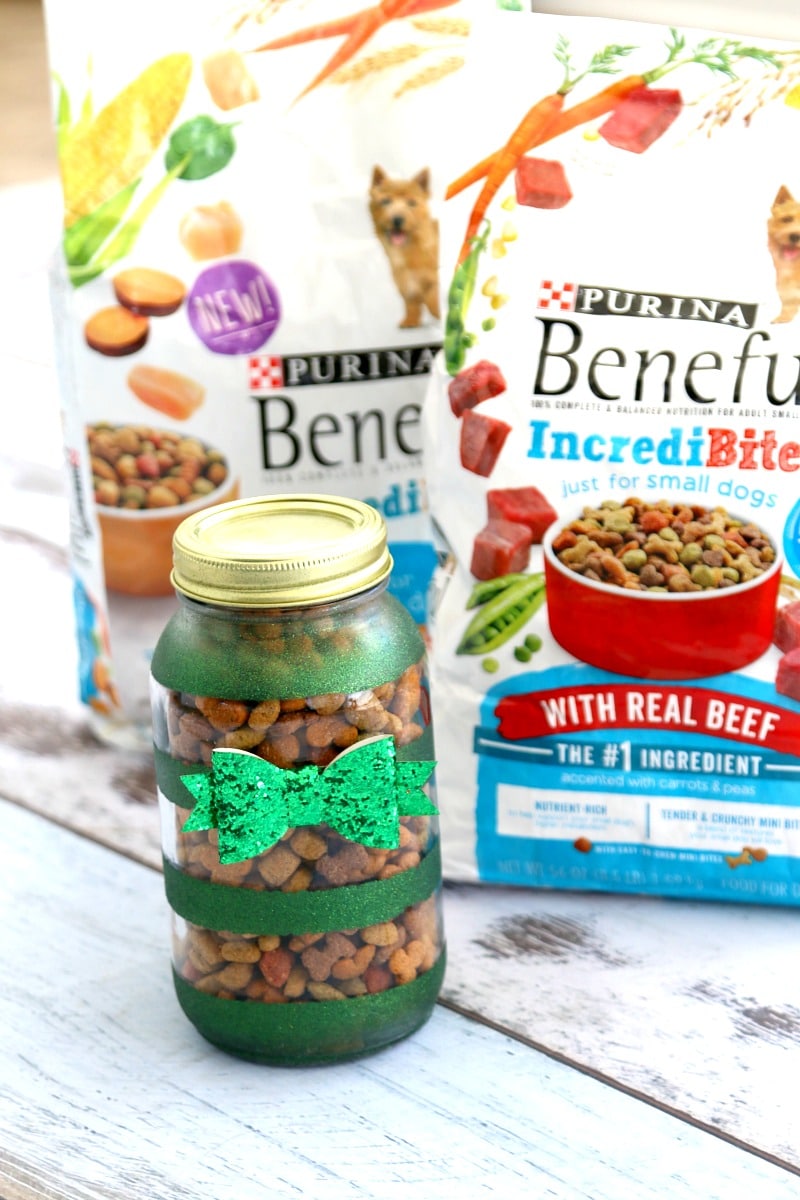 Dogs Love Beneful
As a Beneful Ambassador and the mom of 7 Pets, I proudly recommend the Beneful product. Beneful also has a fantastic new formula that dogs love! If you have yet to learn about it, I wrote it about it here on the Beneful 7 day Challenge. My article will show you the exact way you can transfer your dog safely to a new formula with very little impact on him.
Changes you can expect
Beneful knows that pet families want to make sure that beef is the #1 ingredient in their dog food- this is in both chicken and beef dry food flavors
No added sugar
What will never change about the great taste of Beneful:
Accents of real veggies
22g of protein in each cup
100% balanced nutrition for your dog
Dogs love it
You can learn more on the Beneful website, Facebook, or Twitter!
Ball Pint Regular Mouth Jars and Lids
Ball Half Pint Regular Mouth Jars and