Earlier I was sharing with you our fun kids Baking Soda Science Activity which was inspired by Jens 10 Baking Soda Science Experiments here. We had so much fun making those colored paper plates that we could not resist continuing on with our fun a little big longer in the kitchen.
So long, in fact, that I went through FOUR bottles of vinegar and 2 large baking soda boxes in the process. I think had I had a BUCKET of vinegar the kids would have been totally in. Maybe that's a summer activity.
On with the show!
Mini Colored Kitchen Volcanoes
Step by Step easy picture tutorial for kids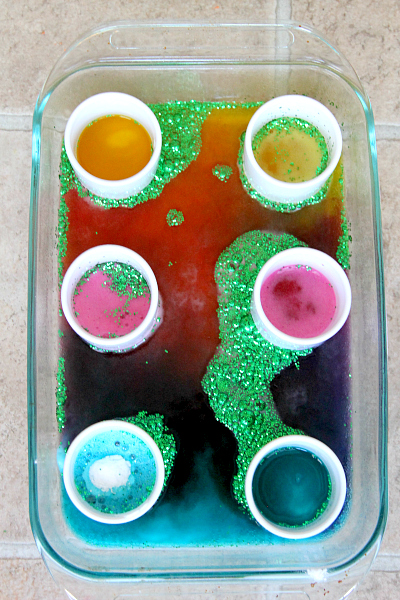 ---
ARM & HAMMER Baking Soda, 13.5 Pound
GET THIS FIRST!
Before you get started, you will need a few things! I have listed them all below but specifically wanted to note that you need tons of baking soda and vinegar. The stores typically only have smaller or medium sized boxes of baking soda and this is SO fun your kids will want to play a lot! Do not run out of baking soda by picking up this bag! I use my baking soda bag to also make bath bombs, bath fizzes, and all things fun when it comes to baking soda. Its so worth it to have on hand! Plus, with it being on amazon, you can have it here in 2 days!
---
Additionally, for this experiment, you need to set up glasses of vinegar
to be the base for your volcano. I had mini glasses for desserts that I used but if you don't have those, just take some paper cups and cut them in half.  Sit your cups of vinegar in a large glass dish or on a cookie sheet to catch the "lava".  Add a few drops of food coloring to each cup and stir. As you can see, we also added some glitter
.
Why?
Cause everything is better with glitter.

Now the easy part. Take a scoop of baking soda
and drop right into your cups of vinegar and watch the lava happen! I did the first one and once the kids saw the reaction they were all "I've got this mom, now move!"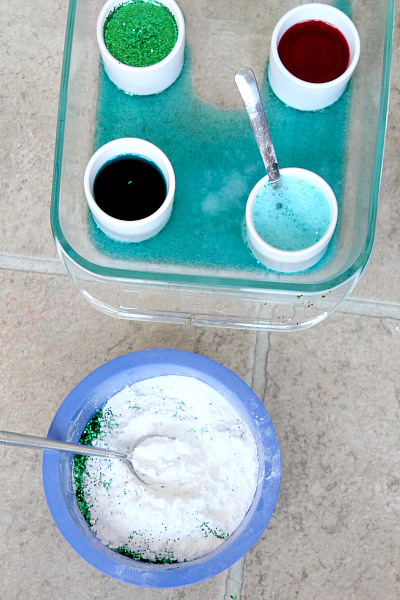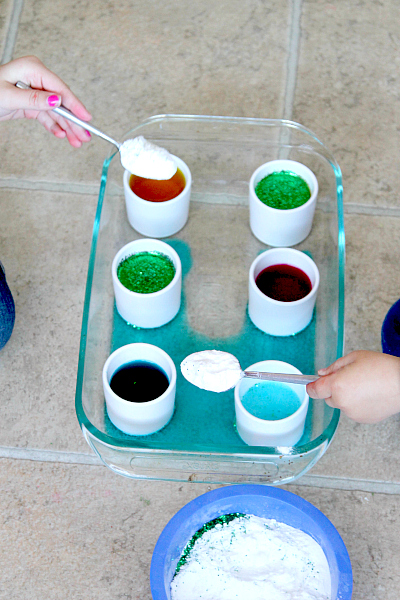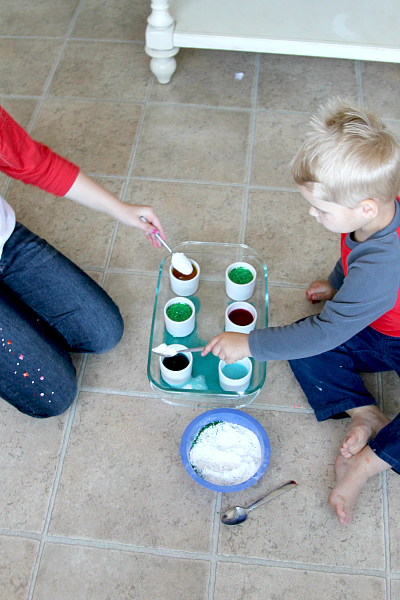 Pretty soon we had a wide variety of awesome volcanoes going!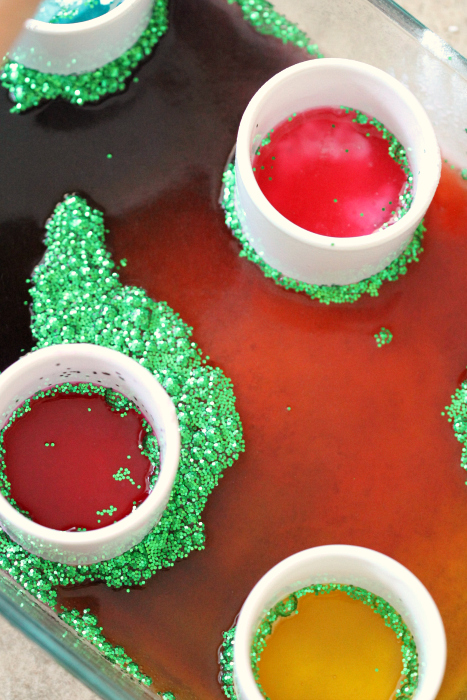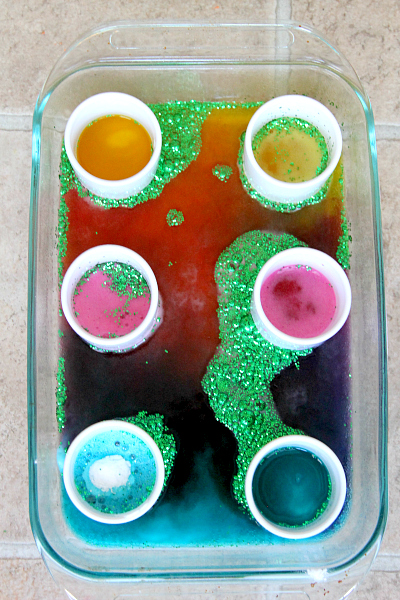 After a bit our vinegar was all out of our cups so I had to rinse and start over. Then the kids played again!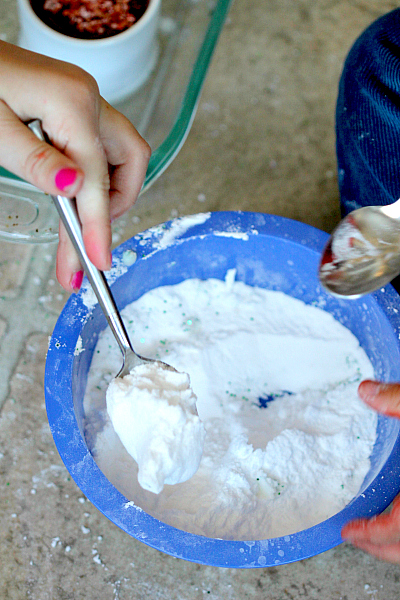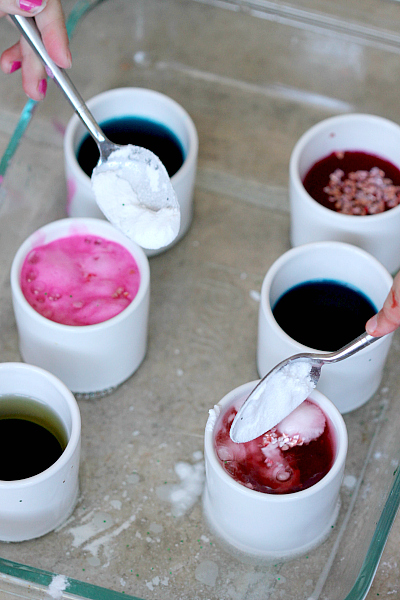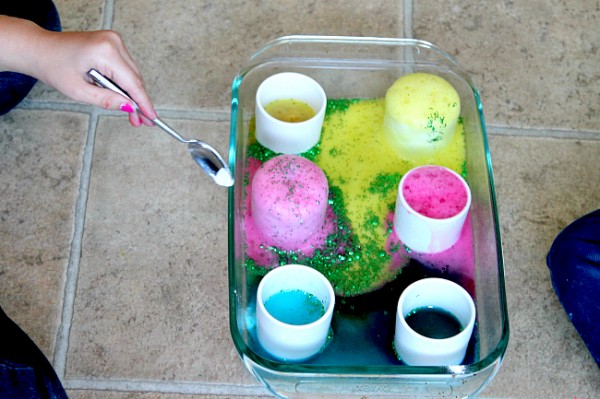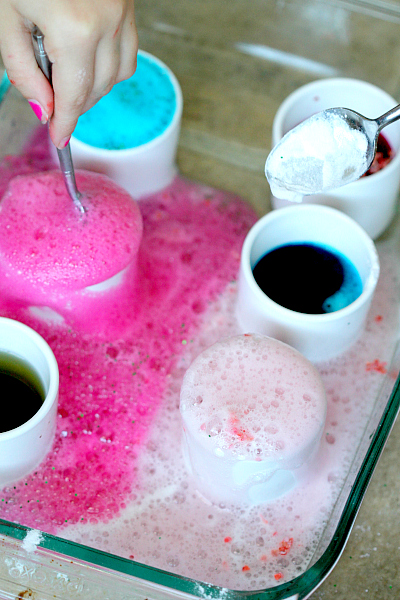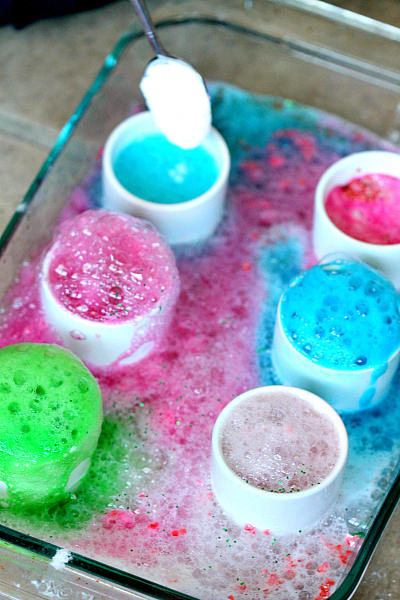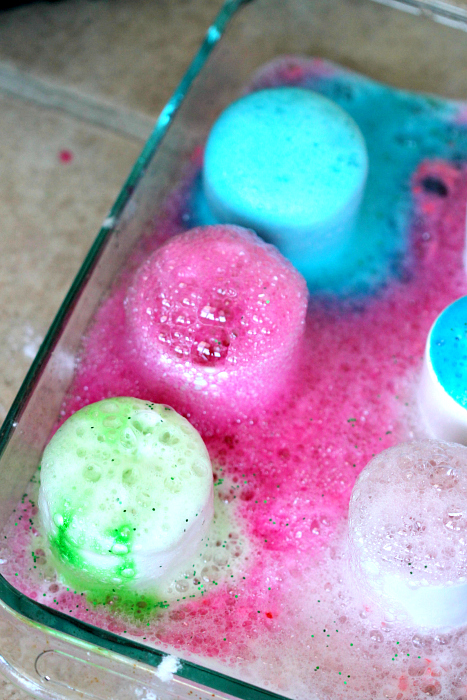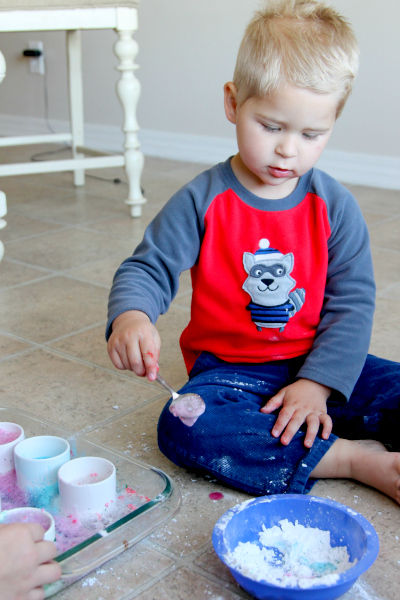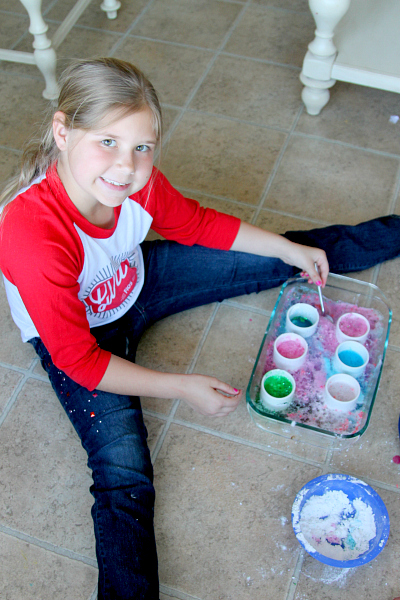 These baking soda
experiments were quick and easy kitchen but cost very little. They also kept the kids busy (and getting along!) for over an hour. And while I can make it clear your house will smell like Easter eggs for a few hours, the clean up was super easy with just water and a washcloth
.
ARM & HAMMER Baking Soda, 13.5 Pound
Heinz White Vinegar Distilled – 128 oz