Different types of cherries are used as a filling for pastries, a yummy addition to ice cream and yogurt, and are an indispensable ingredient in a fruit salad! You can also eat these plump little bites of goodness completely on their own.
These pretty looking fruits are loaded with benefits, and besides their delicious taste, they're incredibly healthy! They have proven nutritional value and naturally come with a host of health benefits.
Cherry trees grow mainly in the Northern Hemisphere, and there are about 12 species in the United States, and as many in Europe (in addition to a few cultivated varieties in Asia). As for the different varieties, these could amount to thousands.
The blossoms of cherry trees are breathtaking, with their delicate pink coloring and aromatic flowers. The flowers bloom in the early spring following other spring fruits like peaches and apples.
To know more about this delicious fruit, here's a round-up of 12 different types of cherries you can grow, eat, or bake!
Types of Cherries and the Best Ways to Use Them
Not all cherries are the same, and they all have their own unique flavors and textures. Some burst with fresh sweetness when eaten raw, while others need a bit of cooking to render their true flavors.
Generally speaking, cherries are divided according to their taste and texture. You could pick the sweet ones for snacking on, and the tangy ones for desserts (like our FAVORITE Cheesecake Dip), confectionaries, and sauces. Cherries are seasonal, so you might not find every type all-year-round.
1. Lambert Cherries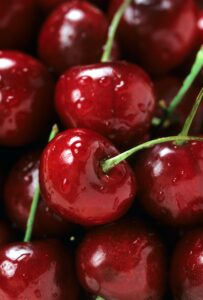 These are among the best cherries you can pick. They have a balanced taste, a dark red color, and an inviting texture. They are perfectly fine when eaten raw, incorporated into salads, or complementing a bowl of ice cream.
If you decide to cook Lambert cherries you'd still find them flavorful, and their flavor doesn't fade as you turn up the heat.
You can find this type of cherries in the markets during the summer. Around May and June, it might still be a bit tangy. It's perfect from late June to August, and after that, you might notice that it's darker and a bit too ripe.
2. Lapins Cherries
Like the Lambert cherries, the Lapins are sweet and flavorful. They are slightly smaller than the regular cherries and have an attractive burgundy color.
This type of cherry is a brief visitor, so catch it when you can! You can see these cherries on supermarket shelves for only a few weeks. They're worth the wait though. Once you taste the lapins, you'd anticipate their arrival in every new season.
3. Bing Cherries
This type is quite popular, and it's often the first variety of cherries to arrive in the markets. It blooms in the late spring way before most other types. And it's customary to hear the other brands referencing their blooming time to that of the Bing cherries.
Bing cherries are heart-shaped, and they vary in color from bright red to deep burgundy. Their taste is pleasantly sweet, and it's powerful enough to linger in the mouth for a bit. Use it for a spring fruit salad, as a garniture for your cakes, or include it in your diet as a healthy snack.
It's also quite versatile in baked goodies or sauces. It would maintain its form and flavors even with prolonged cooking, which is great for pies, cakes, and other baked goods.
4. Chelan or Black Cherries
This is also a sweet type of cherries, but its appearance is a bit different from the vibrant and deep reds of other cherry species. The Chelan cherries are actually a dark maroon color, to the point that they're called 'black cherries'.
They are a tad more firm than the Bing or lambert cherries, and their taste is less pronounced. This mild and textured trait makes them the perfect complement with other fruits. They're amazing as you mix them with other types of cherries and play on their color and flavor contrasts.
Chelan cherries are a tough species, and they're known to resist tough weather. That's why you'd be able to find them on the shelves for quite a while. Their ripe season exceeds their peers significantly.
5. Morello Cherries
These are perfectly rounded cherries with a color that leans a bit towards Fuschia. They're picture-perfect but they're not quite as sweet as their looks suggest. Actually, many chefs treat them as outright sour cherries.
Morello cherries often need a drop of honey or a dash of sugar to boost their sweetness a little more. That's why they're perfect in jams, cherry pies, as well as exotic sauces that go famously with ducks, turkey, and meat.
There are hundreds of recipes that utilize the looks and subtle flavors of Morello cherries. You can find them fresh or frozen, but we'd suggest that you use them when they're fresh and in season.
6. Montmorency Cherries
This is another sour variety of cherry that bursts with flavor! Montmorency cherries have a confident red color, and a perfect form, that appeals to any connoisseur's eyes. This brand is quite versatile and popular in cooking, baking, and as a magic ingredient for beverages.
It's not surprising then that you can find it in abundance. It's sold in its fresh state, frozen in packs you can store for months, or dried for those recipes that call for apple and cherry crisps. A fruit that available and delicious naturally lends itself to a ton of mouth-watering recipes.
7. Rainier Cherries
We've sampled so far the cherries that you can wash and eat fresh, the ones that you can use in cooking, the cherries that work perfectly for pies, and the ones that make incredible smoothies. It's time then to introduce a cherry that brings your salad to life!
Rainier cherries are rather sweet, but not as much as the Bings. They're firm but easy to bite into. They also boast a unique yellowish coloring. These cherries can be eaten fresh, but they turn a regular salad into a gourmet dish, so why not toss some in there?
Rainier cherries are also used in many dessert recipes, so you can purchase a bunch, and use some for savory dishes and some for sweet.
8. Regina Cherries
This European variety comes straight from Germany. Regina cherries are much larger than the usual cherries, and they're quite dark. These cherries are also pretty crunchy, unlike the soft types listed above.
Regina cherries are mildly sweet, so they're best incorporated within desserts or exotic savory dishes.
9. Stardust Cherries
These cherries first appeared in Canada around 1985. Since then, they found their way to the four corners of the world. They are large, heart-shaped, firm, and their flesh is almost translucent.
Stardust cherries aren't too sweet, but they're also not outright sour. This nice cross between the cherry categories always invites innovative cooking! Use them in salads in combination with cherry tomatoes, goat cheese, and a drizzle of French dressing to get the perfect blend of flavors.
These cherries are late bloomers, so you'll find them in the markets well after the summer is gone.
10. Van Cherries
This is also a Canadian variety that was created in the 1940s. Van cherries are firm and sweet, with an appearance that looks every bit the part of vintage cherry fruit. These cherries are deep red, medium-sized, and deliciously plump.
They're great in a fruit salad, eaten fresh, and generally in all kinds of foods and beverages. You'll have to enjoy these goodies in the mid-season though, as the Van cherries are late bloomers.
11. Attica Cherries
These are big, dark red cherries, with an interesting form. Attica cherries are rather long and tapered at the bottom, which is not a shape that you see too often in cherries.
It's been around since the early 1980s, but it hasn't gained as much popularity as the Bing or Lambert cherries. They are sweet but tend to be firm and crunchy. Their texture and taste put them as perfect choices in cooked dishes, rather than being served raw.
12. Kiona Cherries
Kiona cherries are delicious fruits characterized by a dark red, appealing color, a pleasantly sweet flavor, and a soft fleshy form. They aren't too abundant, but if you find this variety don't think twice about buying a generous amount.
You can use these cherries for almost everything. But most of all, enjoy their fresh deliciousness as a healthful snack.
In Conclusion
That was a roundup of the best types of cherries you can find on the market. Some of them are locally grown, while others are imported. What they all have in common is their great flavor, the punch they add to your menu, and the various health benefits they provide.