We may be wrapping up our Halloween Holiday fun, but there is still time to get one last itsy bitsy pumpkin idea in…right? RIGHT! MORE PUMPKINS!
I have been itching to do something with white pumpkins this season. I have experimented with pinning ribbons, hot gluing beads, finger painting a white pumpkin (ok, so little P did that one) but so far nothing has really struck me as awesome.
Until now.
Yesterday I was perusing my local craft store and grabbed some white glass ornaments to start to get my decorating on. While I suck at Marbling nails, I don't totally suck at Marbling ornaments.
Then it hit me- dude. Marble a WHITE PUMPKIN. 
updated: Marbling a Pumpkin now with Video! 
So I ran by Target, grabbed some fun colors in the $1.99 section and then set off today to experiment. Two hands full of nail polish and 3 mini pumpkins later, I am pleased as punch with my results. What I love about this is that you can really mix up the colors and psst…if you mess up, just use some nail polish to remove and start over. That is my kinda craft!
Marbling A Pumpkin
You need
Nail polish in a variety of colors
Nail polish remover (cause you will probably get it on something you don't want to get it on)
A bowl you don't really care about or are willing to clean up
Baby White pumpkins
Instructions To Marble a Pumpkin
Fill your bowl up with water and then let the bowl sit so it's not sloshing around. If the water is moving, it can disperse your nail polish and leave less designs. Then pour your nail polish in your bowl. You can use a toothpick or Q-tip to get really intricate, but all I did was slowly pour and create some swirly streams.
After you have your design, just dip your pumpkin and pull out!
I decided to do the top and bottom of a few, so I would dip the bottom, then dry it off (I used a hair dryer
), then poked a fork through the bottom and used the fork handle to dip the top of the pumpkin on the other side.
I also tried orange and some sparkly nail polish but I didn't love that sparkly nail polish
 marbling as much.
The effect was  kinda weepy.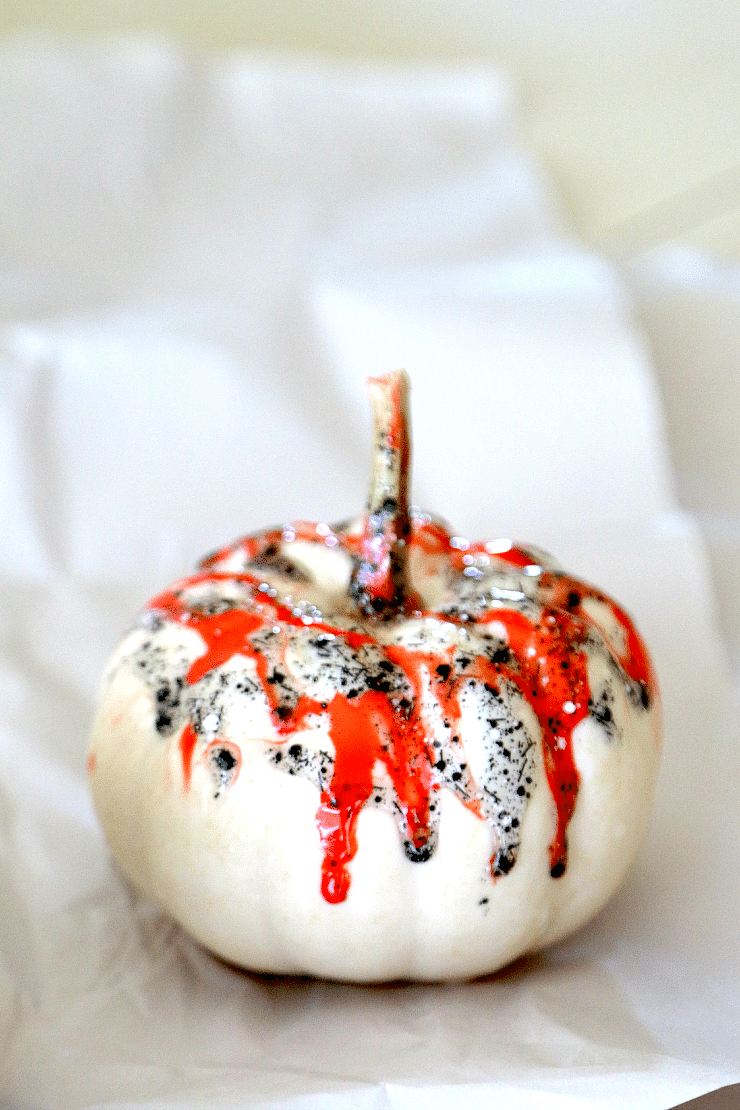 Plus check out how to Marble Dip a Mason Jar here:
Btw, I dont know if there is such thing as 99 cent nail polish, but if there is, stock up. This was totally fun and I plan on picking up some more pumpkins to do a patch.
Trisha