If you've noticed an uptick in the amount of clutter and mess around your room, then it's time to rethink the closet situation in your home. Having a closet in your house won't only grant you extra space, but also ensures that everything stays well organized and easy to find. But what exactly are the different types of closets you can consider?
There are several types of closets that you can choose from according to your storage demands, whether it's clothes and shoes, utilities, or food. In today's article, we'll walk you through a variety of closet types, so you can take your pick. Without further ado, let's dive in!
1. Walk-in Closet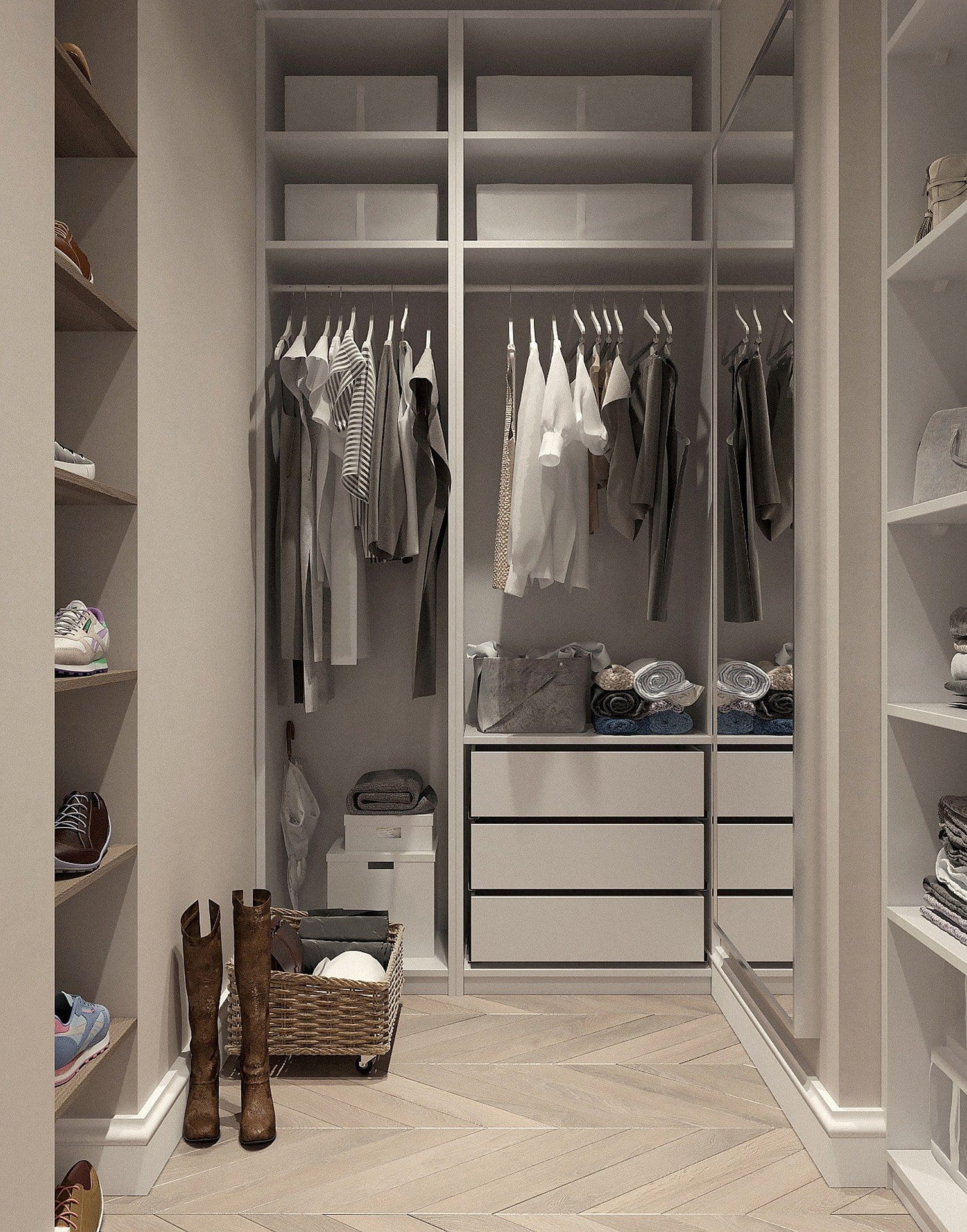 Kicking off the list with the top tier choice for anyone looking for the maximum amount of space to save their shoes, clothes, accessories, and more!
What separates a walk-in closet from any other type of closet out there is that it's an entire room rather than being a physical item. Although, that doesn't mean that it has to be super big. In fact, a walk-in closet size can be as compact as a few square feet all the way up to being a huge showroom with special lighting and separate changing rooms.
Since it's a luxury item, walk-in closets aren't just meant to store your items, but also to showcase them. That's why a lot of walk-in closets are designed with open shelves and glass displays.
Modernized walk-in closets come with advanced pull-out mechanisms. This includes belt carousels, pant pull-outs, and more! Since it's a huge spot, the center of the room usually has seats to wear shoes and socks and may have a select display of bags, as well.
Since it's a luxury type of closet, most walk-in closet owners will also install a dedicated HVAC system in the room to maintain the humidity and temperature of the room.
2. Reach-in Closet
If having a walk-in closet is a far-fetched dream because you don't have a separate room to dedicate to your clothing, then opting for a reach-in closet is your way to go!
This one is considered the smaller version of a walk-in closet where you dedicate a small part of your bedroom as a space for keeping your clothes, accessories, and shoes.
Reach-in closets are the standard type of closets found in most homes because they offer plenty of space to store items.
They have a set of shelves, hanger bars, and bottom drawers and usually feature a door that introduces you to reach-in for the clothes through, hence the name.
These closets are great at utilizing both vertical and horizontal space in your bedroom. Similar to a walk-in closet, you can use the drawers to store various items, such as jewelry and lingerie.
While they don't necessarily have advanced pull-out mechanisms, you can still add some backlights in the closets to give them a touch of luxury.
3. Wardrobes
In some cases, there might not be enough space in your room to have a closet built into it. In that case, you might want to opt for options rather than reach-in closets.
Wardrobes, especially the classic wood ones, are found in civilizations as old as the Ancient Egyptians.
Although they've lost their place as the household standard to reach-in closets, they're still among the most viable alternatives for reach-ins.
One drawback of wardrobes as storage is that they lack the abundance of space to save all the items you have. That's why some of them are only used for storing clothing and accessories only.
The internal design of a wardrobe varies greatly. Some might have hanging bars and drawers while others have multiple shelves all across one side.
Some modern wardrobes are currently made to house electronics rather than clothing. However, they hold the same concept of having two tall doors that swing out whenever you want to open the wardrobe.
Since these are not built-in to the house, they're usually bought from furniture stores. The best thing about having a wardrobe is that you can move them around the room to suit your house design, save space, and clean around it.
4. Armoire Cabinet
Armoires and wardrobes are fairly similar to each other that some people use the two terms interchangeably.
However, there are some slight differences between the two cabinets in terms of construction and purpose of use.
While both of them can be described as a tall rectangular storage cabinet with multiple shelves, armoires are fairly used for decorative purposes rather than serious storage.
One of the most obvious differences between the two is that armoires are often mirrored. In that case, the armoires hanging doors will have a mirror attached to the interior of the two doors.
Similar to wardrobes, an armoire can also have a long bar to hang up clothes and dresses. It's an excellent option for someone who's out of storage space and needs a little extra room!
5. Italian Closet
If you're all about trying out unique and luxurious ideas in your house, an Italian closet is the way to go!
Italian closets aren't exactly a type of closet, but rather a style of a tailor-made closet that fits exactly in your room. Similar to the previous closets, they're used mainly to house clothes, accessories, shoes, and bags.
What's unique about the Italian style closest is that it can combine elements of reach-in and wardrobe style closets, to create a one of a kind closet for your bedroom!
This includes adding as many shelves, drawers, hanging bars, and other storage compartments based on how many clothing items you need.
6. Entryway or Hall Closet
Entryway closets, also known as "hall closets" or "coat closets" are a much smaller version of reach-in closets, except these are placed in the main entrance of the house.
This placement is fairly strategic, as these closets are designed mainly to keep the coats of the family members, as well as visitors.
Depending on the size of the house and the level of luxury you want the closet to be, some people might have a hall closet in a walk-in style.
Additionally, hall closets serve as a great spot to store umbrellas, sports gear, snow shovels, and similar items.
7. Linen Closet
A linen closet is a type of closet that is designed to house anything from towels, bathroom supplies, spare bed sheets, blankets, pillows, and similar items.
Similar to the hall closets, these closets are also relatively small and usually found in the hallways of a house.
They come in a variety of designs, including reach-in style and others that come with bifold doors.
Some people combine both linen and laundry closets by adding a washing machine and a dryer to the linen closet.
8. Utility Closet
Another reach-in closet lookalike is the utility closet. However, this one isn't for storing clothes, or linen.
Instead, this closet is popular for keeping any necessary, but visually unappealing, items out of sight. This includes bulky travel bags, mops, brooms and cleaning supplies, boxes, hammers, crafting tools, screwdrivers, paint cans, and more!
Not only that, but some people also find it a great spot to keep bulky household electronics away when they're not in use. This includes vacuum cleaners, clothes steamers, and so forth.
9. Pantry
Getting outside the bedroom, you'll also stumble across some different types of closets. For example, while it might sound weird, pantries are closets after all! The only difference between the two is that this one happens to store food rather than clothes.
Similar to a bedroom closet, pantries can also be as big as walk-in pantries, which are usually found in restaurants storage areas, and luxurious homes.
Of course, the ideal place for pantries is inside the kitchen. However, pantry closets can also be found in a basement or any dry storage spot.
If you have a spare closet and you have a surplus of food items or cooking machines that you don't use frequently, converting the closet to a pantry  could be a very convenient tweak!
10. Laundry Closets
If space allows it, you can also have a laundry closet. As the name suggests, this one will be dedicated to clothes, but only the ones that need to be washed or folded!
This closet can be a separate corner where you keep all the laundry detergents, as well as the laundry basket and even the washing machine.
It's a great alternative to laundry rooms and can also keep your house organized. These closets can be hidden behind a door to keep your house minimalist.
Wrap Up
That concludes our list of the 10 types of closets that you can consider for your next remodeling project!
As you can see, closets aren't just a place where you can keep your stuff, but they're an excellent way to make the most out of the available space you have in the house, all the while keeping the rooms well-organized and left with plenty of space!
Now that you know more about all the types of closets out there, you can use this types of closets guide to find the best ideas for your next home improvement project.