Grab these 21 Day Fix Holiday Recipes to help you stay on track all season long! The holidays are right around the corner, and with that means more temptations to steer away from your healthy eating! You will be tempted by lots of desserts, piles of mashed potatoes and gravy and more.
So, I have created this 21 Day Fix holiday recipe edition to help you create meals that are 21 Day Fix approved and will help you to stay on your healthy eating!
You can make any of these dishes for your dinners, and everyone will enjoy them!
They are packed full of flavor, nice and hearty, and just scream the holidays! Don't say goodbye to green bean casserole or pumpkin pie, just make healthier versions like the recipes posted below! Besides, we all know that the holidays are about the SIDES!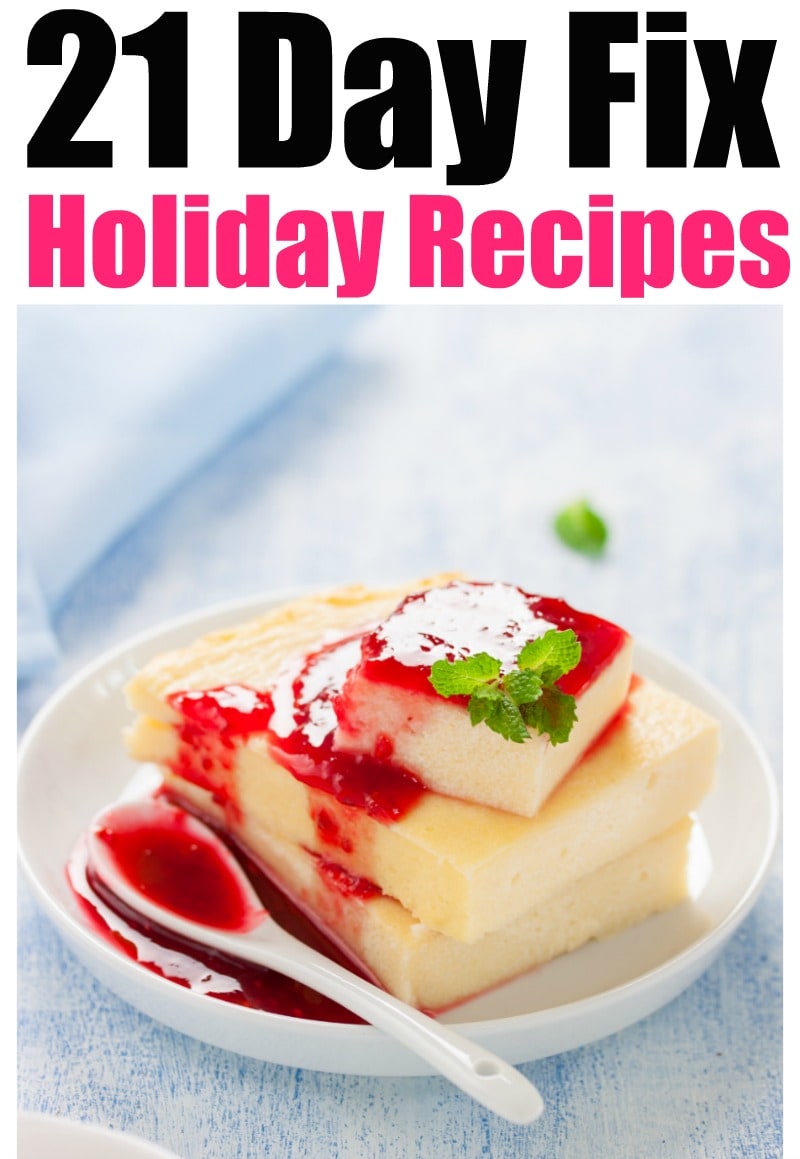 The 21-Day Fix is a very easy program that provides color-coded containers and is fool proof on how much you can eat.
These recipes will help give you a variety as you are working through the program so you never get bored or ready to quick. Of course no lifestyle change is complete without exercising, so grab the 21 day fix workout too!
The recipes will also help give you the nutrients and energy your body needs! Enjoy the recipes, and hopefully they can help give you a great variety of flavors.
If you do not have your containers, easily check prices and grab them here. You can use these for all your recipes, including 21 day fix slow cooker recipes.
smartYOU 7 Piece Portion Control Containers Kit (COMPLETE GUIDE + FREE
Efficient Nutrition Portion Control Containers Kit(7-Piece)with Complete Guide,21 DAY PLANNER,Recipe eBook,BPA
21 Day Portion Control Diet Container Set LABELED Portion Control Set
Beachbody Autumn Calabrese's 21 Day Fix EXTREME – Essential Package
21 Day Fix Holiday Recipe Ideas
21 day Fix Holiday Side Dishes
Cheesy Garlic Creamed Spinach– The Foodie and the Fix: This is the best way to devour spinach in my opinion! Creamy cheese, garlic and the tang of spinach, heaven in a dish!
Sweet Potato Casserole – Adventures of a Shrinking Princess: This is a great alternative to mashed potatoes! I love sweet potatoes because they are healthy but also jam packed full of nutrients!
Green Bean Casserole– Pureatz: You can't celebrate a holiday without some green bean casserole! This is a nice lighter version that is 21 Day Fix Approved!
Roasted Cauliflower Mash – Simple Clean Fitness: Another great alternative to the classic mashed potato dish!
Apple-Pecan Stuffing – The Foodie and The Fix: I love stuffing, and to have pecans and apples, it will give it a wonderful flavor combo and crunch! A must try this holiday season!
Garlic Green Beans- Six Sisters' Stuff: If you are not a fan of green bean casserole, this makes for a great alternative! I love the flavor of garlic and green beans together!
Cranberry Sauce -Team Beachbody: No holiday is complete without a good cranberry sauce to top your turkey with!
Valerie's Quinoa Salad – Beach Ready Now: Feta cheese, quinoa, zucchini, tomatoes and more, are packed into this salad! Crowd pleaser for sure.
Warm Honey Roasted Butternut Squash Salad– Confessions of a Fit Foodie: I love the flavor of butternut squash paired with honey, it really taste like you should feel guilty eating it!
Mushroom and Garlic Gravy– Fit Hippie Foodie: Can't go a holiday without a nice gravy, try this mushroom gravy on top of your mashed cauliflower!
21 day Fix Holiday Desserts
Pumpkin Pie Bites-The Butterfly Effect: I love pumpkin pie, it is one pie I love to eat during the holidays! Try these fun bites this season!
Pecan Pie- Adventures of a Shrinking Princess: If you enjoy pecan pie, you will want to pick up the ingredients and make this pie!
Canoli Dip- Christine Pechulis: This is a dessert you will not have to feel guilty about! This recipe uses skim ricotta cheese, Greek yogurt and more, for a tasty but healthy dessert.
Pumpkin Brownies – Fit Mom Angela D: I have tried this recipe, and it is really good! I am a huge brownie fan, and nice to have this healthier version so I don't feel guilty!
Pumpkin Cheesecake– Mixing In the Kitchen With Michelle: This cheesecake will help you feel that void, and leave you satisfied! It is topped with cashews to give it a nice crunch!
21 day Fix Holiday Appetizers
Clean Buffalo Chicken Dip – Andreas Soderberg: Looking for a dip with a little bit of a kick to it, try this one!
Caeser Deviled Eggs– The Foodie and the Fix: Try this twist on the classic deviled egg this season! Has a nice tangy twist to it, that will leave your guest begging for the recipe!
Spinach and Artichoke Dip- The Foodie and The Fix: This is a great appetizer to have on hand for when you are entertaining!
Turkey Pinwheels -From Forks to Fitness: This is a great one, I am a huge fan of pinwheels! This recipe uses Pink Himalayan salt,
it is amazing and really has a nice salt flavor! It is a bit different than classic table salt!
Spicy Buffalo Cauliflower Bites – Lindquist Coaching: If you enjoy foods that have a little kick, this is a great dish to have!
If you are looking for more great ideas to fill your week with 21 day Fix Approved food, try out 21 day Fix Breakfast Recipes and the 21 day Fix Sandwiches and Wraps to add to your menu.
MORE 21 DAY FIX RECIPES
Ready for more delicious recipes to fill your menu? Do not leave without visiting 21 day Fix Dinners in 30 minutes or less!