Wowee, Y'all, its November 5th and the year is almost over! It seems like January was JUST here and now its just around the corner. I think I am totally understanding that "my life is flashing before my eyes" thing now. Maybe sometime after 30 it really does. In any case the beauty of the end of the year is the holiday fun! We just passed Halloween but still look forward to Thanksgiving, Christmas and New Years around here. And now that Thanksgiving is on the horizon and I am hosting, its time to start gathering up really tasty food treats, eats, and crafts to make the season merry and bright. Or something like that.
So I saw this little Acorn Treat idea a bit back from Hershey's. I mean..hello…perfection dipped into perfection. I have been itching to try it all year but it seemed silly to break out the Hershey's and Nutter Butters in July so about the second that fall arrived, I was ready. I mean who doesn't LOVE chocolate and peanut butter? And I have to admit here that Hershey's is my very favorite chocolate and nutter butters take a close second to Oreos in my tummy.
---
GET INGREDIENTS
As a busy mom, I love making treats but I do not love shopping for the ingredients. Amazon is my BFF. With prime and shipping for free, I find it easier to just order my non-perishables for fun projects like these. Here is what you need if you want to save yourself some stress…click below to fill up your cart.
Nabisco, Mini Nutter Butter, Bite Size Snak-Saks,
Ghirardelli Chocolate Mini Semi-Sweet Chocolate Baking Chips,
KISSES Milk Chocolate, Silver Foils, 66.7 Ounce
Karo Light Corn Syrup, 16 fl oz
---
Acorn Treats Recipe
Tip: Prep a day ahead of time. Why? See below. 
You need:
First things first- lets talk about what is sticking our Acorn Treats together. I mean something has to melt the peanut buttery goodness of the nutter butter against the beautiful Hershey kiss, right? I am pretty sure Hershey's used Royal Icing but I do not have a batch of that. So while you could get all crafty and make some or even buy some, I am going to do what I always do when I want something to stick- use Karo.
The great thing about Karo is that it dries and really does stick well.  The reason I noted to prep ahead of time is because to let the Karo dry very well and have your cookie not fall apart when someone puts their hand into the jar, means it needs some time to set.
Now you are ready to get started.
Unwrap your Kisses
and set them to the side. Pour some Karo into the lid of the syrup. Then you can either dip your fingers (do NOT lick them) and spread it on the cookie in which you will add your Hershey kiss OR you can dip your kiss into the lid and stick on the cookie. You have choices. If you choose to dip your Hershey into the lid, it has great coverage but can get TOO gooey and slide right off, so usually dip and put a little on two cookies and use that syrup on more than one.
The biggest issue with making these cookies is that you eat as many as you make.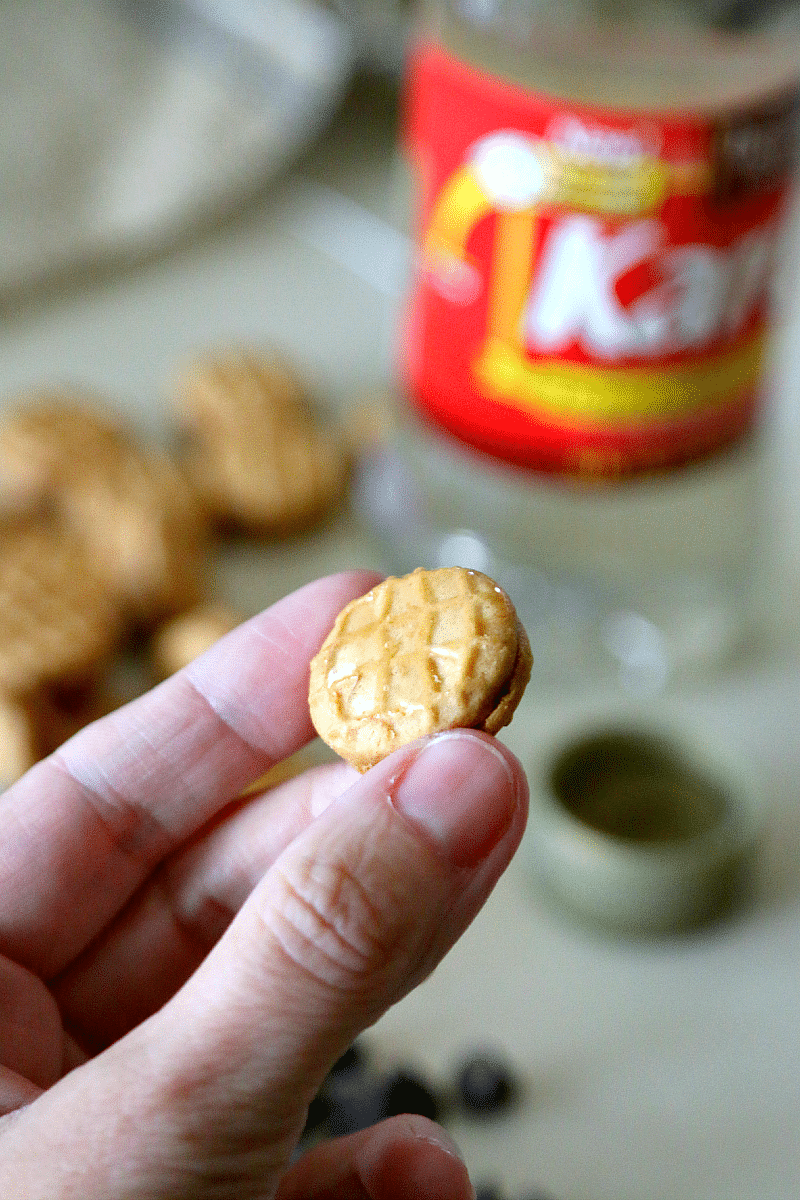 Now you may be asking yourself, can I use something else to stick it.
Sure! But experiment first.
I did try peanut butter and that just never dried. Even overnight the cookie came right off:
On we go.
Once you have your Kiss and cookie melded together you can add a mini chocolate chip to the top of the cap. You can skip this part or get creative- even a butterscotch one would be fine.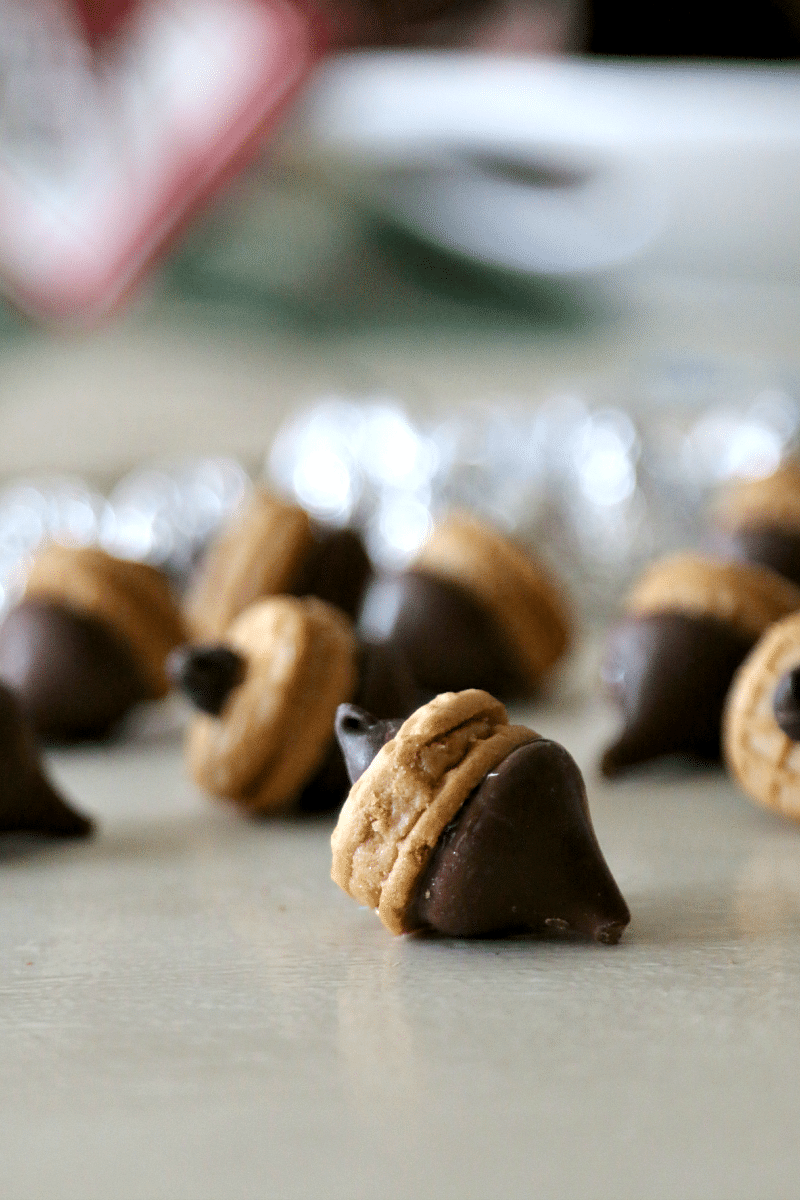 Now at this point you have probably eaten as many as you have made, so time to give them away as treats.
Put them in a small mason jar with a cute tag, or maybe create a little acorn box for a takeaway treat at your Thanksgiving table.
 Acorn Treat Box

I printed my little box from my Silhouette and the print is titled – 'Silhouette Design Store – View Design #50930: acorn choc box with place card tag with Snapdragon Snippets. '
Do not forget to follow my Thanksgiving Pinterest Board for more great ideas from all bloggers or keep up directly with me here on MomDots Pinterest Blog Board.
Have a Happy Thanksgiving!
Nabisco, Mini Nutter Butter, Bite Size Snak-Saks,
Ghirardelli Chocolate Mini Semi-Sweet Chocolate Baking Chips,
KISSES Milk Chocolate, Silver Foils, 66.7 Ounce
Karo Light Corn Syrup, 16 fl oz