We are less than two weeks in to Back to School Season and the after school activities are in full swing.  Cheerleading (Oh yes, she came home with a Cheer Application!), homework, and school projects have already begun to consume our afternoons.
As much as we love Summer, we love Back to School as well, so when I got a note home yesterday that Charlotte's Open House is coming up, I wanted to make something fun for her to take to her teacher! A few minutes perusing Pinterest an an idea was born. A Crayon Bouquet for her teacher that will last all year long.
Crayon Bouquet Teacher Gift
You will need:
a round glass vase
a box of 64 crayons
a large floral ball
a hot glue gun with glue sticks
your favorite flowers and embellishments
Charlotte's teacher mentioned that her favorite flower was daisies on her "About Me" sheet she sent home the first day, so I chose an assortment of chrysanthemums and daisies.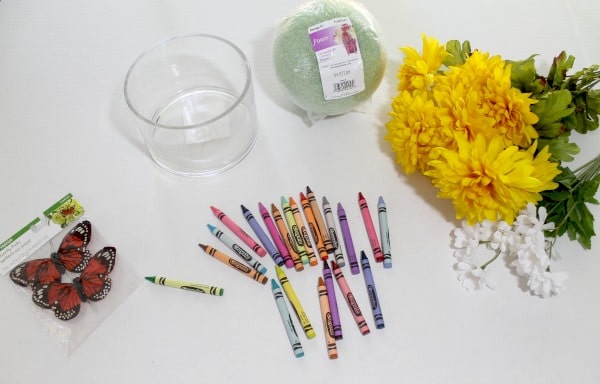 Start by (gently) cramming the floral ball into the vase. I used a serrated knife to trim off just a bit – but you want it to fit snugly so that it does not move around. You can secure it with hot glue if you need to – but I just crammed mine in there. It will not be seen, so it doesn't much matter what it looks like at this point.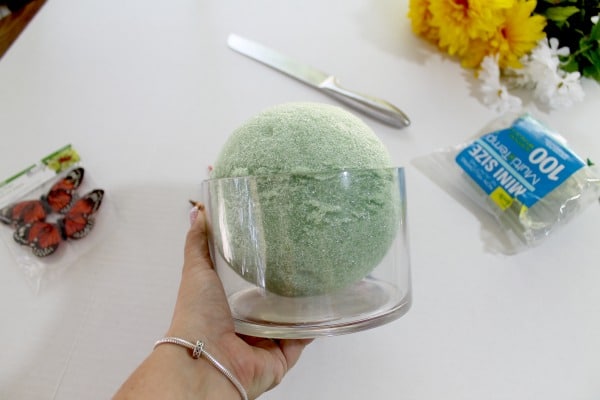 Then the real fun begins!
Spread all of your crayons out where you can easily get to them, and begin hot gluing then to the vase vertically – letting the pointy part of the crayon overlap the vase. The hot glue will set very quickly on the glass – so you want to keep the crayons in close reach. Also, kind of have an idea in mind of which crayon you are going to use next – this part goes by very quickly.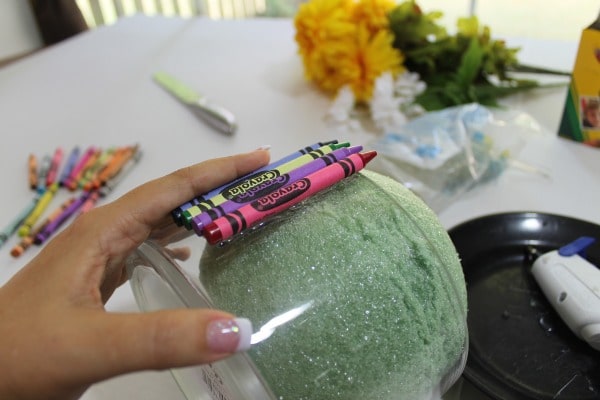 You will learn a few things in this process – mainly that you must table your OCD tendencies of having a pattern to your crayons. Trust me when I tell you that it will look terrific even if you have two reds close together.
You are also going to learn that there are not many yellow hues…
Continue gluing your crayons until you completely cover the circumference of the vase. There may be a small space at the back – do not worry – no one is ever going to notice that. Check to make sure all of your crayons are securely glued to the vase before beginning to place your flowers.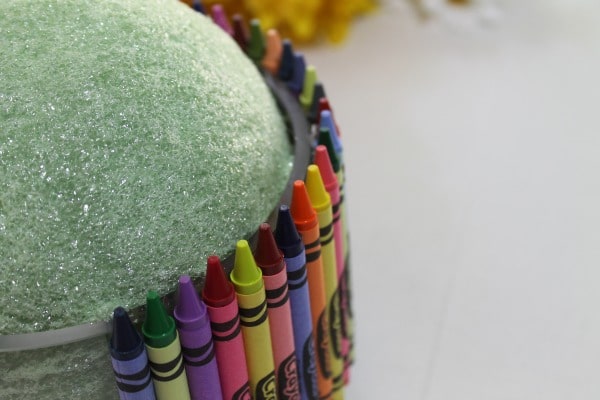 Trim your silk flower stems to about 3 inches long. You want them to push in to the floral foam far enough to remain secure. Start with the larger flowers first, and add in the smaller flowers in between. You can use as many or as few as you want until you get the look just right. Then add your embellishments, and voila!
The perfect Teacher's Gift for your Back to School Open House!
From start to finish this craft took less than an hour to complete, and it is probably the most fun I have had crafting. This craft was not only simple – it was very inexpensive as well. This entire craft was less than $15. With the small fortune we have to spend on everything else Back to School, I was excited to get something I could feel really really proud of, that didn't break the bank.
Here are some other tips for not breaking the bank, courtesy of my partnership with Discover.
Buy ahead of time with one-stop shopping.
By using your Discover card to buy supplies this school year, cardmembers will not only be able to save time with one-stop shopping, but earn rewards on purchases at the following retailers:
Walmart: 5% Cashback Bonus
Target: 5% Cashback Bonus
Kmart: 10% Cashback Bonus
                   Cardmembers: Log into Discover.com and visit ShopDiscover or the new Discover Deals site to access the retailers above!
Amazon.com: Discover cardmembers can redeem their accumulated Cashback Bonus at checkout on Amazon.com. Use as little or as much as you like – there are no limits. Plus, Amazon has a great department with easy-to-navigate categories.
                  Cardmembers: In your Amazon.com account, link your Discover card to your account through the Shop With Points page in order to redeem it during checkout.
Get free shipping on new school clothes. 
This year, Discover cardmembers can send their kids back to school in style – and pick up something fun for themselves, too! Use the following merchants to get free shipping and earn extra rewards on apparel:
Aeropostale: Get free shipping on over $50 after signing up for Aeropostale's email, and earn 5% Cashback Bonus by using ShopDiscover.com
OnlineShoes: Enjoy free shipping on UGG Australia purchases, and earn 10% Cashback Bonus by using ShopDiscover.com
JCPenney: Take advantage of free shipping on orders over $99 (or over $25 when shipping to a store instead of your home address) and earn 10% Cashback Bonus by using ShopDiscover.com
I enjoyed making this Crayon Bouquet so much that I decided to make a second one for my my friend's mom, whom is also a 3rd grade teacher. Not only did she love it, but the other teachers were jealous of her beautiful bouquet… looks like I will get to make more this weekend 🙂
Happy Back to School Season!