Researchers say kids should not wear a backpack weighing more than 20% of their body weight. Whether your kid needs a backpack for school or for traveling, having rollers on the bottom is a wise choice. Here are 10 rolling backpacks that actually work!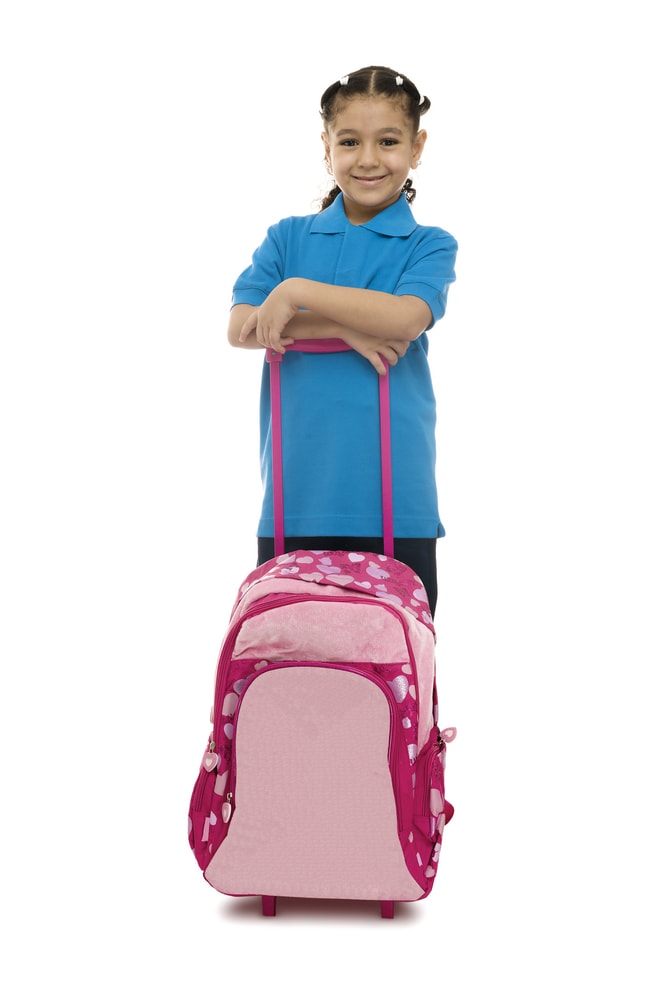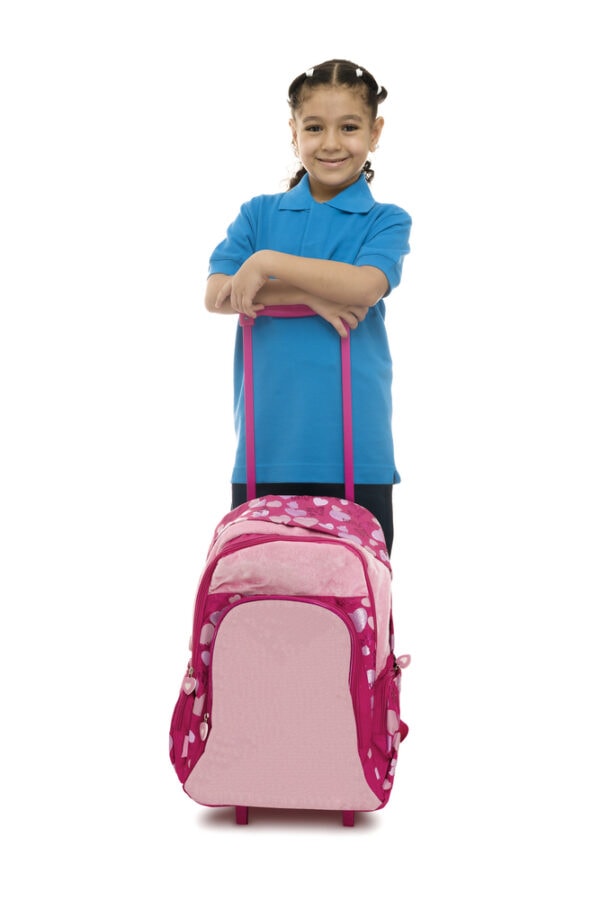 Too much weight can lead to back problems such as chronic pain, spinal curves, and other injuries. But there is a solution: the rolling backpack.
Life on wheels is easier. A rolling backpack can carry everything your kid needs without the aches and pains of a traditional backpack.
But which are the best rolling backpacks for kids? Keep reading to find out which 10 made our list and what you need to know before purchasing one.
IN A HURRY? HERE'S OUR TOP PICKS…
Things to Look for When Buying a Rolling Backpack
When selecting the right rolling backpack for your child there are a few things to keep in mind. Let's take a look at what you need to know.
Wheels
Wheels are wheels, right? Not so much.
For little kids with a smaller backpack, you may be able to get away with a rolling backpack with simple, smaller-sized wheels.
For older kids who plan on hauling some serious stuff or their backpack for travel, durable wheels that will provide stability and traction on a sidewalk, halls, and bumpy and smooth surfaces is a must.
Handle
Most rolling backpack handles are telescoping handles.
For little ones, it's best to choose a backpack where the handle locks in place when fully extended to make it easier for them to handle.
For older kids, look for a sturdy handle that can hold up to a heavier load. Make sure the handle locks in the extended position and isn't too hard to release so it can be pushed down for stowing.
Space
There's no doubt that space is the primary function of a backpack.
How much will your child be carrying around? Most preschool/elementary school backpacks are on the smaller side which is usually fine, but as kids get older, they are going to need a lot more space for all those textbooks.
Extras
Is your high schooler using a laptop or tablet? Consider choosing a backpack with a padded compartment.
Also, some backpacks offer organizer pockets built into the backpack too, which can help your kid stay better organized.
Top 10 Rolling Backpacks for Kids
So if your kid is ready to ditch their backpack for something on wheels, we've got a list of the best rolling backpacks for them.
We've included rolling backpacks for toddlers all the way to high schoolers (and even beyond).
So keep reading to find which rolling backpacks made the list!
---
1. JanSport Driver 8 Core Series Wheeled Backpack
Whether they need a backpack or a rolling backpack, this versatile wheeled backpack allows kids to use as both. The padded shoulder straps easily tuck away when used as a rolling backpack.
The large 80mm wheels make cruising around with this rolling backpack easy. The backpack itself can hold a ton, including a laptop in the padded laptop sleeve.
Available in plenty of colors and designs, your older kid will have no problem finding their favorite to match their personality and style.
While the price is a little on the higher side, this durable backpack will last them years to come.
What We Like:
Plenty of space
Padded laptop sleeve holds 15" laptop or tablet
Variety of color and design choices
Converts from backpack to rolling backpack
Durable wheels provide good stability
What We Don't Like:
---
2. Skip Hop Kids Backpack
Skip Hop Kids Luggage with Wheels, Zoo, Butterfly
Little kids will love rolling through...
The front zip pocket with mesh divider...
Featuring: Retractable 13-inch handle...
Signature Skip Hop characters match both...
Phthalate-free; Size (inches): Total...
This backpack is cute as a button and comes in creatures your child will adore.
Giraffe, butterfly, owl, and unicorn are just some of the choices. The Skip Hop Kids Backpack is perfect for younger kids, including preschoolers. This is the favorite of our youngest.
The front of the backpack has a large zip pocket and there is a removable and adjustable strap for parents, in case they need to take over carrying it.
On the side of the bag is a mesh pocket, great for water bottles, and the entire backpack is BPA-free and Phthalate-free.
The 13-inch retractable handle is easy for little ones to hold on to and the durable poly-canvas material will hold up to plenty of wear and tear.
What We Like:
Adorable character designs kids will love
Parent strap (just in case!)
Durable poly-canvas fabric
Great for preschoolers
Can be used for luggage too
What We Don't Like:
The handle doesn't lock in place when fully retracted
---
3. High Sierra PowerGlide Wheeled Backpack
This one's for the older kids, perfect for high school and even college.
The High Sierra PowerGlide wheeled backpack is made of a super durable water-resistant Duralite fabric and includes a special padded compartment for a laptop or tablet.
This is another convertible backpack. It has padded straps so kids can use it as a regular backpack or tucked away when used as a rolling backpack.
The telescoping handle can even be stored in a special zipper pocket when not in use.
The unique inline skate-style wheels provide good stability and traction no matter what surface this backpack encounters.
Did we mention this backpack holds a TON of stuff, making it good for travel too? Yeah, it does.
What We Like:
Very spacious, making it great for traveling
Converts from a rolling backpack to a regular backpack
Handles tuck away into zipper pocket
Durable wheels provide traction on any surface
Water-resistant fabric
What We Don't Like:
The side zipper pockets are too short to hold a water bottle – a huge oversight
The handle is a little wobbly
---
4. Kreative Kids Brown Puppy Rolling Backpack
In case your little one needs a little love during the day, this backpack has a removable stuffed puppy on the front.
Also available in other lovable animals like a hippo, aviator bear, elephant, cow and more, this backpack is adorable and functional.
The Kreative Kids rolling backpack also has straps and removable wheels if children decide they want to wear it as a backpack.
The retractable handle locks on both sides making it easier and safer for kids to use it.
This backpack is suitable for toddlers and preschoolers and perfect for the first days of school (for when your child needs a hug!)
What We Like:
The adorable plush puppy is removable
Can be worn as a backpack too
Affordable price
Great for young kids, including toddler
Retractable handle locks for safety and easy handling
What We Don't Like:
Won't carry a lot, but it's made for little kids who can't carry a lot anyway.
---
5. J World New York Sunny Kids' Rolling Backpack
If you are looking for an affordable rolling backpack, this is a great choice. It also comes with a matching lunch bag just to make it that much of a better value.
The designs are fun and stylish ensuring your child will look good rolling into school.
The Comfort Grip retractable handle is not only sturdy but easy and comfortable to use. It has multi-stage locks, allowing kids to choose the length they want to roll their backpack.
The front zipper pocket has an organizer including two zipper pockets, a back pocket, and a pencil pocket.
There is also another large pocket and the main compartment as well as allowing kids to hold everything they need plus some.
Another convertible option, this rolling backpack has straps that allow kids to use it as a backpack or tuck it away while they are rolling.
What We Like:
Great value
Comes with a lunch bag
Fun design options
Comfortable, easy-to-use handle
Organizer in the front pocket
What We Don't Like:
Straps aren't durable. Won't withstand a lot of use.
---
6. JanSport Superbreak Wheeled Backpack
This JanSport backpack is smaller and simpler than the Drive Core 8 Series, but this rolling backpack still features the same sturdy inline side-mounted wheels and tuck-away shoulder straps.
The higher price tag might turn off some parents, but this backpack will hold up for more than just a school year.
The retractable handle locks at 3 stages and has a molded rubber for an easy comfortable grip.
It has a simple design and features a large front pocket and main compartment.
With fabric designs like Tropical Mania and Multi-Colored Stripe, as well as classic colors such as navy and red, there's a color for everyone, or rather every kid.
Honestly, we feel like this one is more about buying the brand, but it is super durable. You'll be using this one for years – after your kid has decided to get a new one.
What We Like:
Stylish design choices
Durable in-line skate style wheels
Tuck-away shoulder straps to use as a regular backpack
3-Stage retractable handle
What We Don't Like:
---
7.  Meetbelify Kids Rolling Backpack
They've got stuff to carry and they need space. But not too much space.
The Meetbelify is great for elementary and middle schoolers who are starting to need some extra space for their books and binders.
In the main compartment of this rolling backpack, there is a separate compartment for a tablet or laptop. In the front of the backpack are not 1, or 2, but 3 more zipper pockets and there are also two side mesh pockets as well.
The rolling backpack also has straps in order for kids to use as a traditional backpack.
As a rolling backpack, it has a whopping 6 wheels so needless to say, it can go over any rough or bumpy surface with ease. This is a great option for dragging through airports.
What We Like:
6 wheels make it easier to go over bumpy surfaces
Plenty of pockets
Spacious
Convert from backpack to rolling backpack
Inner compartment for laptop/tablet
What We Don't Like:
The handle could be more durable
---
8. Pacific Gear Treasureland Rolling Backpack
For the elementary and middle school-aged kids on the go, this one is for them.
The front pocket will organize pencils and more with its small built-in pockets. The main pocket is spacious enough to hold their growing homework demands.
The telescopic handle extends with just a push of a button to a super long length of 25 inches.
The inline rolling wheels are a little small and can get caught in cracks making this backpack not so great for rolling over uneven surfaces.
The Treasureland rolling backpack comes in a bright and fun nautical design as well as blue, Argyle, and football-themed designs too.
What We Like:
Front pocket organizer
Long handle is great for taller kids
Fun design choices
What We Don't Like:
Small wheels don't work on uneven surfaces very well
---
9. Disney Doc McStuffins Rolling Back Pack
This 12-inch backpack is made just for toddlers. It's smaller size and easy handling make it perfect for your little tot as they enter preschool or go to grandma's house for the weekend.
Just in case mom or dad has to pick up the bag, there is an adjustable strap located on the back.
It has a main compartment and two front zipper pockets as well as two side pockets, one made of mesh and the other with a Velcro flap.
It is on the small side, so it won't hold a lot but for toddlers and preschoolers, it's just right. It is also available in a variety of your child's favorite Disney characters.
What We Like:
Disney characters kids love
Small size makes it perfect for toddlers
Adjustable strap in case parents need to carry it
Affordable price tag
What We Don't Like:
---
10. High Sierra Freewheel Wheeled Backpack
This one's for the older crowd, middle school, high school, and beyond.
The High Sierra Freewheel makes getting around school a breeze with its rugged inline skate-style wheels and comfortable, easy-to-use telescoping handle.
There's plenty of space and organization in this backpack. The padded Cushion Zone pocket fits a laptop or tablet up to 16 inches.
There are pockets galore including a zipper mesh pocket, a media pocket with a USB/cable port, a pen pocket, and more.
The Airmesh padded straps allow kids to use this as a traditional backpack and the straps can be tucked away in a zippered compartment when not in use.
The handle conveniently hides away too when not in use or when kids decide to use this backpack as a traditional backpack.
What We Like:
Plenty of pockets for organization
Durable telescopic handle
Rugged in-line skate-style wheels work on bumpy terrain
Hidden straps to convert to a traditional backpack
What We Don't Like:
Wheels can pick up rocks and debris
---
Frequently Asked Questions
Q: Are there any downsides to a rolling backpack?
A: While a rolling backpack is a great option for kids, it does have a few "cons." The first being they can be pretty heavy, especially the ones made for older kids. The frame, the handle, and the material all add up in terms of weight and that's before they even add anything to the bag.
Rolling backpacks can also be harder to maneuver. Even with durable wheels, nooks, bumps, uneven surfaces or sharp turns can be challenging for kids to navigate.
Q: How do you clean a rolling backpack?
A: Always be sure to check the manufacturer's instructions first to see how to clean the backpack.
If the instructions say it can be hand-washed, great! Go grab yourself a bin big enough to fit the backpack in and fill it with lukewarm water and about a tablespoon of mild detergent. Simply place the backpack in the water and allow it to sit for 15-20 minutes.
Next, remove the backpack from the bin and rinse the backpack well. Allow it to hang dry. Do not squeeze or wring out the backpack as doing so could damage it.
If the instructions say it can only be spot cleaned, make yourself a solution of 1 part water and 1 part detergent. Dip a sponge or cloth into the solution and scrub the areas that need cleaning. Do not soak or saturate the areas though.
Next, you will use another cloth and water (just water!) and wipe the areas you just cleaned. This will "rinse" it.
For more info on cleaning backpacks, check out this video!
Bottom Line
Choosing one of the best rolling backpacks for kids can help save your kids some back pain and make toting around all their books and school supplies a little easier.
For the older kids, the JanSport Driver 8 Core Series is the way to go. Plenty of space, durable material, and the option to wear it as a regular backpack or use it as a rolling backpack make this versatile choice perfect for high school-aged kids.
For the little ones, the Skip Hop Backpack is not only adorable but holds up to the wear and tear your kid will put it through. There are plenty of fun animal designs to choose from and it comes with an affordable price tag too.