Candy Line your Glass for Special Birthday Fun! Easy to do, candy line the rims of your glasses in small candies to create an extra special table setting for a party.
As a blogger, I often see really cool ideas out there in the blogosphere and one of those has been drink cups lined with sugar around alcoholic or holiday drinks. But I got to thinking that this could be taken a step further to include some fun candies for a special birthday treat or a slumber party and what could I do to make it a bit more "kid" friendly. The challenge with lining a cup with candy is that candy is heavy, plain and simple. It slides… so the lining a cup with water and dipping into colored sugar theory pretty much failed right out the gate. If the candy stuck at all, it slide down and fast. My little glass was peppered with pink and green lines almost immediately.
After scaling my pantry for a few minutes, I instead tried some Karo syrup.
It's clear, it's heavier and it has more of a glue affect.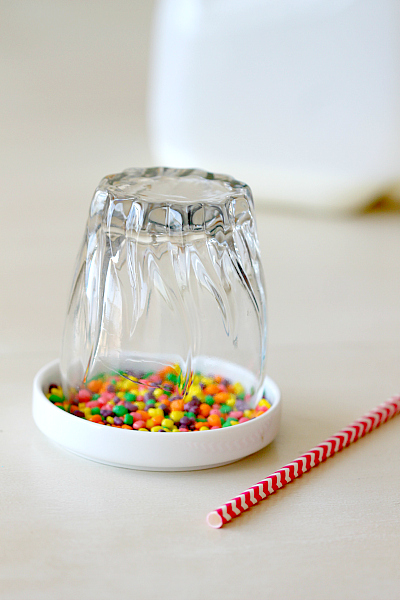 And it worked!
With a little patience that is.
If you line the cup with Karo
(I simply dipped my finger in the cap and "painted" the glass rim) and then dip your glass in light weight candies like Nerds, it sticks pretty well. You can also do this with melting chocolate if you want it to dry and stay perfect!
There are some tricks to it though if you do want to try this for a special day or birthday treat.

Candy Line your Glass for Special Birthday Fun!
1) Line the glass with Karo and dip. Then let SIT for 5 minutes. You are using syrup after all and it needs a few minutes to DRY.
2) If you do not let it dry, it will do this….some candy falls off right away,  some slides slowly down the glass and some fall INTO the drink. It works, but it doesn't work as well as it could.
3) However, if you wait about 5 minutes with the glass still upside down, it gives it a chance to "dry" and sticks better resulting in a darling special birthday drink. You can test this out with different candies as long as they are not too heavy or as long as you give it a chance to "dry".