Last night I wanted to do something to clear out left over sprinkles in the cupboard. You know how you go through the pantry and have  jars of spices and sprinkles and they all have about a half an inch of leftovers?
That's me…but I have about 14 jars like that.
So last night, while my spouse ran up to get us a Redbox, I did a really quick little dessert to clear up some room for new stuff (no doubt that I can leave in the cabinets for the next year).
This recipe is super kid friendly to help make and to eat.
Chocolate Banana Pops
A few yellow bananas, more on the stiff than ripe side
Bakers dipping chocolate OR 1 cup of semi sweet melting chocolate
Left over sprinkles
Toothpick or Popsicle sticks or cake pop sticks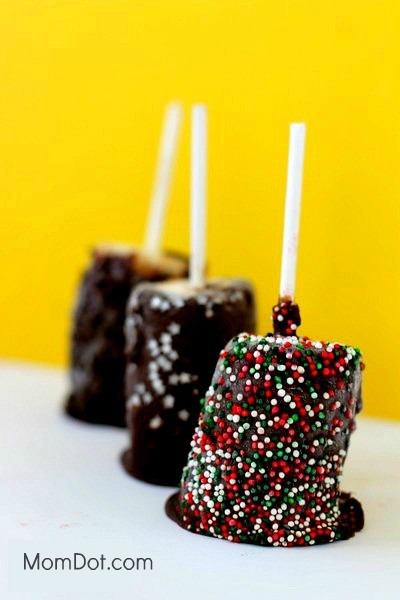 (note my Christmas sprinkles)
1) Cut up your bananas in about 2 inch sections so they stand up. Insert a stick ( I use cake pop sticks and just cut them shorter) like a Popsicle stick or toothpick. Sit on a piece of wax paper and put in freezer for 2 hours.
2) When your bananas are ready, melt your chocolate according to instructions. Remember, chocolate can be burned very easily, so make sure you are using the correct kind and don't get all overzealous nuking it for 3 minutes and go walking off. It's generally 30 seconds in the micro, stir, 15 seconds, stir, etc till its ready. Because I do not have a ton of luck with chocolate, I just buy the Bakers Dipping Chocolate. It's all set up for that and very easy to use.
3) Dip your bananas into the chocolate and then quickly add your sprinkles. The chocolate should harden up pretty quickly on your frozen nanners, but you can always throw right back into the freezer for a bit.
I froze mine overnight and this morning took one out and in about 10 minutes, it was perfect to eat.
You can also freeze your leftovers for a tasty treat for about  1-3 days.
~trisha