For the past week my awesome husband has been home hanging out with me on his winter vacation and while we did a lot of nothing, yesterday we did go out and decorate the house. It's been pretty fun watching some really nice decor go up around my neighborhood but we have been slacking the past forever few years and had basically nothing.
And let me tell you that when you have nothing to decorate with, the time to go shopping is AFTER its over, not during.
Either way we headed off to see what we could accomplish and we ended up at the craft store where they had 50% off holiday wreath materials!
We bought a pretty decently gold bow
 , empty wreath for $20, a huge gold bow for $6, 4 large red velvet bows
for $3.50 and a canister of ornaments for $6. Because wreaths are MEGA expensive to buy pre-made, I warmed up the glue gun to create my own Christmas ball wreath with shiny ornaments.
While this didn't start out any massive tutorial, I did want to show you how EASY it is just in case you are too intimidated to get started.
The whole thing cost me $32, which really was pretty fantastic and while simple, I love the way the wreath turned out.
 Now ready to make your own?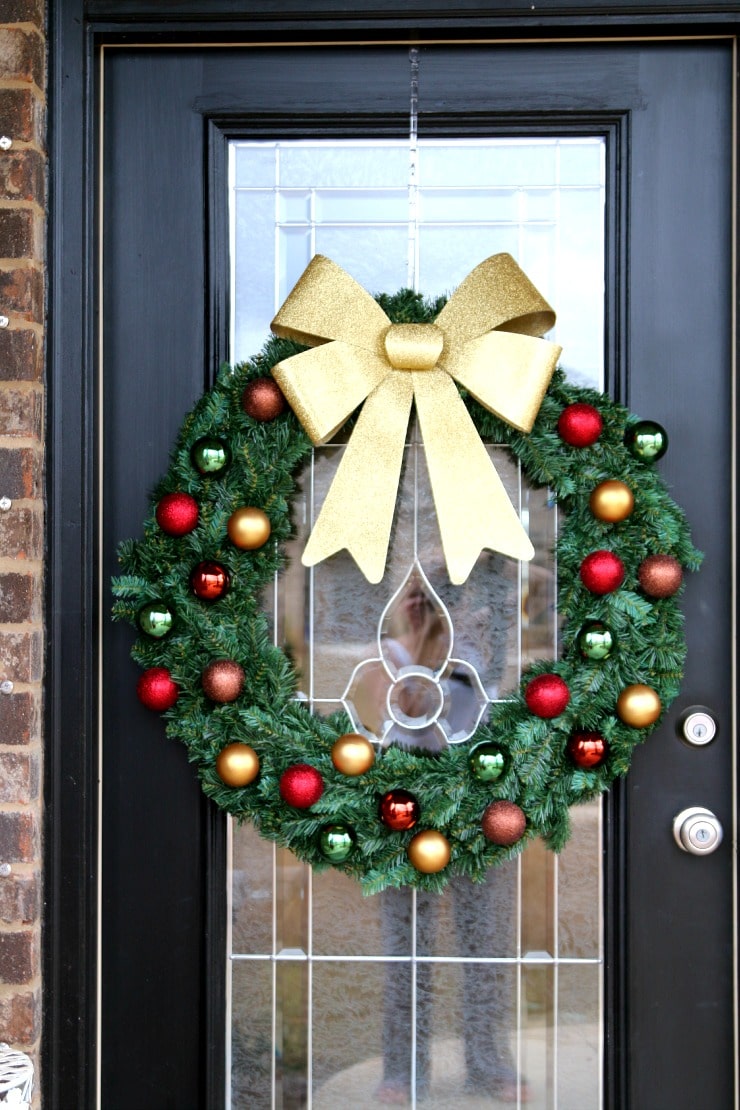 Christmas Ball Wreath Tutorial
Easy DIY to Customize your Front Door -seriously took under 10 minutes!
You need
Basically to make your Christmas Ball Wreath, just dump all your ornaments out on the table in the center of the wreath so they do not roll.
Then I placed my big bow first. I personally liked the way it looked on the top and because it killed so much space I could use less ornaments. After you place your bow, all you need to do is start putting your ornaments around your wreath. Do not glue down yet. Just get a feel how you like them set up and mix up the colors or even patterns of it until just right. We faced the top of the ornament down.
Once you have your perfect pattern in place, hot glue around the top of the adornment where you would normally add your wire to hang from a tree and stick firmly down into the wreath and let dry. After we were all set there I went back and hot glued down my ribbon securely.
That is it!
After we hung it outside I did run back and add one last bulb in what looked like an empty spot.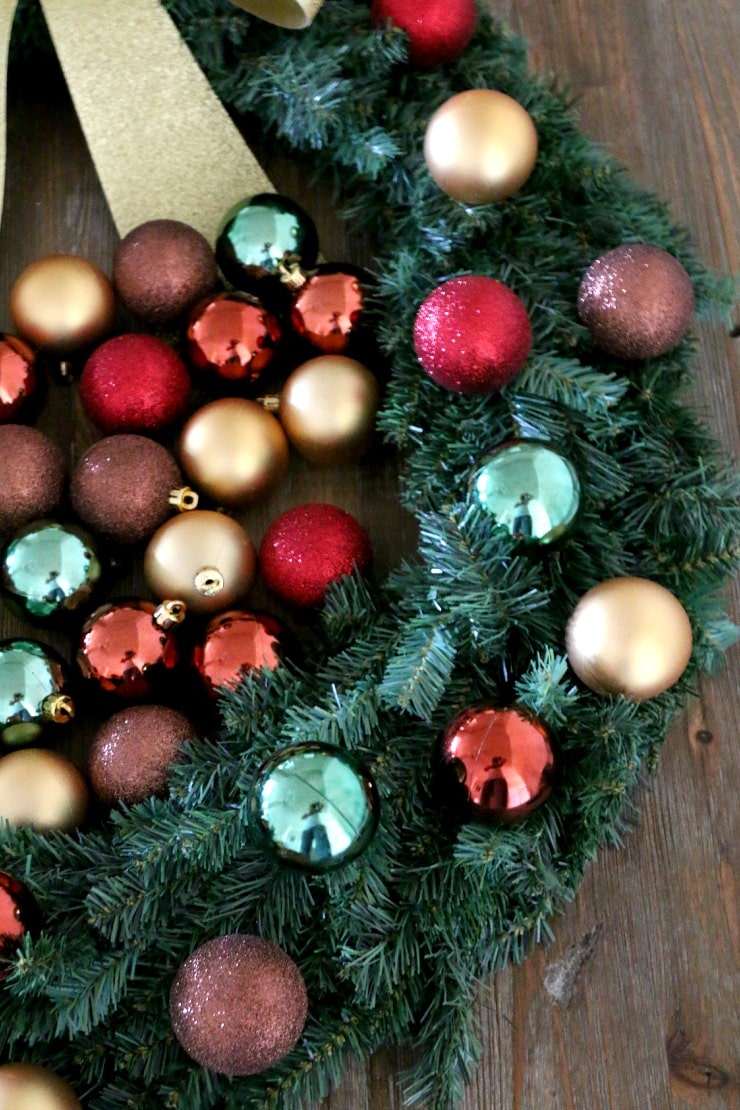 Chris stuck it on the house…we moved it from the front door to the middle window. Its a pretty big wreath but the window swallowed it a bit anyway. Ideally id like to go back and make 2 more for either side, but we are afraid it will be too much.
Not that Christmas could ever have "too much"..right?
Overall, I give this one an A for super easy, took me under 10 MINUTES to create and this is easy enough for a novice.  If you are ready for ANOTHER cool craft, head over and download my FREE Snowman Activity printables , or check out my pinterest and follow me OR head to one of my favorite sponsors pages and pick out a FANTASTIC gift for the hardest member in your family to shop for!
~Trisha