This is a sponsored post written by me on behalf of The Gorilla Glue Company for IZEA Worldwide. All opinions are 100% mine.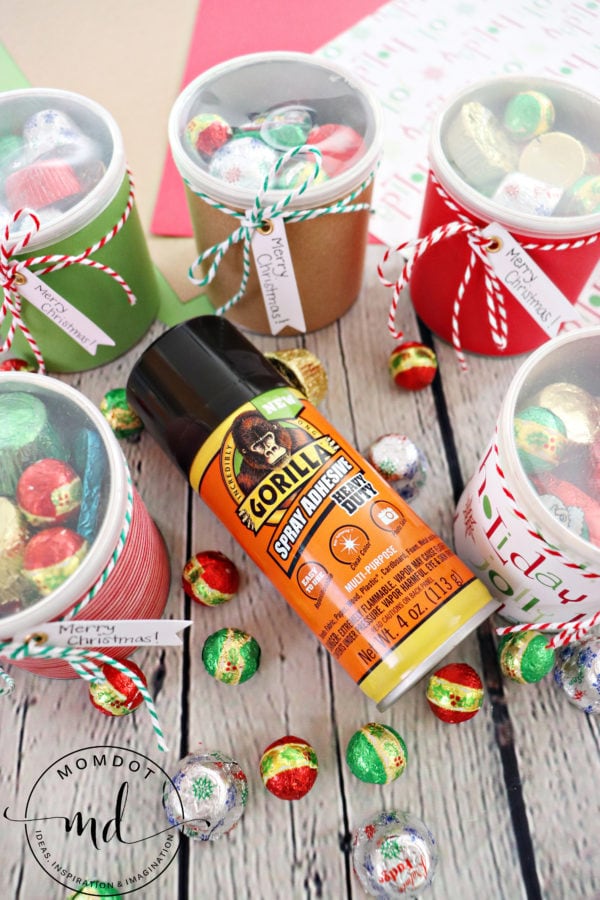 I don't know about you but I always have the best of intentions when the Christmas season starts to get to work early on making goodies to take to all our friends and neighbors. I always plan on making homemade Christmas candy, hand-crafting gifts, creating elaborate cards, and sharing with everyone early in the month.
Then all of the sudden it's a few days before Christmas, I have a million things still left on my plate. Parties, recitals, dinners, concerts, and programs… I'll just stop there. And then I realize I never did anything to wish any of our neighbors, co-workers, and other friends a Merry Christmas. And let's not even get started on the guilt I start to feel, which I'm pretty sure is not the main emotion you should be having around the holidays.
I decided I am NOT doing that again this year! I knew that while my heart is in the right place I just don't have the time or energy to spend hours and hours on complicated gifts for the many people in our lives. Steph gave me the brilliant idea of using small Pringles cans as the base for a little gift of sweet treats to take to those we love.
I quickly began gathering up what I'd need. Pringles cans, scrapbook paper, paper cutter, scissors, and perhaps one of the most important things – something to adhere the paper to the can. I needed something that would be quick, easy, clean, and of course, stick well!
Gorilla Spray Adhesive
I realized now would be the perfect time to try out Gorilla Spray Adhesive. Have you heard of it before? After finding out all of its qualities it sounded like the perfect fit for my project. Did you know Gorilla Spray Adhesive:
Bonds to wood, metal, fabric, foam, paper, glass, and more!
Is photo safe
Has a fine mist spray for even application
Is non-yellowing
Has a wide pad comfort nozzle
Is repositionable
Meets the new VOC standard
Dries permanently
I was really anxious to get going on my project and I was crossing my fingers the spray would work as well as it seemed. Spoiler alert – it did! I can't wait to show you how easy this little Christmas Can craft was to throw together.
Instructions
First, empty out a few small Pringles cans. I'm sure your children won't mind helping you out with that. 😉
Second, there will be crumbs. Just wipe out with a damp cloth.
Third, cut your scrapbooking paper to the size of the can. I just held the paper up to the can, made a little tick mark, and cut it with my paper cutter.
Fourth, use your Gorilla Spray Adhesive to adhere the scrapbook paper to the can. It was really easy to do this part. Follow the instructions on the back and it will work perfectly for you. Just a few tips (that are mentioned on the can): shake the can well, after you spray your material wait just a minute to let the adhesive get tacky, and spray both materials for maximum bonding.
I loved how quickly I was able to wrap the paper around the can after using the Gorilla Spray Adhesive. With this spray, I didn't have to worry about holding things in place or waiting for long periods for drying time. I sprayed, placed, wrapped, and was ready to move on.
You can really make these crafty cans your own by your choice of papers or other materials to use with them. This year my Christmas theme is simplistic so I stuck with just one simple paper. But you could layer different papers, colors, ribbons, lace, rope, etc. to add a bit of pop to your project!
Next, fill your cans with goodies. For today I chose to throw in some quick Christmas candy from the store. Other ideas could include
Mini candy canes
Cookies
Homemade caramels
Peppermint Bark
Hot chocolate packets
Finally, use some twine, jute or ribbon to tie a gift tag to the can.
And voilà, you're done! No stress, no mess, and you can now check off at least one item on your holiday to-do list!
Giveaway
As if that weren't awesome enough how about a chance to enter a giveaway to win a $250 Home Depot Gift Card? Just click on the link to enter, leave a comment below letting me know what craft you'd make with Gorilla Spray Adhesive or if you're going to try out mine! You can also refer friends to get extra entries! Good luck!
Gorilla Glue $250 Home Depot Gift Card Giveaway
Happy crafting!
~Kimberly