As you may know if you follow me on Facebook, I pretty much hate, with a capital H-A-T-E, this "new common core" math being taught. Every day it's a massive struggle for Chris and me, him with a Masters Degree and myself with a Bachelors, to teach 3rd grade homework to our daughter.
Putting aside that we work for hours past an already 8 hour school day, ignoring that we are provided no text books to learn about the material, and sweeping under the rug that they send home homework on things they have yet to even teach yet, we are doing our best.
But we are lost.
LOST.
And I am a bit angry to tell you the truth.
Today was just another example of "fuzzy" math.
This is on Charlotte's homework: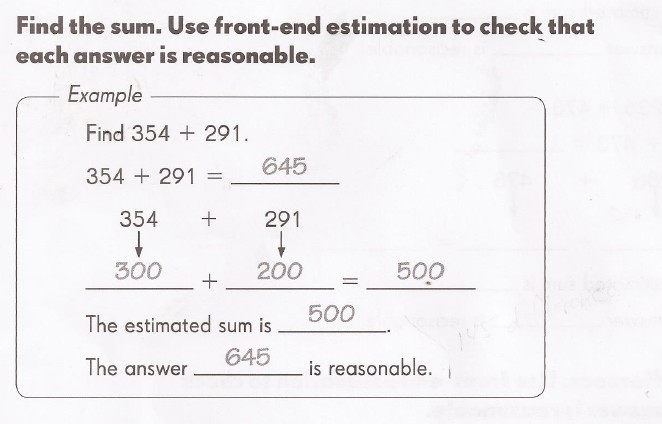 All her problems have to be done this way.
Under what math EVER would 291 be "estimated" or "rounded off" to 200?  Am I missing something? And this is the example for her to base all her other math homework on.
I can tell you that if I estimated or rounded off my bills from $291 to $200, I would get a notice of an unpaid bill. I am not sure my mortgage or car payment would agree with that.
And let's jump to the answer. The estimated sum '500' is considered reasonable with '645'?
Is 5 million the same as 6.5 million? Ask an accountant that. Ask a corporation that.
I can't help but wanting to refuse to teach Charlotte something that I find completely and utterly wrong.
~trisha