No matter weather its freezing outside or a hot summer day, Creamy Lemon Chicken is sure to hit the spot when it comes to pleasing your entire family. Easily made, this sauce of two ways can be customized with Parmesan or left alone with just a lemon and cream base. Now, I am not one to sit here and make up some adorable little family story to go with this recipe, let's just get to the FOOD. If you are looking for a printable version of this creamy lemon chicken recipe, scroll to bottom.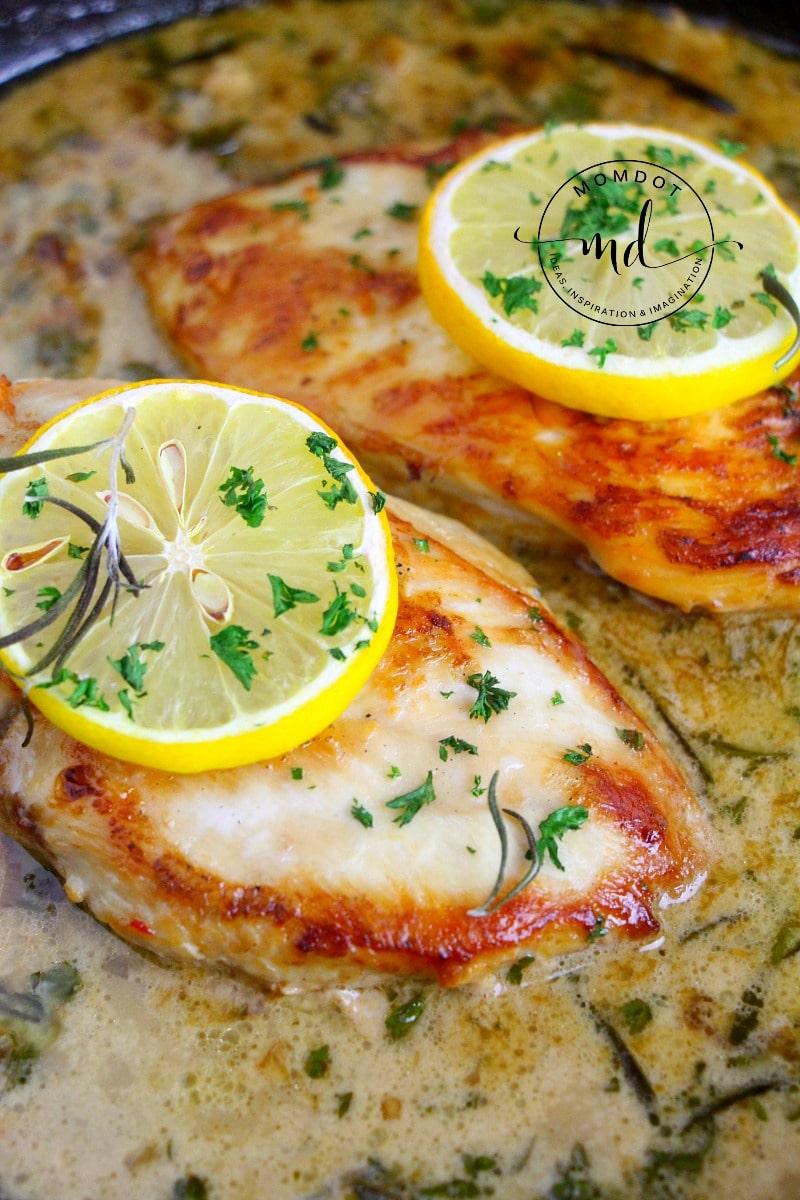 Creamy Lemon Chicken
Get the printable recipe for this lemon chicken at bottom of article!
Ingredients:
(Alternative Sauce: add  1/2 cup Parmesan PLUS 1 Tablespoon
cornstarch
)
You can easily add this subtle change in the recipe to create a thicker more robust sauce. If you are looking for an alternative to a heavy sauce, this recipe is a bit altered for the
Lemon Parmesan Sheet Chicken
, which has far more veggies and less carbs.
---
Kitchen Gizmo 2 Sided TPU Anti-Bacterial Cutting Board, Thick Yet Flexible, Knife Friendly, Scratch Resistant, Non-Slip, Juice Groove, Dishwasher Safe, Antimicrobial and FDA Approved (Red/Black)
PRO TIP: Every time I am working with raw chicken, I honestly get grossed out. We all know how sick it can make someone to be exposed to what it leaves behind. I love these Kitchen Gizmos– its a cutting board that takes away the worry! Standard cutting boards get scratches which become a breeding ground for bacteria. This cutting board is extremely scratch-resistant, preventing any bacteria from building up, has two sides, and a juice catcher so your defrosted chicken doesn't leak to the counter.
*You can get rid of a whopping 54% of bacteria just by washing it with cold water.
*To sterilize up to 99.6% just pour boiling water over the board.
*Big working surface 15″x11.75″
*Heat-resistant of up to 300° Fahrenheit
*FDA Approved, BPA free, Dishwasher Safe
---
Creamy Lemon Chicken Recipe
Preheat oven to 375F
Using a mallet
, pound down the chicken breasts/thighs into ½ inch thickness so they are easier to cook.
Combine the chicken broth
, lemon juice
, and garlic
. If you are using the other sauce, add 1/2 cup Parmesan plus 1 tablespoon of cornstarch.
Heat up your oil and add the chicken. Brown on both sides for approximately 2-3 minutes per side. Remove chicken to a plate.
Let sauce simmer for about 8 minutes, making sure to stir often to avoid burning.
Once sauce has thickened up, add the butter and whisk until melted. Add heavy cream.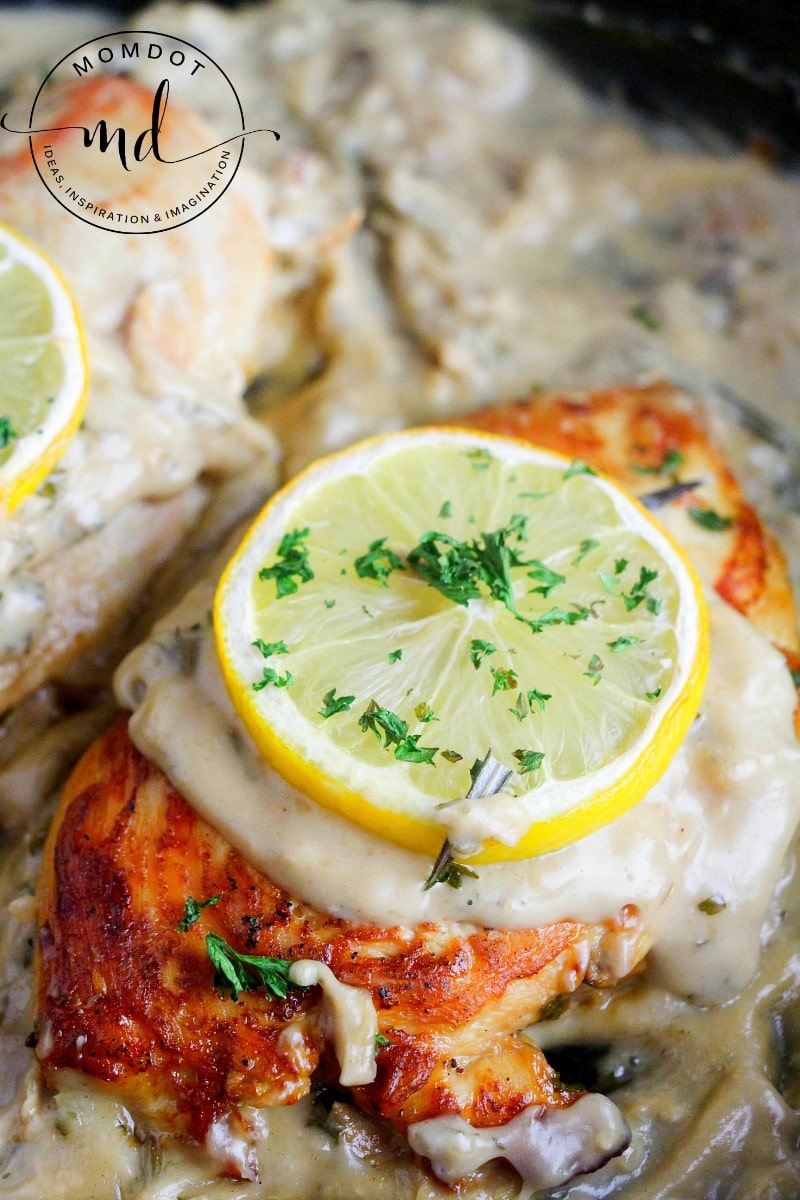 Put chicken back in skillet
.
Put pan in oven for about 7 minutes, or until chickens internal temp is  165F – careful not to overcook
Add parsley, herbs, or extra lemon slices
If you are hunting for great chicken recipes, try OHMYGOSHTHISCHICKENISSOGOOD Recipe!  Over 500K Pins cannot be wrong!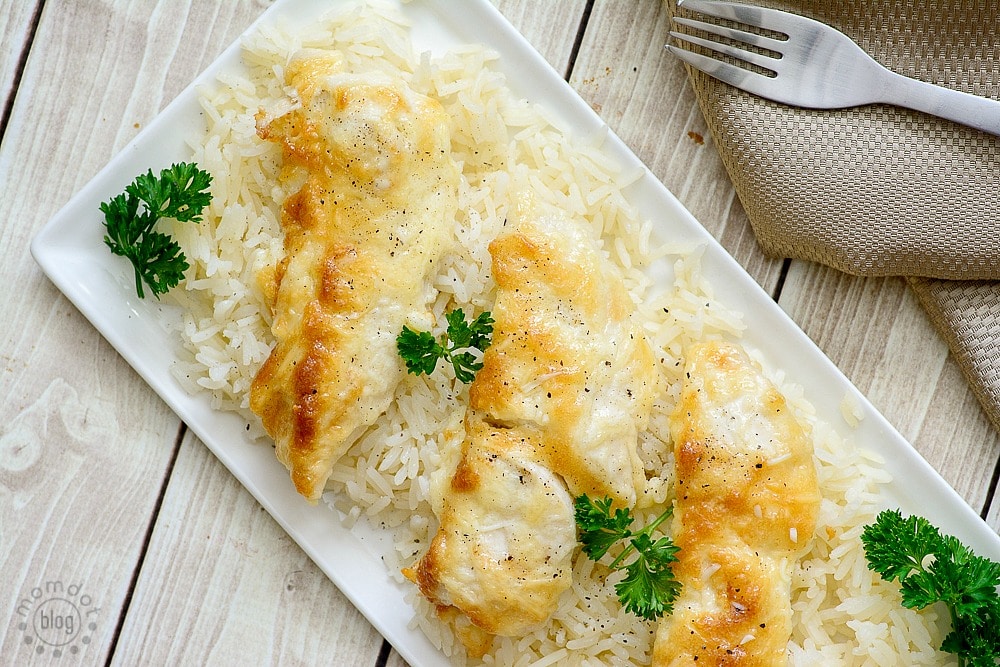 Creamy Lemon Chicken Recipe
What You Need
4

boneless skinless chicken breasts

1

cup

chicken broth

2

tablespoons

lemon juice

5

cloves

garlic

minced

1

tablespoon

olive oil

1/2

onion

finely diced

2

tablespoons

butter

¼

cup

heavy cream

2

tablespoons

chopped parsley

Salt and pepper

to taste
Instructions
Preheat oven to 375F

Using a mallet, pound down the chicken breasts/thighs into ½ inch thickness so they are easier to cook.

Combine the chicken broth, lemon juice, and garlic. If you are using the other sauce, add 1/2 cup Parmesan plus 1 tablespoon of cornstarch.

Heat up your oil and add the chicken. Brown on both sides for approximately 2-3 minutes per side. Remove chicken to a plate.

Let sauce simmer for about 8 minutes, making sure to stir often to avoid burning.

Once sauce has thickened up, add the butter and whisk until melted. Add heavy cream.

Put chicken back in skillet.

Put pan in oven for about 7 minutes, or until chickens internal temp is  165F - careful not to overcook

Add parsley, herbs, or extra lemon slices