I am not sure about your house, but there are times I want a home cooked meal without the 19 ingredient pile up that takes down my kitchen for 3 hours. Sometimes I want to be able to quickly get in, get out, and eat without all the fuss and muss with my chicken breast recipes….and without opening a box.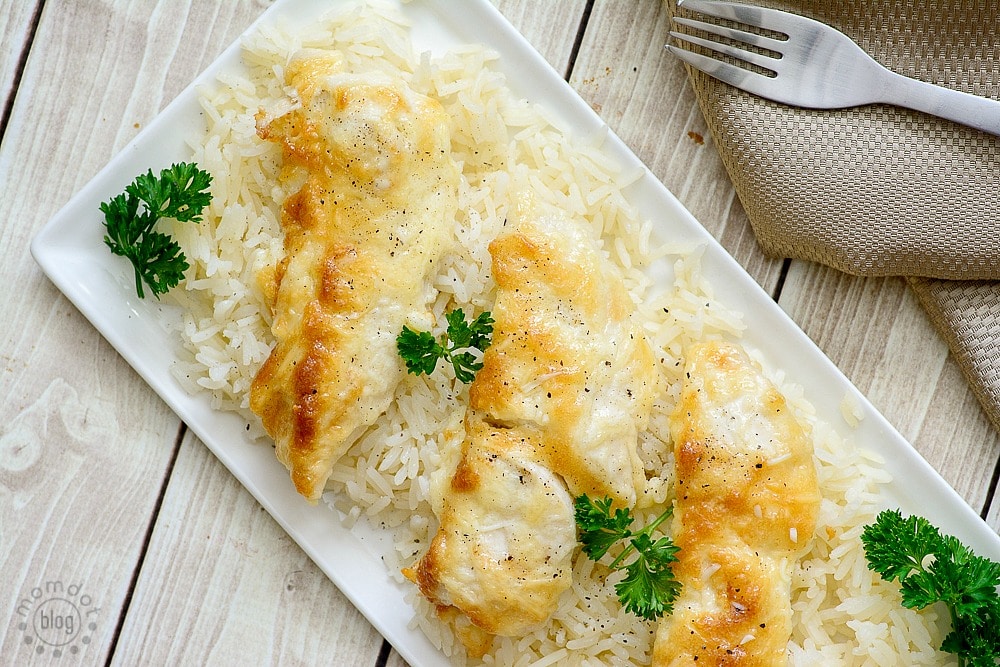 Which is why I want to introduce you to some:
OHMYGOSHTHISISGOOD Chicken
(old pictures and new updated pictures, same chicken recipe, better camera!)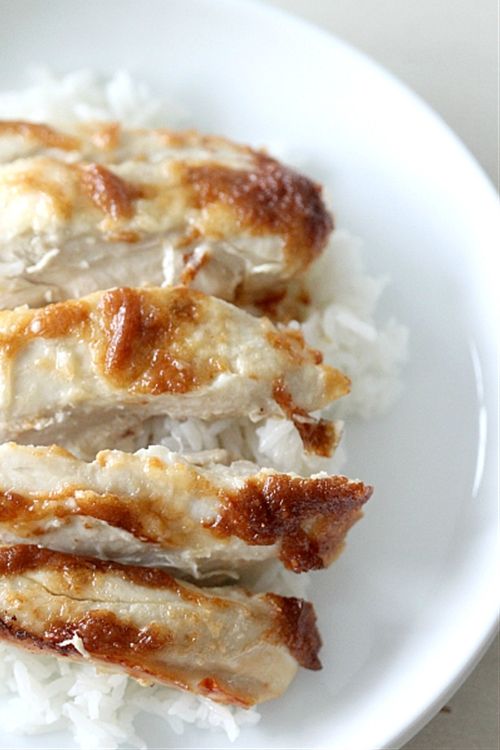 This is aptly named that as every time I cook this chicken my husband says "this is really good, what's in it?" And every time I answer that there isn't much to it or in it, but it's delicious nonetheless. Simple, easy, that is exactly what I like in my recipes. Ya feel me?
Kitchen Gizmo 2 Sided TPU Anti-Bacterial Cutting Board, Thick Yet Flexible, Knife Friendly, Scratch Resistant, Non-Slip, Juice Groove, Dishwasher Safe, Antimicrobial and FDA Approved (Red/Black)
PRO TIP: Every time I am working with raw chicken, I honestly get grossed out. We all know how sick it can make someone to be exposed to what it leaves behind. I love these Kitchen Gizmos– its a cutting board that takes away the worry! Standard cutting boards get scratches which become a breeding ground for bacteria. This cutting board is extremely scratch-resistant, preventing any bacteria from building up, has two sides, and a juice catcher so your defrosted chicken doesn't leak to the counter.
*You can get rid of a whopping 54% of bacteria just by washing it with cold water.
*To sterilize up to 99.6% just pour boiling water over the board.
*Big working surface 15″x11.75″
*Heat-resistant of up to 300° Fahrenheit
*FDA Approved, BPA free, Dishwasher Safe
Here's the thing…the key to this perfect chicken comes down to just two ingredients: Mayo and Parmesan.  No breading, no eggs, no crunched up peanuts or cereal for the shell. Really! You simply mix up, apply, and voila! And with a family that eats chicken chicken breast recipes 6 out of 7 days of the week (my daughter hates red meat), having something that everyone is ready to chow down on says a lot!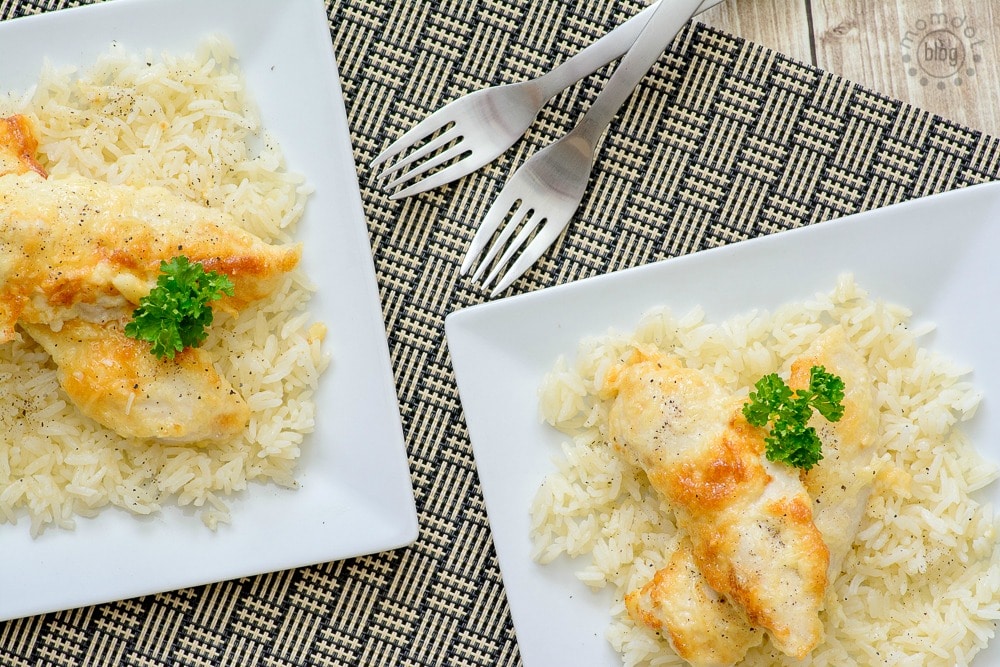 ---
NEW: NOW WITH RECIPE VIDEO TUTORIAL~!
Of course if you want extra flavoring, do not hold back. While it doesn't need anything extra, we like to add some fresh garlic.
Easy, right?
And results?
Nom. Nom. Nom.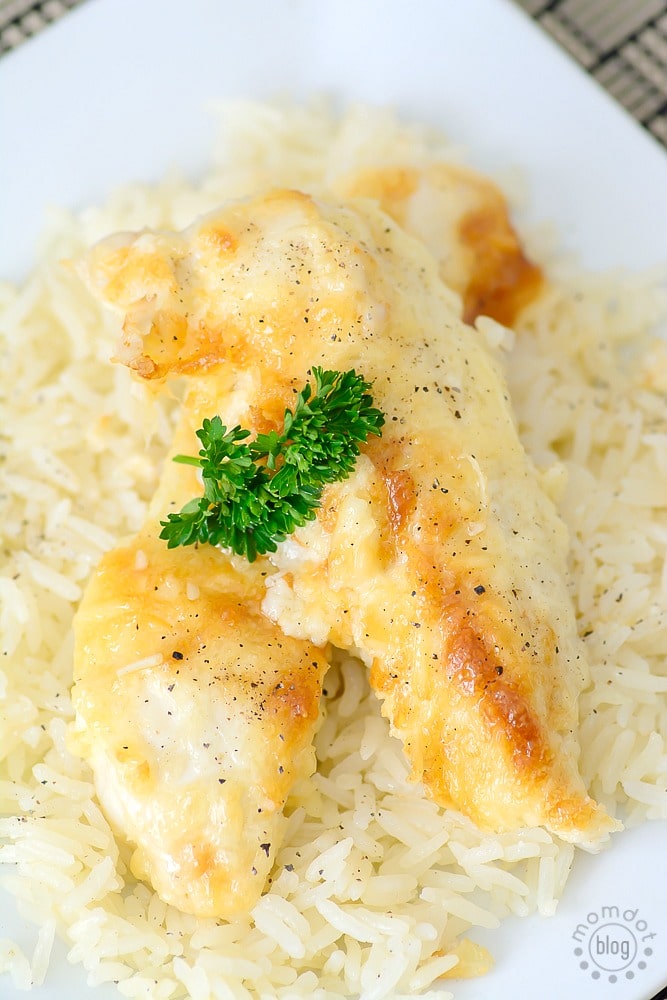 If the pictures were not a good explanation and you still need a recipe (let's face it, our brains can be fried when it's dinner time), here ya go:
1 cup mayo (Hellmanns…not miracle whip)
1/2 cup Parmesan
salt/pepper to taste
1/2 tsp garlic (optional)
boneless, skinless chicken (I used tenders here and always organic)
1) mix up
2) layer on your chicken…do not overdo it or it won't brown up properly
3) bake in oven on 375 for 30-35 min
High Five, Mom! You created perfection.

"Ohmygoshthisissogood" Baked Chicken Breast Recipe!
Ingredients
1 cup mayo (mayo...not miracle whip)
½ cup Parmesan
salt/pepper to taste
½ tsp garlic (optional)
boneless, skinless chicken (I used tenders here)
Instructions
mix up
layer on your chicken...do not overdo it or it won't brown up properly
bake in oven on 375 for 30-35 min

Looking for more chicken recipes for your family? Make sure you PIN THESE before you go!