Just about two weeks to the day, I moved into a new house. It's so interesting to move. On one hand its like a new start, all these blank walls and empty hallways and new spaces to be creative in. On the other, its still a house, not a home. There are no memories and boxes lurk around every corner. And as much as I want to go on a crazy buying spree to fill every area, it's not practical. I have to take each day one by one and piece together new memories and new ideas.
Now one of my favorite places in my new house is my kitchen. It has 24 (!) pull out drawers, hoards of space, and enough room to invite half the neighborhood over to cook. It inspires me to bake and cook and I find myself wanting to be in the kitchen more than I want to be in any other place in the house. You and I both know I have had 1000 baking disasters in my old house, so perhaps this is a new era for me.
Maybe.
Well at least I have cooking. Cooking I can do and I like nothing more than cooking with fresh herbs. Generally I purchase them all laid out nicely from the store, but the truth is they often go bad before I can use them all. Because I have all this new found space, Charlotte and I decided to make ourselves in Indoor Spice Garden.
Create your Space: Indoor Living Spice Cabinet
We picked up my favorite to use spices and found a beautiful cedar planter from the store (smells so nice!) and created our very own living spice cabinet. I picked four of my favorite and most well used spices to put in the kitchen. They are sure to be pruned often with usage into my family dinners.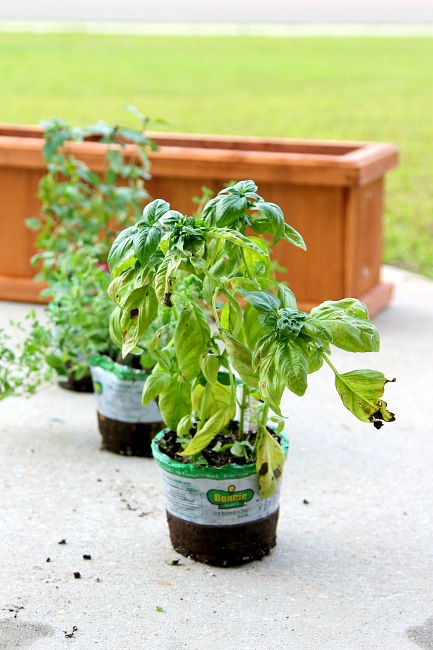 My kitchen was a little dark this morning, but I still wanted to show you how it looks! I think its perfect by the window sill and will get the perfect amount of sunlight for growth.
The worrying about not having fresh spices on hand for awesome Margarita pizzas that need basil or fresh salsas with cilantro is gone! I will let you know how my spices thrive in the kitchen and coming up I will also have a craft for marking them all in the planter so the green leafs are not so confusing.
And even better, my kitchen is well on its way to being more like a home.
Do you grow your own spices?