It's been just over a year since my C Section. Believe me, the C Section was far from "elected" and if I could have changed it, I would have. All those Britney Spears types that say "oh, it's so EASY" is a big fat liar. And this comes from someone that doesn't wince on a root canal.
In the interest of full disclosure, I also had a tubal ligation at the same time, so who knows which one provided the intense pain, but in the end, the result is the same. I am so glad I never have to go through it again!
I wanted to share my C section scar from then to now, so those of you that have yet to go through it maybe know a little of what to expect.  I know I was forever looking scar pictures up until the point I had Phoenyx and that dreaded "c section shelf".
Unfortunately it really does exist.
I am sorry to be the bearer of bad news.
In any case, here ya go.
DAY AFTER SURGERY
TEN DAYS AFTER SURGERY
13 MONTHS AFTER SURGERY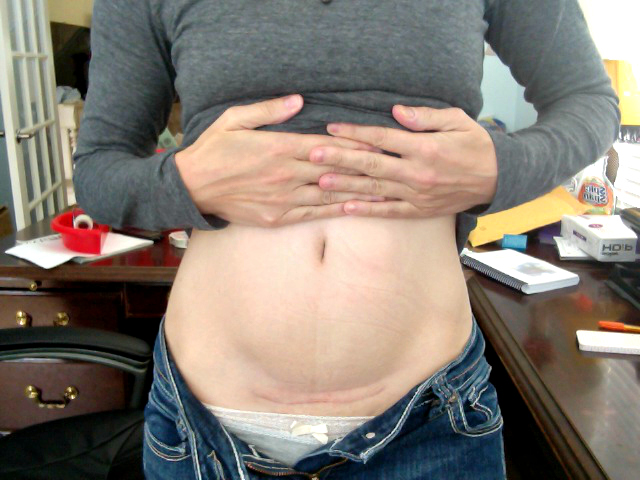 Before you ask, yes I am sucking in so you can see the scar better. Otherwise that shelf where my poor old body used to be flat will leave a shadow.
I did lose feeling for about 10 months in that location. You could literally put a needle in that spot and nothing. I now have full feeling around the scar, but it took about 10 months to get there.
If you had a C, do you have a big scar? How does it compare?
~trisha