This recipe created in partnership with Kroger, Promised Land Milk, and Breyers)
When it comes to sweets, my family has their creativity on lock. They will turn down everything else for ice cream and when I said the word "milkshake" today, all ears were on me. Truth be told I should have said "after you clean your room" but I'm a sucker for some summer fun and nothing says summer fun like dishing up some decadent treats.
Now I have had many a milkshake in my life. Pretty sure my dad met my mom at her job in a milkshake shop to be honest. But something about 2016 has given us permission to go just from milk and ice cream, to milk, ice cream and whatever we can find to cram into that bad boy.
Which results in something beautiful like this….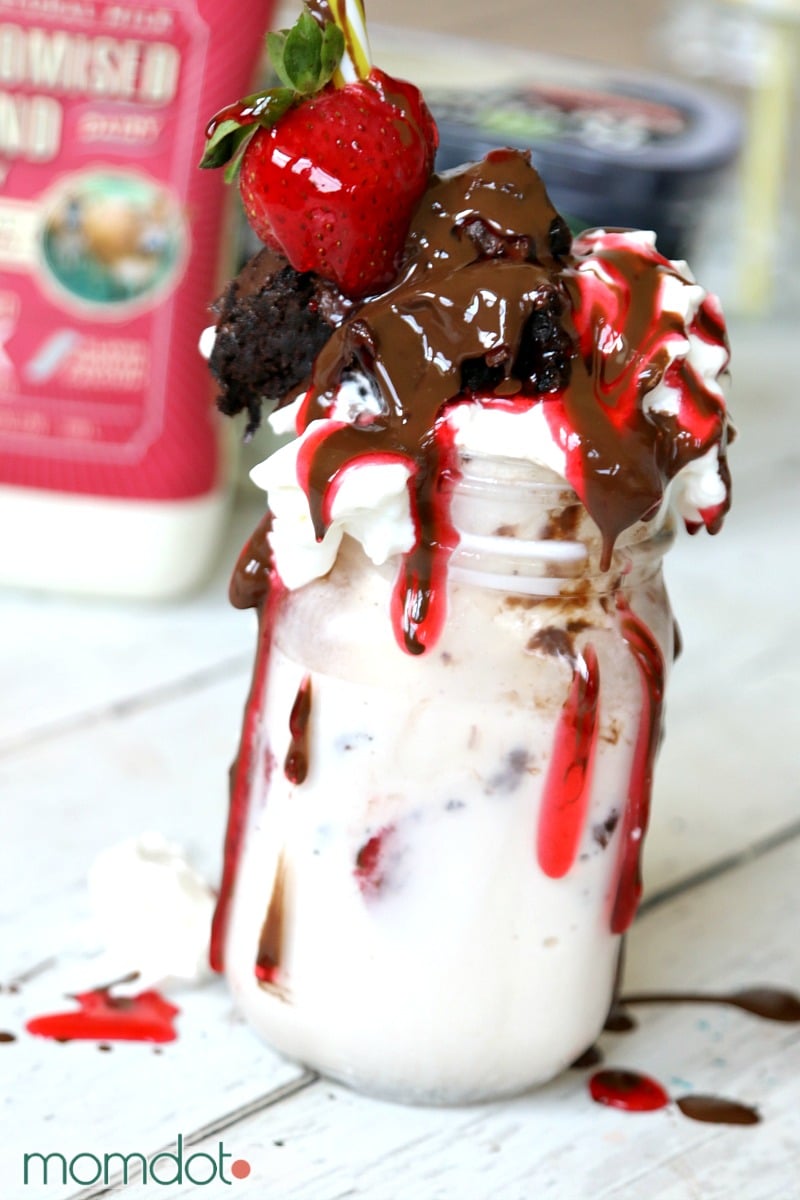 Make those calories count, I say!
So today I gave the kids some mason jars and carte blanch to create their perfect milkshakes and here is what they created! First, creating any fun treat, starts with great ingredients. Our main two, Breyers ice cream and Promised Land milk (both available at Kroger) are the best!
About Promised Land Milk
Promised Land Plain (Whole/Red Label) Milk and/or Midnight Chocolate

Indulgent, Rich and Naturally Delicious.

Promised Land Milk is far from ordinary in that it is creamier and richer than other milks, because it comes from pampered Jersey Cows.

Jersey Cows: not from New Jersey — originally from the Channel Island of Jersey off the coast of France; less than 10% of the milk in the U.S. comes from Jersey cows; naturally higher in protein, and calcium

Promised Land Milk doesn't add artificial hormones or antibiotics

Chocolate is loaded with natural flavor, but has no artificial colors or hormones.

Promised Land milk is higher in protein because it comes from Jersey Cows.
The way Vanilla should taste! Made with simple ingredients like fresh cream, sugar, milk and Rainforest Alliance Certified vanilla beans.

Breyers Natural Vanilla is the best tasting vanilla and is made with high quality ingredients

Breyers is made with fresh cream, sugar and milk.

Breyers uses only milk and cream from cows not treated with artificial growth hormones*.

*Suppliers of other ingredients such as cookies, candies &  sauces maybe able to make  the No  Artificial Growth Hormones claim. The FDA states that no significant difference has been shown between dairy derived from rBST-treated and non-rBST‐treated cows.

Breyers pledges to use only sustainably farmed vanilla and fruit*.

*Most Breyers products currently source natural colors & flavors and sustainably farmed fruit and Vanilla. We are working on the remaining products. For more information on these products, visit

 www.breyers.com/

 products.

Phoenyxs milkshake
Decadent Chocolate Brownie and Vanilla Milkshake
Frozen strawberries
Strawberry drizzle
Chocolate drizzle
Brownie with frosting
You will have to alter your milkshake for the size cup you have, but we added approximatly 3 scoops of Beryes Natural Vanilla (made with fresh cream, sugar and milk) with approximatly 1/3rd cup of milk into a blender. Next Phoenyx added some spinkles..cause what is amilkshake, or nay ice cream really, without sprinkles. Then he added a brownie to his jar, poured on the milkshake ( I helped) and topped with whipped cream, strawberries, a frosted brownie and lots of syrup.
I said decadent, didn't I?  The result was pure deliciousness!
Charlottes milkshake
Decadent Chocolate Brownie and Strawberry Milkshake
Frozen strawberries
Strawberry drizzle
Chocolate drizzle
Brownie with frosting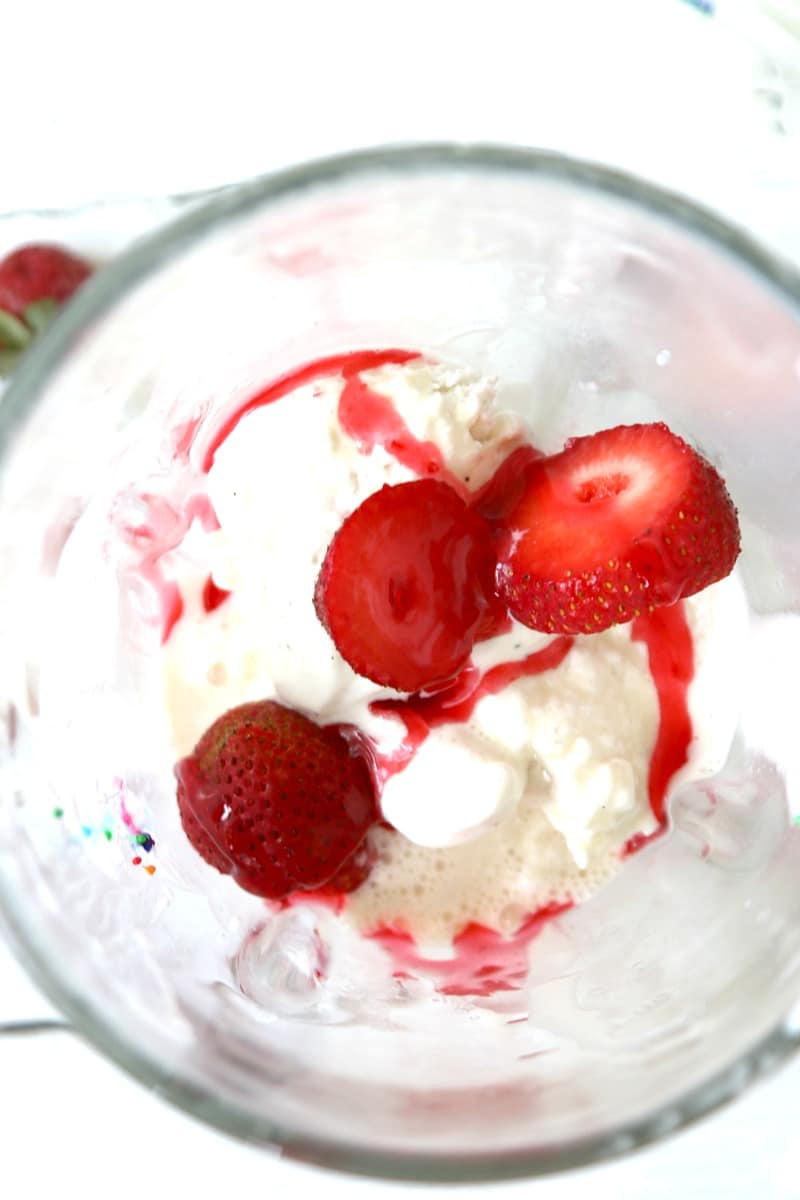 Charlotte likes her strawberries right in the ice cream, so she added ice cream, milk, strawberries and strawberry syrup to the blender.
Mix it up and then layer brownie, more fresh strawberries, and your newly created strawberry milkshake.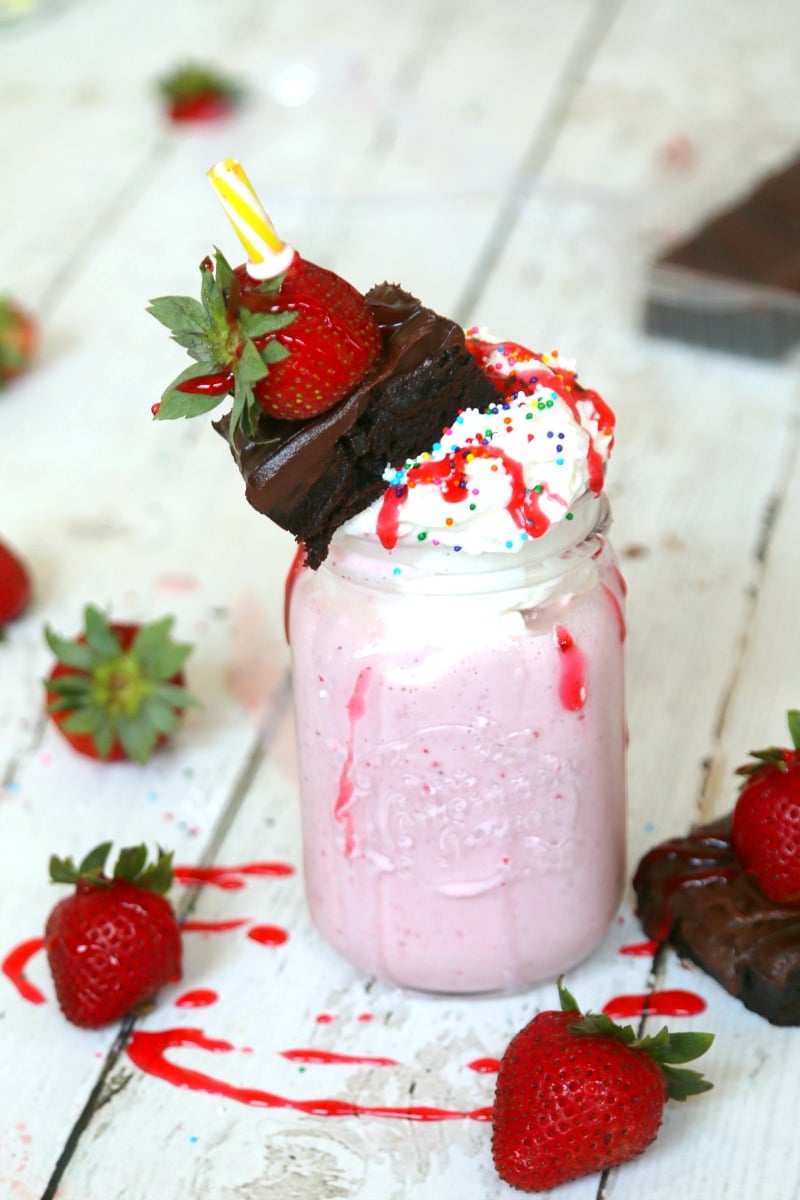 The result? Two happy kids and some empty jars!

Stay tuned for a contest kicking off tomorrow to help you win $50 to Kroger so you can make the perfect milkshake for your family!