Last year I thought I had outdid myself with the cutest costume ever for Phoenyx.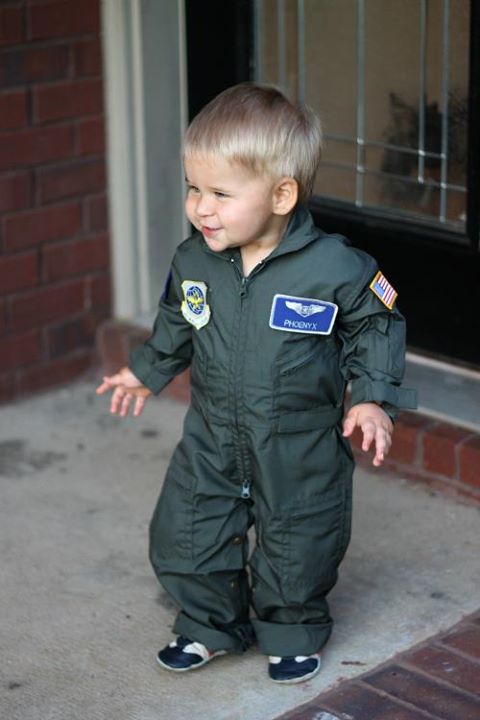 This year when it came to planning, I had to pause. Reuse last years costume (which fits better this year) or something buy something complete new? In the end I went for a new costume as by this time next year I am sure he will be picking out his own stuff.
Introducing Phoenyx's costume for 2013!
Bad boys, Bad boys, whatcha gonna do…………..
Because its Halloween time, we have been spending a lot of time shopping for decor, holiday treats, and of course costumes lately. Phoenyx especially loves the Halloween store with the large scary decorations that jump out at you, although Charlotte's not really much of a fan. We use going to the Halloween stores as a bonding experience for the whole family and generally take several trips during the month of October.
So far this year I have spent about $100 on costumes and decorations. If I had a larger family could see how it would rack up quite quickly!  That is why as a Discover Preferred Blogger, I wanted to remind you that Discover cardmembers can redeem their Cashback Bonus for partner gift cards to retailers like Kohl's, Kmart and Overstock.com for costumes, paint, carving stencils and more!  And for added convenience (and free shipping) Amazon.com also allows you to use your Discover Cashback Bonus to pay for your purchases.
 Cool, right?
Of course costumes and decor are just few of the holiday traditions that many families have. Going to haunted attractions like Fright Fest at Six Flags, creating lots of great Holiday Food recipes, and stocking up on warmer clothes (just started round here!) are all important details as well.
SAVVY SAVER TIPS OF THE MONTH:
Now through the end of the year, Discover cardmembers can enroll to earn 5% Cashback Bonus on online holiday purchases up to $1,500 – that's up to $75 cash back!
Savings are even greater if you shop through ShopDiscover, Discover's online shopping portal with more than 200 online merchants offering 5-20% Cashback Bonus. Find seasonal kitchenware from top retailers such as Target, Bed Bath and Beyond and Macy's. This is a quick and easy way to earn real cash rewards (at least 5% Cashback Bonus) on all fall purchases, including baking supplies.
Oh, and while Charlotte isn't shown here, she opted in for a pink Cowgirl costume. Of course I waited so long to get one, I had to order it online and it won't be here till later on this week. BAD MOM!  I'll update a few shots in a later post.
I want to hear from you now!
What are your kids costumes this year for Halloween?
~Trisha