Earlier this week I saw this adorable pin for pillow boxes made of toilet paper rolls…and I was like um, yes! SO cute, so perfect and so….unrealistic for my house. Do you know how LONG it would take me to get enough toilet paper rolls to have more than like 2?
Atleast a month.
Instead I started wondering how I could make one of my own without having to sit down to pee every few hours to get that roll.
DING DING DING! Cardstock.
I have been wanting to use all my pretty construction papers for a bit anyway so my friend Lynsey and I created this adorable pillow box that just requires paper, tape, ribbon and goodies to stuff inside! It's perfect for treats or gifts, can be customized for any holiday or birthday, or even used as a special gift left for (or by!) the tooth fairy.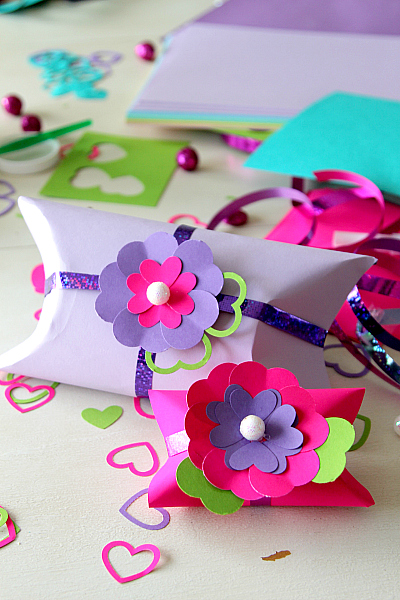 How to make a Valentines Day Pillow Box (without toilet rolls~)
Supplies
Card stock
tape
ribbon or twine
goodies to stuff inside box

 First I decide the side of the box I wanted. You can tell the length because when you roll your paper into a circle, it should show the length of the box. We did two sizes, one the same size you would get if you did a toilet paper pillow box and one large enough to put pencils in.
Lay your tape with sticky side up and put edge of paper on one side. Then curve over into a circle and press down so both edges are even and secure. Then fold the outside tape into the roll so the seams are sealed.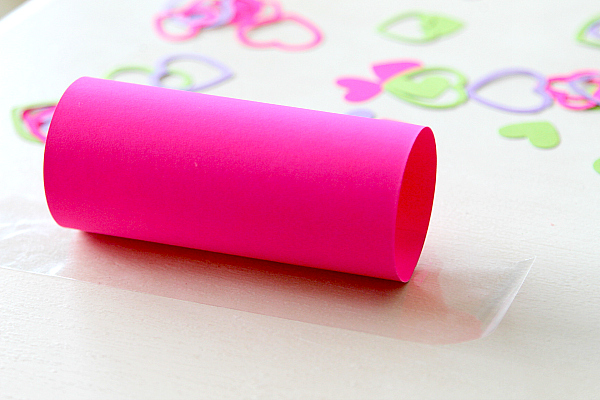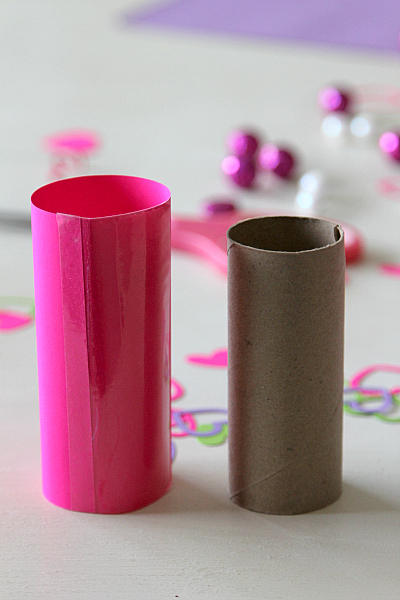 Lay your rolled paper on the table and stuff with goodies. I included a love note, some candy hearts and confetti that we made from a Martha Stewart heart punch.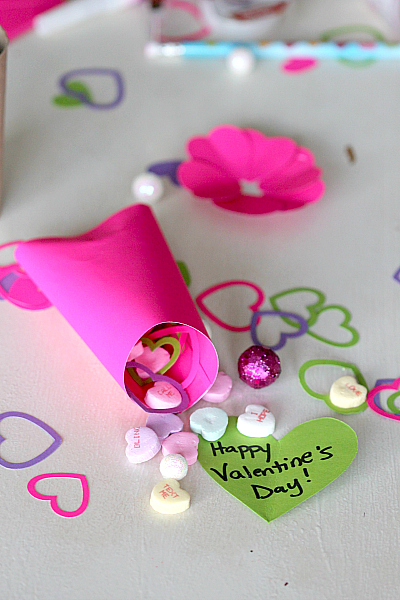 Fold down sides by pushing into a half curve. You may need a second person to hold down the sides so you can secure the ribbons. I tied this just like I would a package on Christmas. I actually tried taping these down first and honestly its not worth the trouble. A good secure ribbon does the job just fine!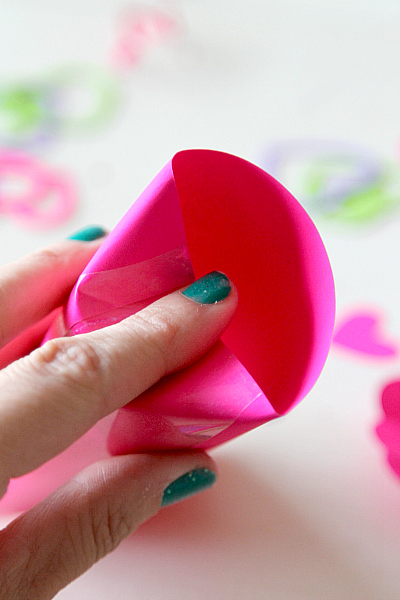 Once we had the box ready and our goodies inside, we started the decorating!
Lynsey made some adorable heart flowers with heart leaves that we secured to the box to give it a Valentines Day look.  We taped the back of our hearts together to make a flower and then added the leaves.

And then we made another one…
What do you think about our homemade pillow boxes?
I love them!!
Pin these for later!
~Trisha
Special thanks to Lynsey for coming to my house to craft with me today! You can check out her Wind Chime Bead Craft for Kids here!
Do you love Valentines Day Crafting as much as we do?

We have great full picture and DIY tutorials (denoted with a

) or you can check out some of our amazing blog resources for tutorials from other talented bloggers!