Spread the Goodness with This Easy Way to Share What You're Thankful For This Year
As the year winds to an end, Thanksgiving allows us to all pause a minute and remember to be thankful for all of our blessings, family, and friends.
Every year when we host Thanksgiving, we always go around the room and talk about what we are thankful for. I haven't been able to host at my house in a few years as we trade off on hosting duties, but it's back at my place and I am excited!
This year I wanted to remind the kids of those things they may not often think of and give them an opportunity to share what they are thankful for as well. A fun and easy way for the family to share what they're thankful for is with these FREE PRINTABLE LABELS I created for your GoGo squeeZ YogurtZ .
GoGo Squeez Yogurtz On The Go, Strawberry,
GoGo Squeez Organic Fruit & Veggiez On
Materne GoGo Squeez Organic Applesauce On the
Thankful Labels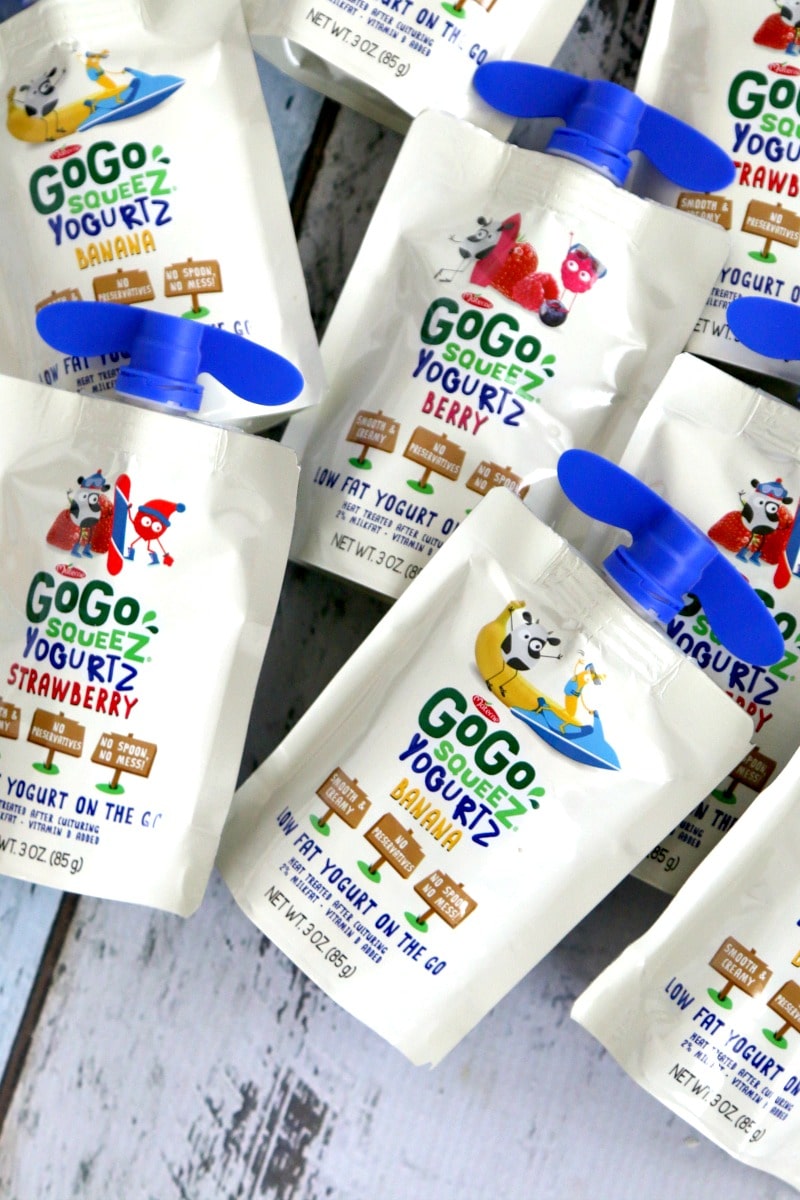 GET STARTED
To get started you will first need to gather up your favorite GoGo squeeZ YogurtZ flavors. If you remember from our No-Candy Halloween Treats DIY, GoGo squeeZ YogurtZ is a new real yogurt and fruit snack that comes in three delicious flavors: strawberry, banana and berry. The best part? GoGo squeeZ YogurtZ do not need to be refrigerated –  it's "so cool it doesn't have to be cold!" Because these scrumptious snacks are shelf stable, they can easily stay out in a bowl for the little ones to grab-and-go while they wait for Thanksgiving dinner. Filled with goodness, GoGo squeeZ YogurtZ are the perfect snack to tide kids over before the big turkey meal. GoGo squeeZ YogurtZ are a good source of protein, Calcium, and Vitamin D – not to mention they are made without any preservatives. They are a snack I feel good about and that my kids absolutely love. They're always asking for seconds and even thirds because they taste so great!
What you need to get your pouches ready for Thanksgiving:
Materials Needed:
Instructions:
Tip: These print best on card stock and with a laser printer for true sharp colors
Trim the labels on the top and side, until they are in a strip shape

Wrap the label around your

GoGo squeeZ

YogurtZ

and secure with a piece of tape

Add to a bowl for grab-and-go!
What you need to get your pouches Thanksgiving ready:
Print your free labels. Tip: These print best on card stock and with a laser printer for true sharp colors.
Trim the labels on the top and side until they are in a strip.
Wrap around your GoGo squeeZ YogurtZ and secure with a strip of tape
Add to a bowl for grab n go!
Whatever you are thankful for, it's been a wonderful year. I am thankful for all of you, for being able to work with GoGo squeeZ and continue to share the message of goodness and healthy snacks for our kids, and for family support.
If you missed any of the past articles, make sure you head over and read more at No-Candy Halloween Treats where I show you a great way to pass out GoGo squeeZ YogurtZ pouches as an alternative to candy, as well as this fun recipe, Frozen Yogurt Breakfast Bites, that help power up for your morning.
No Candy Classroom or Halloween Solution
GoGo Squeez Yogurtz On The Go, Strawberry,
GoGo Squeez Organic Fruit & Veggiez On
Materne GoGo Squeez Organic Applesauce On the