No matter how fun tech is, imagination reigns supreme when given the opportunity, so this week I wanted to share this fun VET PRETEND PLAY PRINTABLE that you can use to spark the fun around your home. From the time your kids start making up play time, they want to be adults. They want to pretend they are Drs, waitresses, even working at Starbucks. I feel like it's such an opportunity to encourage kids with imagination play so I am really excited to share with you the first Pretend Play Printable I have hosted. If you like this one, stay tuned because I have several more inspired by my kids natural play times that I will be sharing around here. If you can't wait for mine, you can always create a few of your own with just your printer and a little bit of time. I also have a Pinterest board where I share other bloggers pretend play printables.
Pretend Play Printable: Vet
(hit image to download PDF)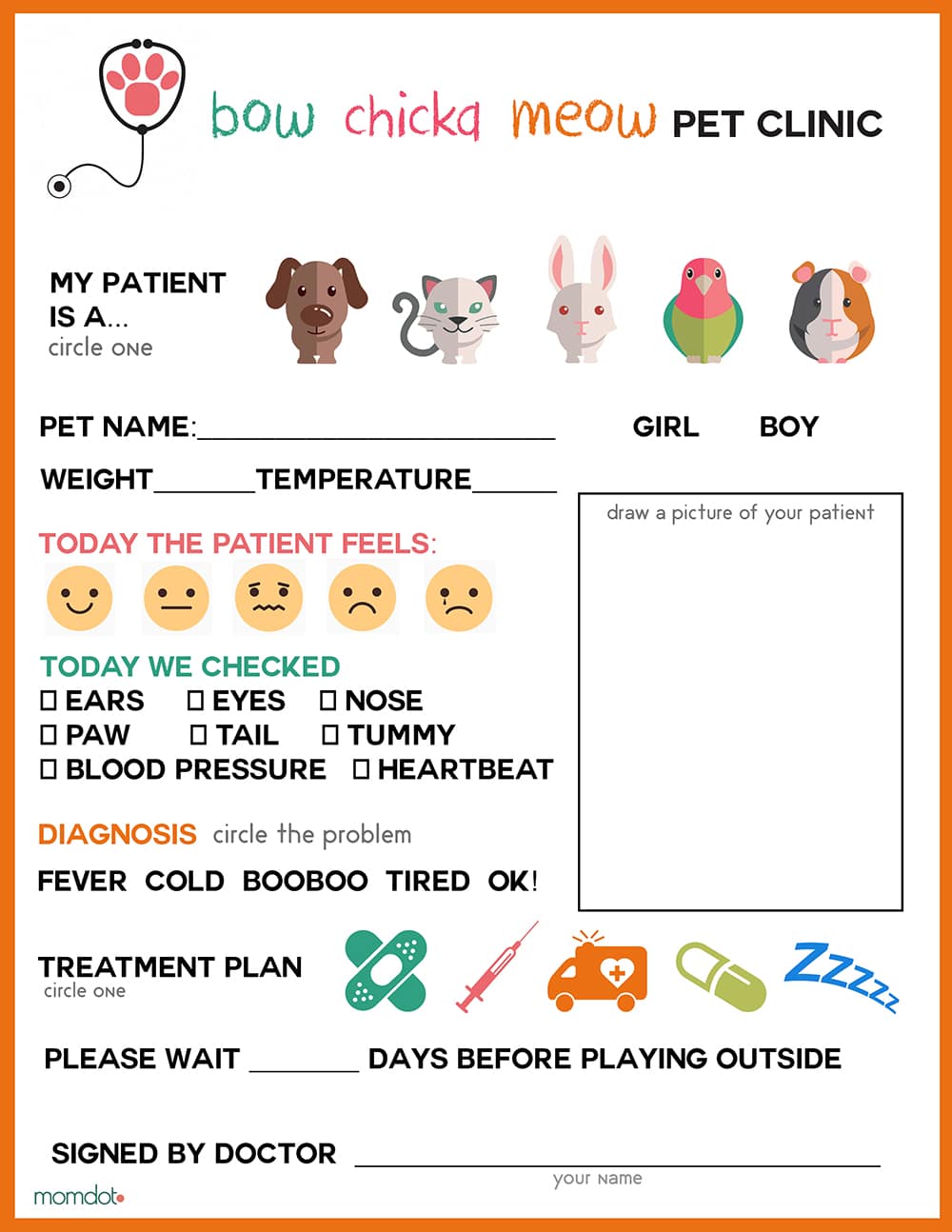 In our house being a vet is natural. Not only are the kids Aunt a real life vet, but with a house of 7 animals, they have plenty of…err…'victims' to solicit for play time.
---
Dress the Part
All you need to recreate is two playtime buddies (or mom and child), a willing animal or a stuffed animal
, and the free vet printable and you are on your way. Phoenyx also LOVES this Dr set
that he got for Christmas, so that always brings the imagination to life. Cell phone not included.  Here are some other great ways to inspire veterinarian play time with your children. Every Dr. needs a lab coat, a patient, and some tools. Imaginary play helps bring learning to life!  Click to learn more:
Melissa & Doug Veterinarian Role Play Costume Dress-Up
Aeromax My 1st Career Gear Dr. (Pink), Easy
Dalmatian Vet Kit, 15-Piece
Kids Doctor Kit for Pretend & Play Game,
FREE PRINTABLE includes easy to circle 'vet check up' for kids of all ages. Just circle which animal they are seeing, how they feel and even what the diagnosis is! Older kids can fill out how long the patient needs to rest for and even draw a picture.
Print over and over for tons of fun! I really hope this sheet inspires your kids as much as it inspires mine. Just check out the sibling fun below!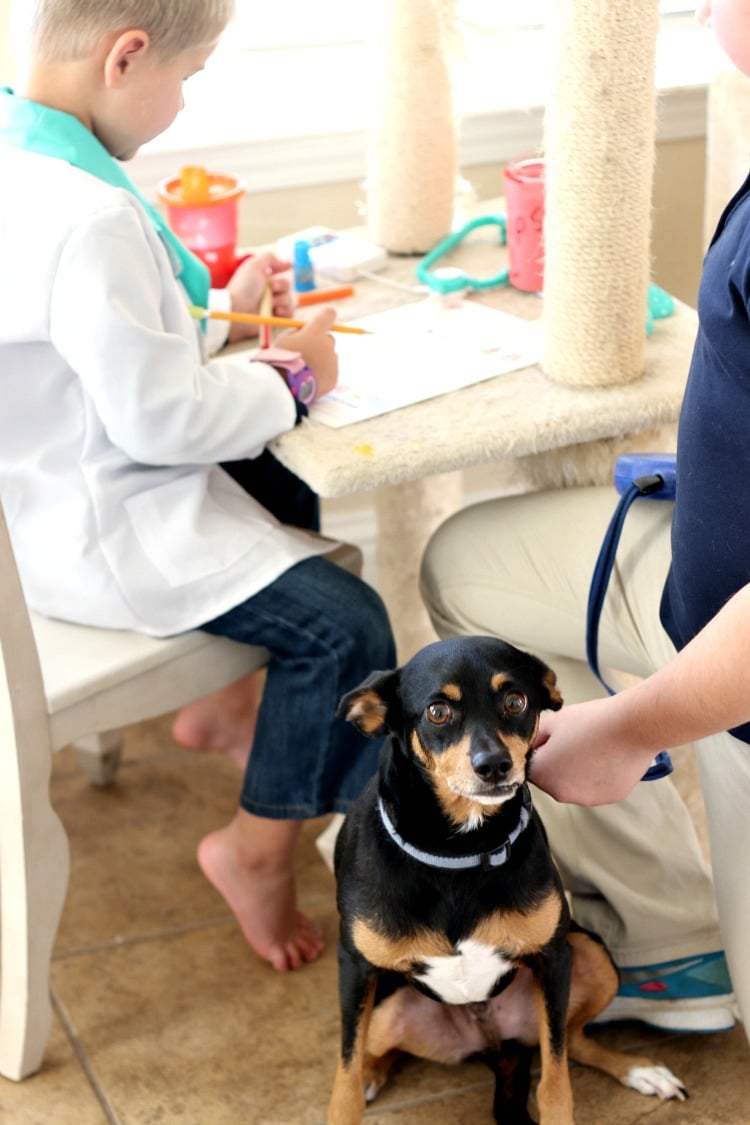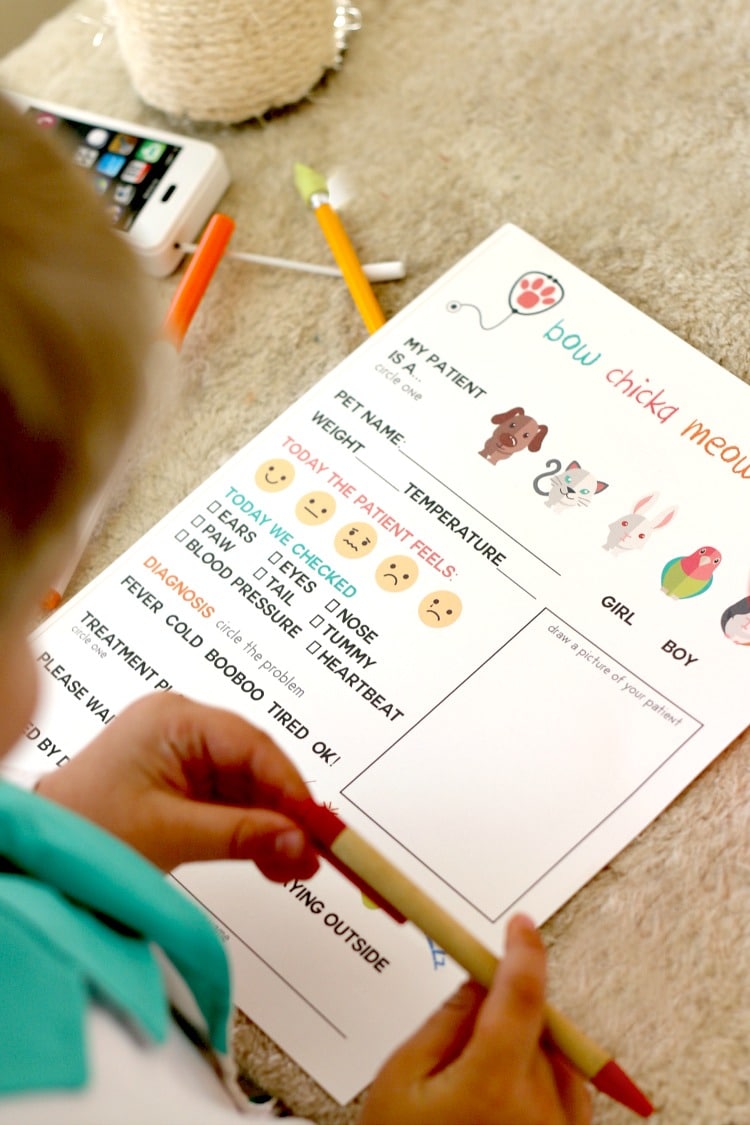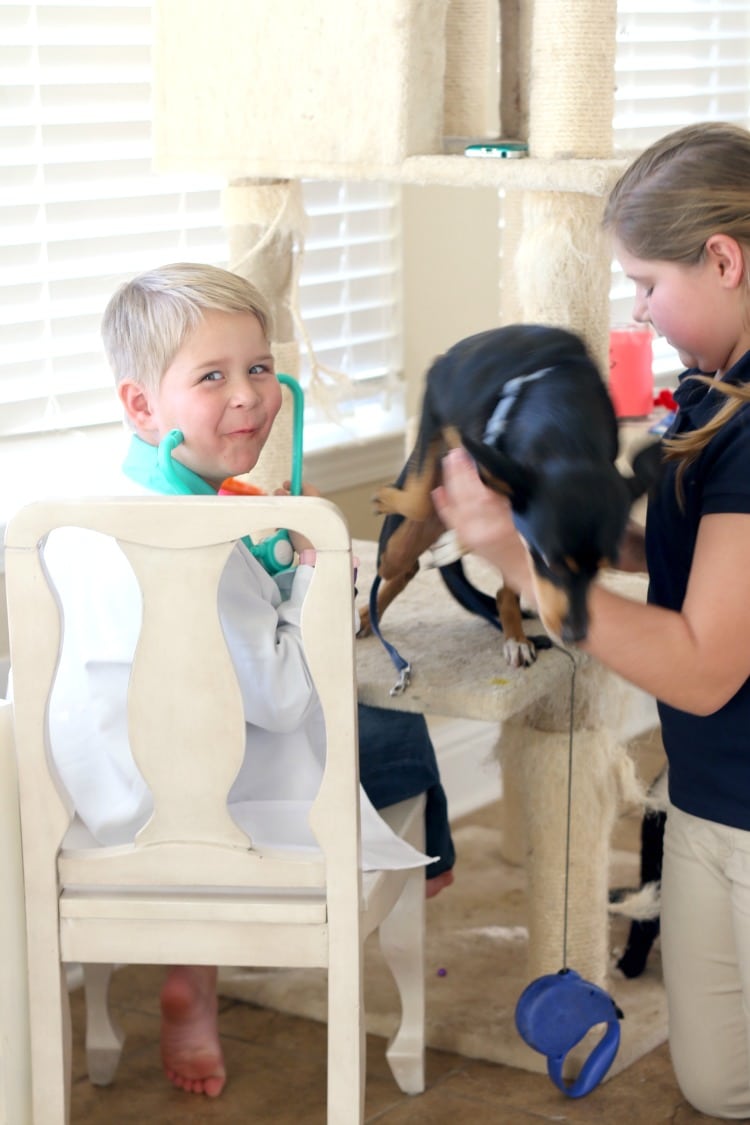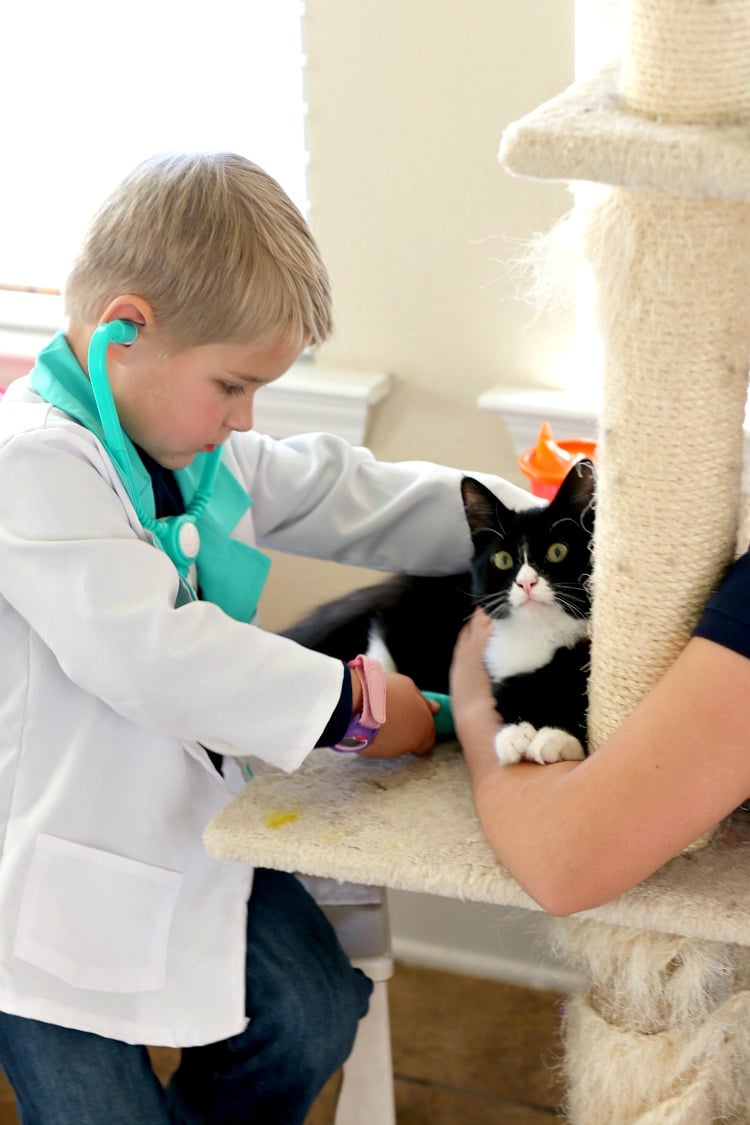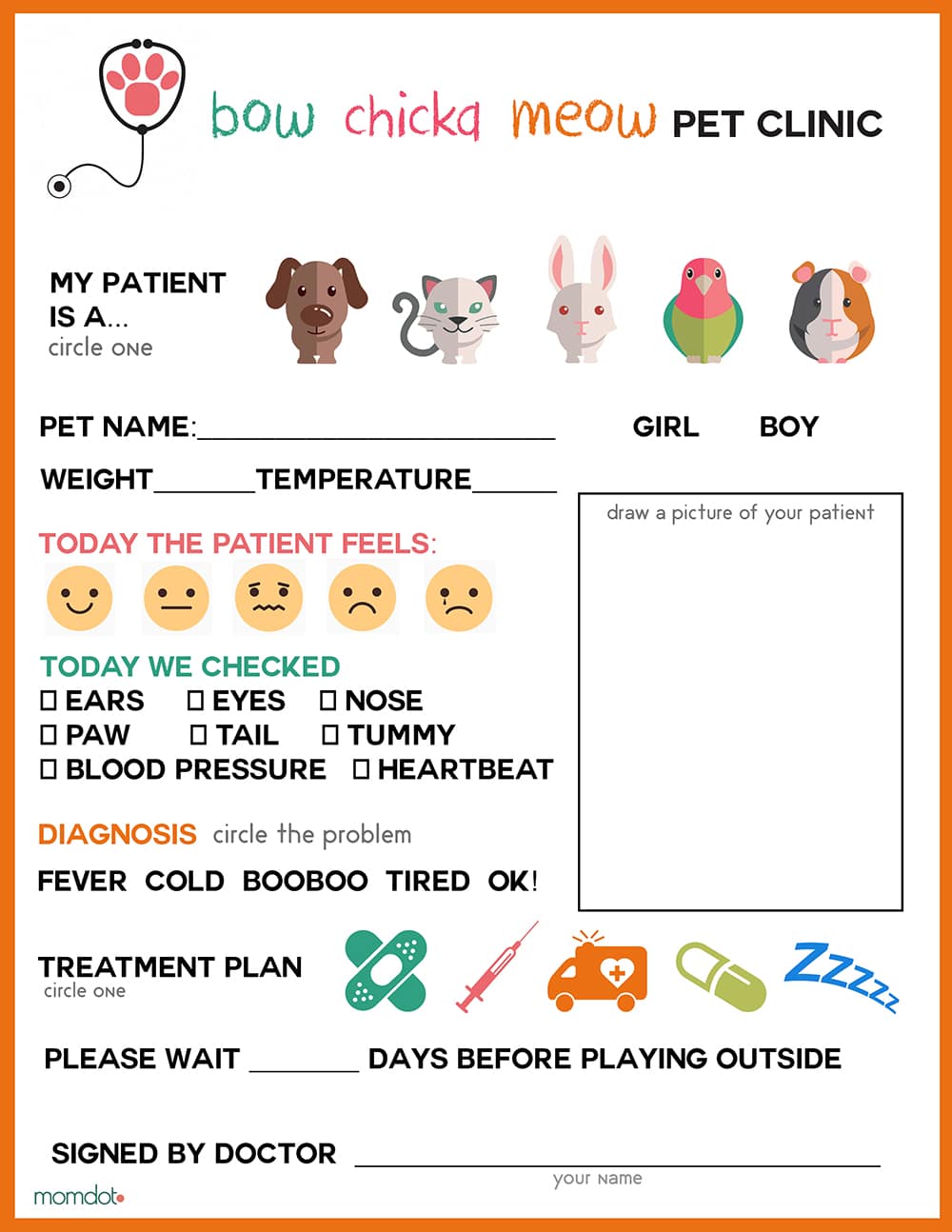 Good news- everyone is going to be fine! Do not forget to download this VET PRINTABLE here and pick up the Dr set
on Amazon here!