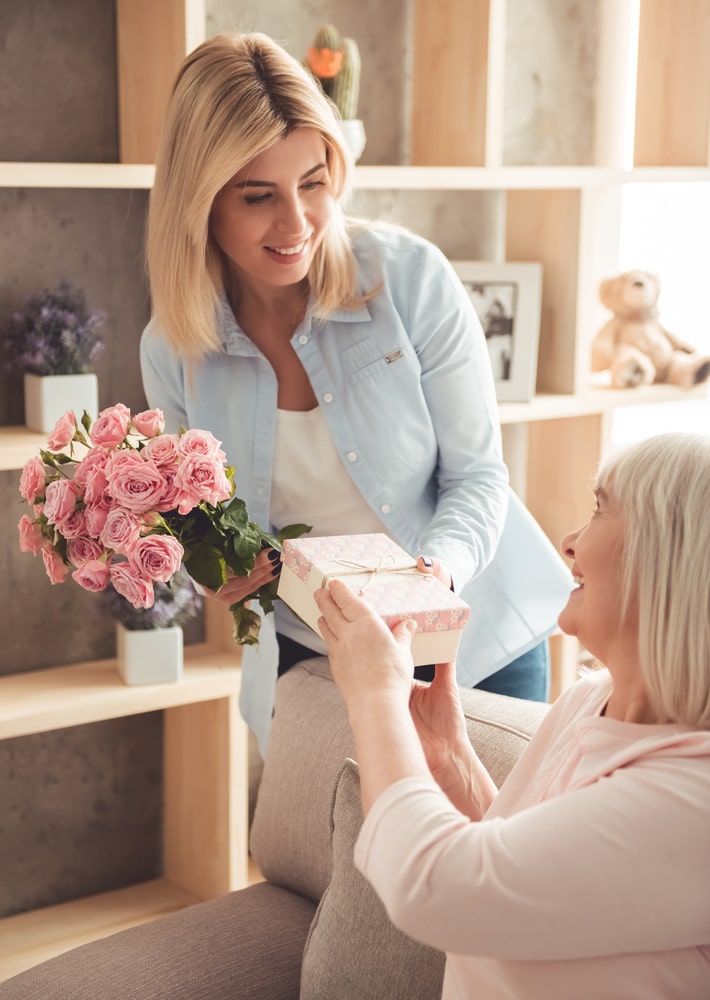 Ugh. Yes, we know! Buying gifts for your boyfriend's mother is the most difficult thing on your to-do list. Whether it's a present for Christmas, Hannukah, birthday, anniversary, or for any other occasion, gift-giving for the in-laws can be very frustrating.
But fear not! We feel your frustration and have created an extensive list of gift ideas for your boyfriend's mom that you can choose from. Even if you don't pick one of these exact items, we're sure it will inspire you and you'll find the perfect gift that will bring the widest smile that her face has ever seen! Your boyfriend's mom is going to be amazed at your insight and thoughtfulness. You're welcome!
For Booklovers
1. Girl, Stop Apologizing – by Rachel Hollis
Does your partner's mom need some motivation? Rachel Hollis is a writer, motivational speaker, podcast host, media mogul, AND a wife and mother. This book is her second foray into the world of self-help, a follow up to her wildly successful "Girl, Wash Your Face." She issues a wake-up call and challenges women to stop making excuses and pursue their dreams!
2. Nine Perfect Strangers – by Liane Moriarty
The bestselling author Liane Moriarty is back! In this latest novel, nine strangers visit a health resort for ten days. Each person is there for different reasons, and each person is intrigued by everyone else. If this is half as good as Moriarty's Big Little Lies, your boyfriend's mom will devour this book in no time!
3. Becoming – by Michelle Obama
Who doesn't love Michelle Obama? Who wouldn't love to read about Michelle Obama and how she became the icon that is Michelle Obama? This book gives us deep insight into how she progressed from an underprivileged child in Chicago to attempting to balance marriage, motherhood, and the expectations that came with life in the White House. You'll want to borrow this when mom is done!
For Photo Lovers
4. Digital Photo Frame
The latest innovation for sharing photos with your loved ones: digital photo frames that you can upload photos to online! Easy peasy! No more mailing memory cards or trying to talk the in-laws through the process of attaching it to the computer, uploading photos, etc. Freedom!
5. Photo Serving Tray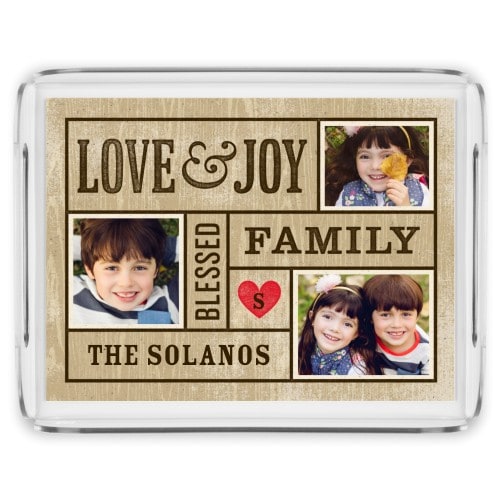 Got kids? This gorgeous serving tray from Shutterfly will make a fantastic gift for your boyfriend's mom who just loves to gush about the grandkids. Or not – you could always fill it with pictures of her favorite son and she can gush about him at tea time!
For the woman who might need some help with her home décor, this gorgeous set for a gallery wall would make a great gift! There's plenty of room for photos of your boyfriend's parents, siblings, aunts and uncles, cousins… and, of course, you!
For Tea Lovers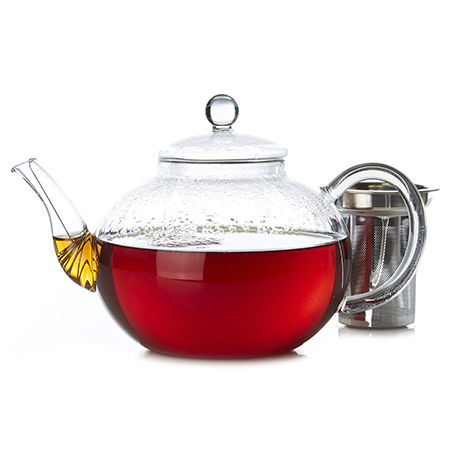 Any tea lover will find this sleek glass teapot to be the perfect addition to their collection. It has two steeping options – a large basket as well as a smaller spout strainer – but would be perfect for watching a flowering tea in action.
How cute are these little "tea drops?" They're perfect for a beverage lover who prefers a minimalist approach to tea time: no bags, strainers, or other tools necessary. Just drop the tiny morsel in the cup, enjoy the scent as it dissolves, and sip away.
9. Travel Mug
This gorgeous travel mug is the most unique and stylish thing your boyfriend's mother has ever seen. The bamboo exterior is simply beautiful and the stainless steel interior is incredible. It'll keep her tea hot for up to 12 hours!
For Wine and Drink Lovers
10. Vacu Vin Wine Saver
If your boyfriend's mother doesn't already have one of these, it's your duty to supply it. Every wine lover knows that a Vacu Vin is the best way to keep your favorite vino from going stale. The longer the wine lasts, the more the love lasts, right?
11. Bottle Opener
Everyone knows that the fancier your bottle opener, the more serious of a wine connoisseur you are. Nobody will question your boyfriend's mother's taste in wine when she has this elegant tool nearby.
12. Etched Drinking Glasses
So maybe his mom is more into whiskey, scotch, or other liquors instead of wine. That's okay! You've got this! Gift her this set of etched glasses and add some serious class to her drinking game.
For the Scarf Lover
www.litographs.com/collections/scarves
Is your boyfriend's mom a bookaholic? If so, she will be shocked and delighted when you present her with a scarf printed with the text of her favorite novel! You'll get serious brownie points for the uniqueness of this gift.
14. Cashmere-Silk Blend Scarf
A cashmere scarf is going to set you back a few dollars. This cashmere-silk blend accessory, though, is a bit more reasonable while still equally as luxurious. His mom will look like a million bucks with this around her neck!
15. Outlander Cowl
It would be inappropriate to give her a life-sized Jamie Fraser cut-out, but for the Outlander-loving woman, this thick cowl will make her feel like she's living Clair Fraser's life.
For Coziness Lovers
14. Heated Throw Blanket
Yes, heated throw blankets do exist! And they come in several different styles: fleece, microplush, faux fur, and even Sherpa/mink. Which of these would your boyfriend's mother most enjoy snuggling under while watching her fave romcom?
Is there anything that feels more extravagant than a faux fur blanket? And this one even comes in a "blush" color, which is basically the most stylish color. This gift will ensure his mom loves you forever.
A cozy, cable knit throw is a necessity for any booklover, film buff, journaling fan, wine drinker… the list goes on. Every mom, dad, aunt, uncle, and friend needs one of these to help get them through the cold of winter.
For Backyard Party Lovers
17. Rock-Style Outdoor Speakers
Your boyfriend's mother loves to sip tea and sing ballads, and although this set of speakers won't camouflage themselves against the backdrop of her garden, they will provide the stellar sound quality that her favorite Adele songs deserve!
18. Portable Bluetooth Speaker
Your boyfriend's mother loves to sip tea and sing ballads, and although this set of speakers won't camouflage themselves against the backdrop of her garden, they will provide the stellar sound quality that her favorite Adele songs deserve!
For a less expensive, more portable option, this brightly colored speaker is a great addition for the poolside dinners his mom likes to host. The best part is that it's waterproof, so if you have too much wine and knock it into the water, it's all okay.
For the Lover of Monthly Goodies
This might be the coolest subscription box on the market. It provides both new recipes and new music – on vinyl, no less! – each month. This is a great idea for the mom who enjoys quality time with her partner, either in the kitchen or on the dance floor.
When was the last time your boyfriend's mom received the gift of fresh flowers? You can do one better than even that: bright and beautiful hand picked and tied fresh flowers delivered to her door on a regular basis.
Your boyfriend's mom is the kind of thoughtful woman who never forgets to send birthday, anniversary, holiday, and thank you cards. This subscription box will provide her with the prettiest note cards for every occasion.
For the Trendy Food Lover
Any self respecting foodie and hipster – not mutually exclusive! – these days has jumped on the kombucha train. Perhaps your boyfriend's mother has too? Give her this comprehensive DIY kombucha-making kit and she'll love feeling like a plaid-wearing millennial, just like her son.
24. Mac n Cheese Cookbook
His mom loves to cook, and you definitely want to encourage her since she regularly feeds you mouth-watering meals. What you really want is home cooked mac and cheese (naturally), so give her this extraordinary cookbook and get ready for goodness!
If your boyfriend's mom is a true foodie, she will gasp with delight when you give her this metal truffle slicer. Add some truffles to the package and you'll have given the ultimate in foodie gifts!
For the Lover of Locally-Made Products
Try using Etsy to find a locally made, engraved cutting board like this. You'll be supporting a local business and provide your boyfriend's mom with a piece of art to prepare meals upon.
You can also use Etsy to find an artist who will create a sweet, colorful portrait of your boyfriend's mother and her spouse. An illustration like this will make a lovely addition to her gallery wall!
Zibbet.com is another site where you can enter a specific location and search for hand made goods in that area, very similar to Etsy and very easy to use. If you're in North Carolina, check out these cute snowman earrings! His mom will be the most festive person at the party with these beauties.
For the Board Game Lovers
29. Cards Against Humanity
Bring on the board games! Or card games, if you prefer. A word of warning, though: this hilarious game is not for everyone. The box itself says that its "a game for horrible people!" His mom will love it… maybe.
Pandemic is a cooperative board game, so if your boyfriend is the uber competitive type and his mother gets super frustrated with him… try this! It's something new that encourages everyone to work together. Game night can be fun again!
Is she a Jane Austen fan? Then she will love this card game! She can pretend to be an eligible young lady searching for a husband – and basically live Elizabeth Bennet's life for an hour or so. This game is a game changer. Yep. It is.
For Lovers of the Great Outdoors
33. Camping Journal
For the mom who loves camping, this adorable journal is the perfect companion for her next adventure. And the adventure after that. And so on. It gives prompts for the writer to record things they might otherwise overlook and will be a wonderful memoir for her and the whole family.
34. Solar-Powered Device Charger
You and your boyfriend worry about his mom when she's out on her back country camping trips, so give her this supercool solar charger and she'll always be able to call and check in! We can't promise she will actually call you, but she won't have a good excuse!
Aww! How cute is this camping chair made for two? His mom and dad will love snuggling up by the fire in this collapsible loveseat, and she will love you for thinking of such a unique, thoughtful gift!
This is a pretty great list, and it should give you plenty of perfect gift ideas for your boyfriend's mother. However, if you're still stumped, try giving her the gift of your time! Book some sort of a class that the two of you can take together. It could be a cooking class, painting class, dance lessons, yoga classes, or perhaps even a floral arrangement course. She will be touched by the gesture and an experience like this will offer opportunities to share, bond, and grow closer. It's a gift for you too!