With Charlottes birthday in mere weeks, and so quickly after the holidays, my focus has been finding gifts for 10 year old girls that last. So easily the playroom turns into a junky mess and toys that we, as parents, thought so lovingly to purchase, are left abandoned. No more! If you are here searching for gift ideas for 10 year old girls, I am going to help you. These are some of my favorites based on gifts that my own 10-year-old has been given, I have seen her play at other homes, or has sparked her interest the longest. Of course, while this article is targeting your gift search for a girl, most toys are interchangeable between girls and boys both.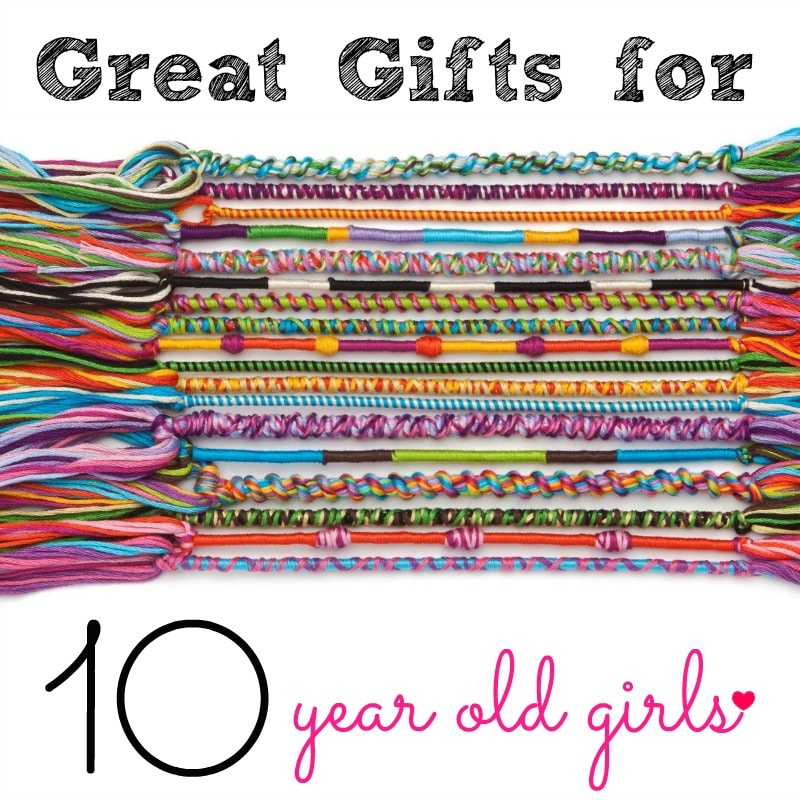 Creative Gifts for 10 year old Girls
As you can probably see if you have been looking around, I am a creative person. Therefore, you would assume my kids are as well and you would be right. My 10 year old never turns down a chance to be creative but having her bust into an art set to be through with the paints in 24 hours can feel like a waste of money. I love to purchase gifts that have some sort of "long term" sustainability to them so they can be used over and over again for countless fun. Here are a few creative gift ideas that are sure to excite your 10 year old girl.
Sew Cool Deluxe Glitter Sewing Studio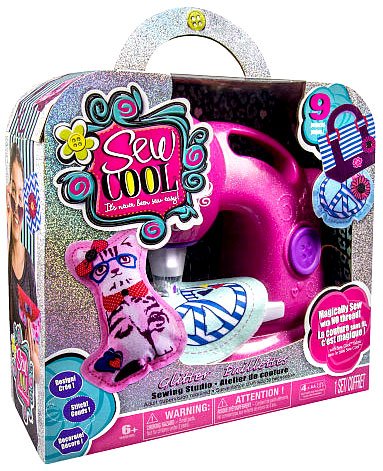 When I was a young girl my only sewing studio was a needle, thread, and whatever material I could scrounge up from old shirts. Now toys have advanced to really help inspire a young lady and keep her getting creative with the Sew Cool Sewing Studio! There have been several of these Sewing studios that have been put out but the main thing you need to know is that you use felt, it will need batteries, and with little instruction, your 10 year old (as young as 9 likely) will be reaping the rewards of creating her own projects.
Bonus Pack with tons of extras Sew Cool is designed to be simple and safe; no skills required!

No thread; just press the button and follow the dotted line!

Create colorful stuffed characters and trendy fashion accessories

Includes: 1 Sew Cool Sewing Machine, 14 sheets of Sew Cool fabric, 4 Sew Cool pre-cut projects, 2 Sew Cool straps, 25 Sew Cool decorative fabric decals, 8 snap buttons, 12 gems, 1 bag of stuffing, 1 instruction sheet

Materials are included to personalize your creations: gems, snaps and a dazzling variety of Sew Cool fabric designs from cheery to chic
For the best price and to pick up this great toy, visit Amazon here~!
DohVinci Deluxe Styler
Pick up a DohVinci Deluxe Styler 
and DohVinci Deco Pop refill back for tons of fun! Use the styler to easily decorate picture frames, mirrors, cards, water bottles, mason jars, shoes, headbands and more! This is an exciting toy because you are only limited by your creativity and with kids, there tends to be no limit. Refills are inexpensive and can be gifted during holidays each year quite easily.  This gift can keep a gaggle of 10 year olds wired up with fun and maybe some moms as well. Give it a try for only $6.25 on Amazon.
Design in 3D with the Deluxe Styler

Comes with 4 design tips and 3 Deco Pop tubes

Easy-to-use Styler and design tips let you make different designs

Includes inspiration guide

Includes Deluxe Styler, 4 design tips, 3 Deco Pop tubes and inspiration guide
For the best price and to pick up this great toy, visit Amazon here~!
Loopdedoo
Nothing screams pre-teen more than friendship bracelets. I bet if I looked around my home I could find a few that are still stuffed in drawers from my own childhood. But the classics are classic for a reason. The Loopdedoo helps make long lasting friendship bracelets that take half the time of those ones we used to make.  Loopdedoo says that it's unique, you can change the thickness, looping style, thread quantity and color combination to create one-of-a-kind accessories. This present is perfect for a birthday gift or slumber party. In addition, you can easily add charms with a charm back, which is super cute.
Loopdedoo is a new spinning loom that uses ordinary embroidery floss to create fab and funky friendship bracelets in just minutes

You can also make necklaces, anklets, belts, zipper pulls and more

Each creation is unique, change the thickness, looping style, thread quantity and color combination to create one-of-a-kind accessories

Comes with 1 Loopdedoo spinning loom (complete with drawer for storing your gear) and 18 skeins of high quality 100% cotton embroidery thread in a beautiful assortment of colors

Kid-powered (no batteries, no electricity)
For the best price and to pick up this great toy, visit Amazon here~!
Educational Gifts for 10 year old girls
Full on creative gifts? Not a problem! Gifts that are educational work just as well. There are so many fantastic ways to play that also help push math, science, and even computer skills. Here are a few educational toys for 10 year old girls that have been a big win in this house.
Ozobot Starter pack
We first got an Ozobot this year for Christmas. It wasn't opened right away but when it was, everyone crowded around to see this tiny robot perform its tricks based on how you coded the marker lines it moves on. This is such a fantastically built little toy. The beginner set comes with training sheets so you can learn the coding and markers so you can make your own. The only problem is that every time my daughter is playing with it, I want to take it over! I originally saw these type of toys coming to light at CES in 2015 and am happy they are hitting the market at affordable costs. Get more than one Ozobot so the whole family can enjoy.
Proud winner of many awards including Kapi's Best Robot toy at the 2015 Consumer Electronics Show.

Easy start up – Step 1: Pick up paper & markers to draw coded mazes – Step 2: Go to Ozoblockly.com to fully program Ozobot. It's quick and simple to drag & drop blocks of codes.

Hours of extra fun for boys and girls when you download A – the free Ozobot's website activities and B – the IOS & Android Ozobot Apps to play interactive games for every level.

Create challenges and DIY activities, or even design your own games to share with all your friends and the amazing Ozobot community.

Need off/on screen time learning? We have teacher recommended, free programming & STEM inspired lesson plans, fit for different ages and levels.
Buy Ozobot washable coding markers, ozobot dual pack and ozbot construction zone back.
For the best price and to pick up this great toy, visit Amazon here~!
Gravity Maze
The whole idea of Gravity Maze is to move your marble one end to the other, using only logic and, well, gravity! There is only one puzzle that will make it happen, so put on your thinking cap and get to it. It won't take long for the 10 year old in your life to be sitting at the table trying to solve this puzzle and getting excited when she does.
Falling Marble Logic Game

A marble run and logic puzzle all in one

60 challenges ranging from beginner to expert

Builds spacial reasoning and planning skills

Includes 1 game grid, 60 challenge cards, 9 towers, 1 target piece, 3 marbles
Another game my family loves very similar to this is the Laser Maze. You set up lasers throughout the maze and it takes quite a bit of logic to figure the many puzzles out.
For the best price and to pick up this great toy, visit Amazon here~!
Minecraft Stop Motion Animation Studio
It
seems like there is nothing kids love more than Minecraft. From my 4 year old to my 10 year old, Minecraft reigns supreme! Who knew basic graphics would be so big, am I right? With the Minecraft Stop Motion Animation Studio, your 10 year old can easily create her very own Minecraft videos with characters that come to life. Download an app and use your mobile device to tell the story. The set comes with movie stage, varying backgrounds, and 3 exclusive mini figures.
Make one-of-a-kind Minecraft films!

The Minecraft Animation Studio combines real-life objects with a mobile app so that kids can direct their own beginnings and endings

Use your mobile device to aim and shoot then swap out environments to tell a different story

Create, share, and show off your animations with other fans of Minecraft

Includes 1 movie stage, 6 different backgrounds, 3 exclusive mini-figures, a device holder, and over 18 other accessories 
For the best price and to pick up this great toy, visit Amazon here~!
Snap Circuits Discovery Kit

They say that around 5th grade girls drop off the math and science spectrum in school but I believe part of that may be not encouraging girls, specifically in play time, to challenge themselves. Grab a snap circuit discovery kit (and there are many more like this one!) to give hands-on experience in building over 100 projects that include real working electrical circuits. These challenge toys come in music, light, and sound and are valuable for STEM. The snap circuits kit also grows with you, so once your child learns, they can continue to work on more challenging projects.
Electrical parts provide students grades 2 and up (age 7+) with hands-on experience designing and building models of working electrical circuits

Snap-together parts require no tools and ensure correct connections

Includes 30 parts, and instructions for over 100 projects, including working models of a photo sensor, a flashing light, and an adjustable-volume siren

Requires 2 AA batteries (sold separately)

Awards: The National Parenting Center-Seal of Approval, Dr. Toy 100 Best Children's Products, Dr Toy Best Educational Products

Valuable component to a rounded STEM curriculum

Build working models of a photo sensor, a flashing light, and an adjustable-volume siren. More than 100 exciting projects in all with included 30+ snap together parts
For the best price and to pick up this great toy, visit Amazon here~!
Now of course these gift ideas are just scratching the surface when it comes to a young girl. Finding a gift that she will love and makes you feel happy to be the gift giver isn't that difficult when you narrow down her interest. Other great gift ideas for 10 year old girls that we love and will be exploring in future posts!
Disney Descendants Light Table
4D vision horse
Entrepreneur Barbie
Babysitters Club Books
Singing Karaoke Machine