Plus check out how to Marble Dip a Mason Jar here:
I cannot believe in 2 days it's going to be January 2016.
It seems like 2015 went by quicker than any previous year. I probably think that every year, but it could also be a sign of getting older. My life flashing before my eyes and all that jazz. Between kids, projects, bills, pets, family, and sports, it's all I can do to put one foot in front of the other every day. And my family knows me well enough to know that I won't step outside this house, or heck, step out of the bed, without coffee. Because of that, Dunkin' Donuts® wanted me to share with you how I best enjoy my morning brew. I don't know whether its the pick me up, the habit, or just the delicious taste in the morning, I keep a variety of coffee cups and Dunkin' Donuts® coffees ready for 7 days of the week.
Dunkin' Donuts® at Home
Did you know your favorite coffee is available in a variety of brands at Walmart so you can enjoy Dunkin' at home? With Seasonal Flavors like Pumpkin Spice and White chocolate Peppermint, favorite roasts like French Vanilla and Hazelnut, and also a Bakery series that includes Chocolate Glazed Donut, Cinnamon Bun, and Caramel Coffee Cake (just to name a few) you don't have to go very far to enjoy your wake up tomorrow. And right now you can get $1.00 off via Ibotta on Dunkin' Donuts® Coffee exclusively at Walmart. Save on Dunkin' Now!
Because of my love of coffee (and mugs!) I wanted to share a fun way to create a unique coffee cup for you to gift OR to keep.
Creating a Marbled Coffee Cup
Now I love marbling things. I have marbled a pumpkin (that looks AWESOME), I marble easter eggs every year, but this is my first time attempting marbling a coffee cup. I have of course seen this around and it's often called "Watercolor a coffee cup", which si simply dipping your cup into the water. I wanted to do something more unique, so instead I decided to attempt to create shapes on my cups.
First things first.
This may not go the way you want it to the first time. It's kinda a messy craft as nail polish is messy, so if you do not have nail polish remover on you, do not attempt. But one thing I love about doing this over a sharpie on a coffee mug is that you can TAKE IT OFF if you mess it up and start over. That's a kind of craft I love- the start over kind.
Let's get started!
To marble your coffee cup you will need
Painters Tape
Variety of Nail polish
Mugs
Bowl that you can throw away when you are done
nail polish remover
Dunkin Donuts® to put in your mug when you are done
How to Marble your Mug
First you need to cut your painters tape into the shape you want. I decided I wanted a heart. Originally I drew out the heart and tried to put tape around it, but that was a total fail. I finally figured out if I cut the shape INTO the painters tape, it worked beautifully. Just fold your tape together slightly, cut your heart, and unfold slowly.
Now affix your tape to the mug and press down. You will also need to cover your entire mug with painters tape to make sure you don't get any other nail polish on it. I left the handle available as I wanted to dip the handle too.
Once your mug is covered, pour your nail polish into a bowl of water. If you need to see how this is done, I have a YouTube video here.  TIP: Make sure that there is no white space on the shape. I made the mistake a few times to have some white space and my shape wasn't as prevalent. It looked like a half a heart or missing pieces. The entire dipped portion should have some color on it.
Now carefully hold your mug and dip the handle in. All this needs to be done quickly before the nail polish dries too much on the top of the water.
IMMEDIATELY remove your tape from the mug.  Be careful not to get it on you or damage the shape. If you wait for it to dry before removing the tape, it will lift the nail polish right off of it as part of the tape. I tested this both ways and lost my entire heart when I let it dry all the way.
Keep in mind, this is nail polish so it's easily removable if you make a mistake. Just put nail polish remover on a Q-tip and carefully remove any excess nail polish that is out of space.
Let mug dry completely before use.
Note: I have not had any issues with washing this in the dishwasher. It stays on really well for me, unlike some of the sharpie mugs that people have done. That being said, I always err on the side of caution on hand made items and hand wash to be sure. Plus, mugs break a lot in the dishwasher.
See photo tutorial below.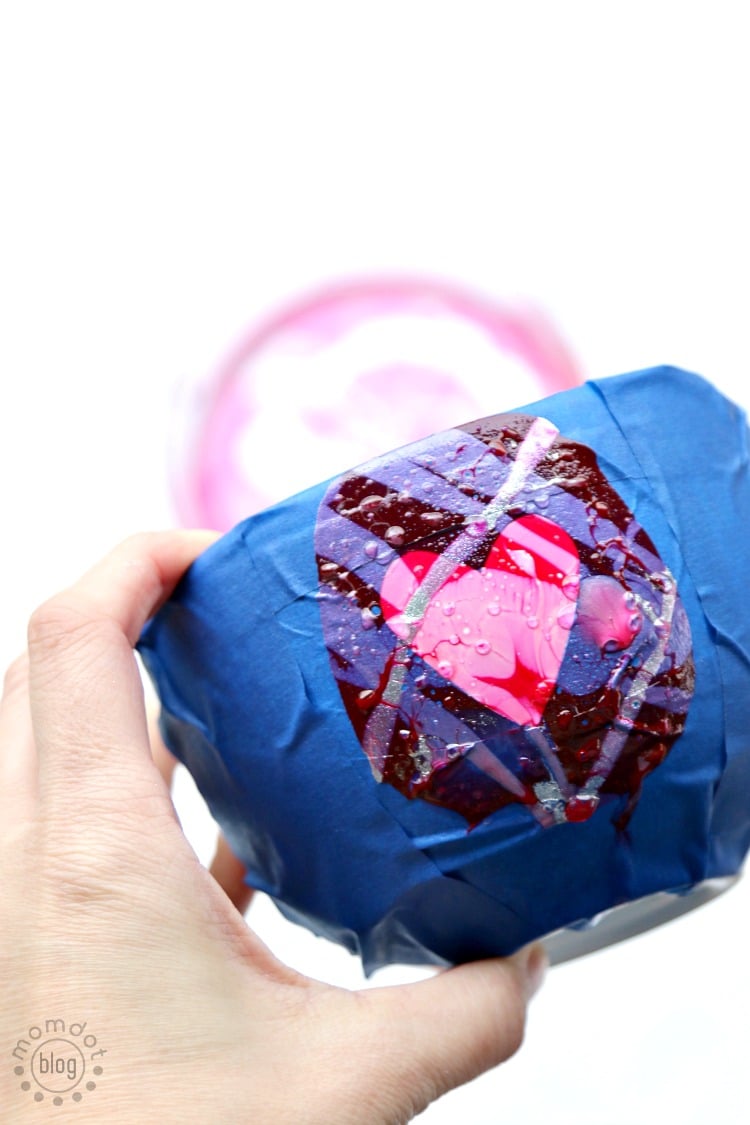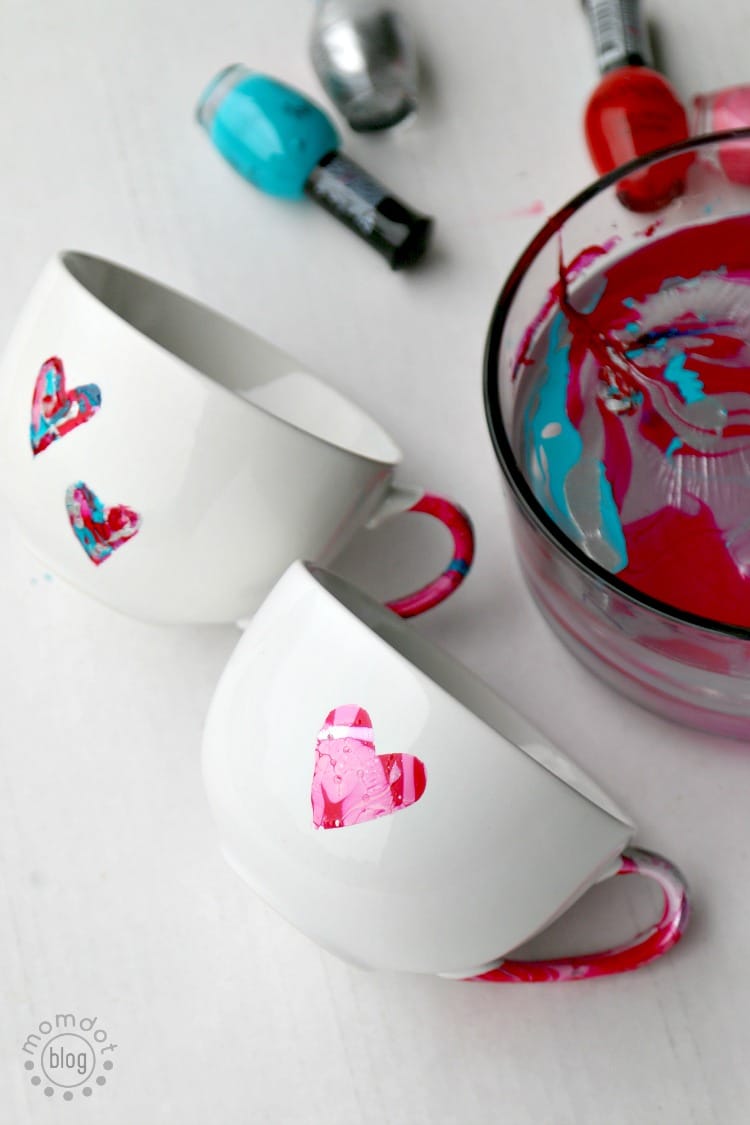 Dont forget to pin this great craft for an upcoming Valentines day project (acute mug and great coffee sounds like a great way to show you care about someone to me!) and of course the $1.00 off via Ibotta on Dunkin' Donuts® Coffee exclusively at Walmart. Save on Dunkin' Now!
This is a sponsored conversation written by me on behalf of Dunkin' Donuts® . The opinions and text are all mine.
~Trisha