You don't need a big budget to create a drinking station this Halloween. Re-purpose that summer wagon and create a spooky and on the go Halloween Party Drinking Station (for kids or adults) quite easily. Look below to learn how to make your own drinking station and hopefully be inspired to get creative at your next party.
With Halloween so ushers in the long three months of super holidays: Halloween, Thanksgiving, Christmas, and New Years! And with all those times there inevitably will be a ton of parties going on. Block parties, house parties, dress up parties and more!
And sadly with all these holidays also come the downside…colder weather. BOOOOOOOOOOOO.
Colder weather around here often means hats and gloves, sniffly noses, and a lot less time frolicking in the downtime. Which also means less usage of bikes, scooters, and wagons. But do not fret! There are plenty of ways to Repurpose your Step2 Wagon
and a few bloggers and I have come to the rescue with some fun ideas to help before you store up the final summer fun into the garage.
Halloween Party Drinking Station
Turn your wagon into a fun drink station this holiday season! You can decide if you are having an adult or child drink station (for example purposes I have added adult only beverages and child beverages but never mix them at the same time to prevent confusion unless you have a monitor. Please drink responsibly).
Because many wagons have drainage holes in the bottom, it's wise to put a collection bowl underneath for melting ice or block off the hole with a taped down plastic bag if you are indoors.
Also  I suggest wiping out your wagon prior to putting down the ice. Nothing like getting some of your kids grass and left over fruit snacks into the ice!
We added some spooky spiders, graveyards, a skeleton and some ripped gauze for effect. You can always check out my 25+ Halloween Super Fun Crafts page to see if there are some you can stick in the wagon
!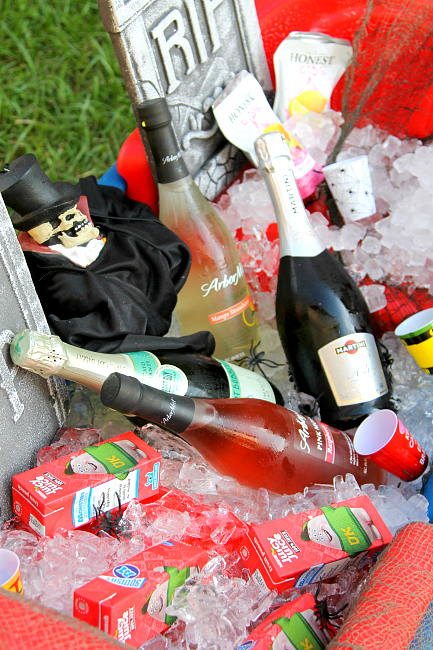 Don't have a wagon? Get one here!
They are easy clean up for your party and can go around your yard, or your neighborhood, easily!
Ideas to help you Repurpose your Wagon
Mommy Testers DIY Party Station
Fantastic Step by Step instructions for a Halloween Party Favors Station.
Thrifty and Chic Mom creates a DIY Merida Horse!
So adorable! What a perfect way for a Princess to be carted around all night long!
Baby Dickey turns her wagon into a Reading Nook
Click to read more on how to never put away your wagon. Take it from an outside toy to an inside inspiration.