Enjoy these 25+ Super Fun Crafts for Kids this Halloween! All the curated crafts below are a perfect way to show your holiday spirit with a little craft time with your kids. Here you'll find crafts that use rocks, paper plates, paint, and more, for a variety of crafting options.
I hope you love these Halloween favorites like making ghosts, witches, or even pumpkins, getting you and your kids in the spirit- literally! Of course, if you want something perfect for Halloween as well, you can always learn how to make slime or pink sludge!
25+ Super Fun Halloween Crafts for Kids
Halloween is so fun for kids, they get to dress up and get buckets of candy just for saying Trick or Treat! I mean come on, that is one amazing way to spend a night.
Why not make this Halloween, even more, fun with a few of these fun arts and crafts I have posted below by these ultra-talented bloggers.
These Halloween-inspired crafts are sure to please your kids, plus they are a great way to decorate your home and even outdoors for all the kids who will stop by on Halloween night.
DIY Halloween Crafts Perfect for Kids
Pumpkin Crafts for Kids
(picture is from How to Marble a Pumpkin | MomDot)
Puffy Paint Jack 'o Lanterns– Learn Play Imagine – Grab some mini pumpkins and let your kids create fun puffy paint faces on your pumpkins. Or hit up your craft store or Dollar store and buy fake pumpkins that they can paint!
Painted Pumpkin Rocks – Easy Peasy Fun – Grab some rocks and paint and let your child create all different pumpkin jack-o-lantern faces on the rocks!
Pumpkin Halloween Count Down Craft – Suburban Mom – "Is it Halloween Yet?" Get this cute template and craft that counts down to Halloween for your kids.
Jack O-Lantern Paper Plate Craft- Glued to My Crafts – This is a paper plate craft, which is always fun for kids. Create their one-of-a-kind jack-o-lantern!
Paper Roll Jack-O-Lanterns– Grab an empty roll of toilet paper or paper towels, and create these spooky-inspired pumpkins.
White Pumpkin Paper Flowers – Finding Zest – Not all kids can carve, so use this idea with paper flowers to make sure your kids can get in on the fun no matter if they can wield a knife yet or not.
Halloween Wreath- Fun a Day – Let your kid decorate and make their own wreath using a paper plate and cupcake liners. Hang them on their bedroom doors for little decorations this season!
Pumpkin by Popsicle Sticks – Suburban Mom – Create a pumpkin door hanger with popsicles in this super simple and adorable craft your kids will love
Witches Crafts for Kids
(picture is from Witches Broom DIY | MomDot)
Witch Craft – I Heart Crafty Things – This is a fun witch face that you and your child can make to hang up this holiday season. If you have a younger child, they might need a little help.
Foam Cup Witch– I Heart Arts n Crafts – Transform a simple plastic cup into this adorable green witch in no time! Kids will have a blast making their own little witches.
Paper Plate Witch- Crafty Morning – Use your child's handprints to cut out of construction paper to create the witch's hair, in this paper plate craft!
Envelope Witch Puppet – I Heart Craft Things – How adorable! Make a puppet out of an envelope, pretty easy to do, and offers hours of fun playtime!
Witch Halloween Countdown Craft – The Suburban Mom – Use this fun witch craft to create a countdown to Halloween night!
Ghost Crafts for Kids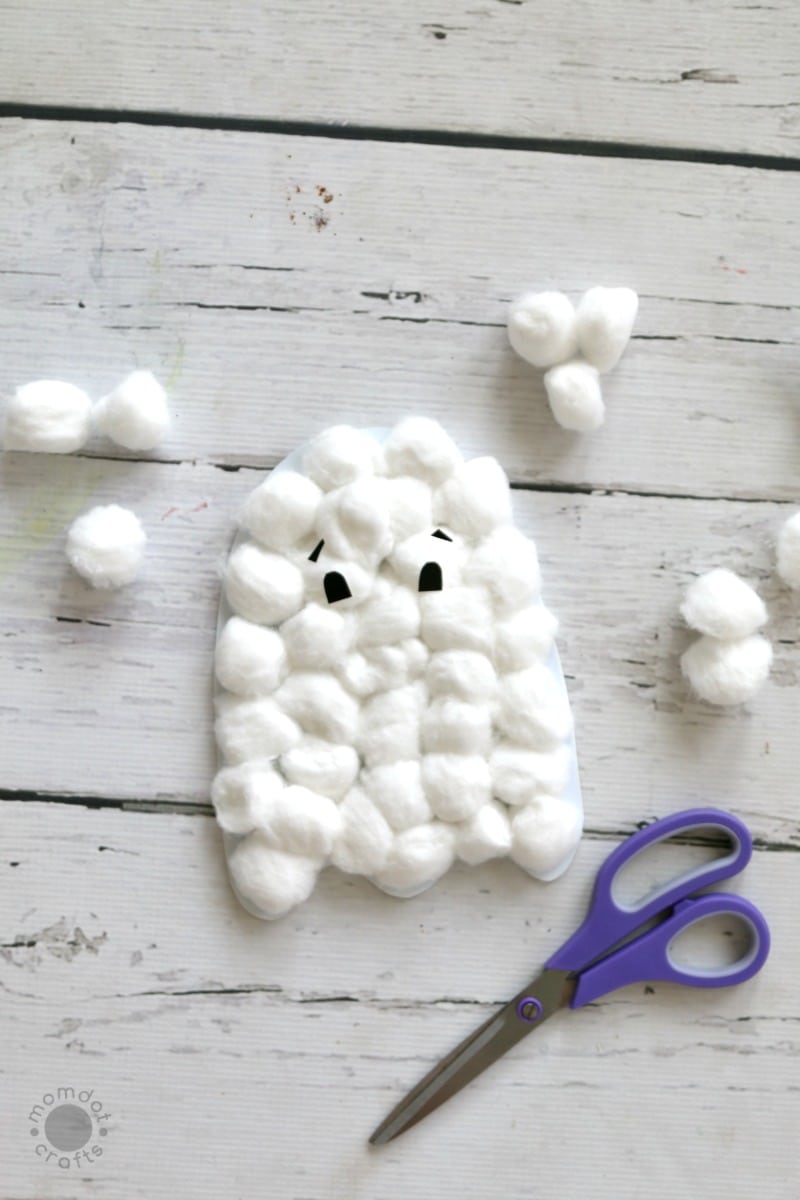 (picture is from Cotton Ball Ghosts – MomDot )
Spooky Cotton Ball Ghost – Crafty Mama in Me – Create this fun ghost using cotton balls! Your child can glue on the cotton balls to make their special ghost!
Loofah Stamping Ghost– I Heart Crafty Things – Use an old loofah or buy a new one for cheap, to create these fun and adorable stamped ghosts! This would be really cute for making a Halloween card!
DIY Cheesecloth Ghosts – Crafts Unleashed – You can hang these adorable ghosts anywhere, making them a fantastic DIY this holiday. Come see a full tutorial on how to create your own cheesecloth ghosts
Cotton Ball Ghosts – MomDot – Check out our Ghosts made with cotton balls and a free ghosty template to make it perfect. So easy, this is one craft your kids will be busy with for a while without your help.
Halloween Tree Ghost – Moritz Fine Design – Fun way to get your kids involved in decorating outdoors for Halloween! These spooky ghosts are fun and easy to create.
Potato print ghosts – No Time for Flash Cards – Have a potato on hand, and create these fun potato ghost prints. You use the potato like you would a rubber stamp, it is really neat and creative!
Ghost footprint- Crafty Mornings – Love the look of these ghosts, that are created out of your footprint! Kids will have a blast getting their feet painted, to make these spooky and silly ghosts!
Monster Crafts for Kids
(Picture is from Non-Candy Halloween Treats | MomDot)
Frankenstein Handprints – MomDot – Nothing cuter than handprint crafts and this one is no exception. Get your tiniest hand and your largest hand ready to create Frankenstein himself.
Paper Bag Monster Puppets- I Heart Crafty Things – These paper bag monsters are so fun to make, and your child can really use their imagination to create their own monster exactly how they envision it!
Yarn Wrapped Rock Monsters – Easy Peasy and Fun – These are so cute and what a fun and unique way to decorate rocks! Make these and give them to friends and loved ones this Halloween season!
Frankenstein Monster Craft – See Vanessa Craft – Another affordable toilet paper roll craft to create your perfect scary Frankenstein!
Halloween Origami – Easy Peasy and Fun – These are darn cute, you can create monsters, pumpkins, black cats, and more! I loved learning how to do Origami as a kid!
Wooden Spoon Monsters – Suzys Artsy Craftsy Sitcom – Okay now these are darn right adorable! Use wooden spoons and with a little paint, you can create these fun monsters! Reminds me of Monsters Inc!
Monster Coloring Sheets – Mom Foodie – Get in on the Halloween spirit with even your youngest child by downloading these 6 free Monster and Halloween-themed printable sheets.