With this Hot Wheels Super Ultimate Garage Review, you can learn more about bringing play time back to the good days. It's easy to ban electronics when kids have the right toys! See below a top pick for 2017 playtime. This post in partnership with Mirum. Jump to purchasing information.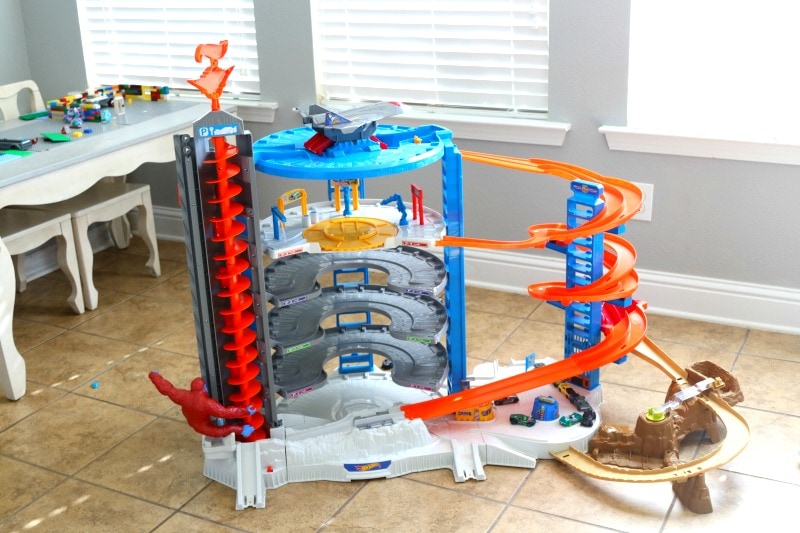 Hot Wheels Super Ultimate Garage Review
This past week we were lucky enough to get a preview of the Hot Wheels Super Ultimate Garage, a 3 foot tower of epic awesomeness that engulfed not only our playroom, but our 6 year olds mind! While the set moves and grooves with a gorilla that knocks your cards to the next level (that you set), the real fun is the dual racing tracks that allows you to play, race, and compete cars. Of course Hot Wheels have been around so long, a part of not only my sons life but my daughter as well, and we have had countless sets set up all over the house for over 10 years. This set, an exclusive at Walmart, is THE 2017 Gift that will get your child putting away the technology and back to some serious imaginative fun.
Because Hot Wheels are also nostalgic for us parent type, there is no doubt that you yourself (like we did) enjoy opening up packs of cars and looking at the unique items and sets that can be had. With a 20 or 50 pack car set, you can get a variety of favorites that will certainly fill up this 140 car garage.
Phoenyx was excited to show you all of what you can get this holiday season that will spark up some serious parent/child interaction:
Hot Wheels Super Ultimate Garage Specs
The Super Ultimate Garage is the biggest Hot Wheels playset ever and the ULTIMATE destination for hours of imaginative play!

Over three feet high with parking for over 140 cars!

This exclusive set has TWO surprising and exciting villains for kids to outsmart!

Cruise down the orange track and try not to activate the Pterodactyl that swings over and grabs your Hot Wheels car and carries you off to his nest

Look out for the menacing gorilla that can go to the top of the tower and will try to swipe cars out of the elevator!

The continuous motorized elevator can transport up to 23 cars at a time

The massive jet plane can transport two cars for cruising with a landing pad on the penthouse.

Lots realistic city-themed features like a car wash, tune-up shop, drive up diner, freight elevator and even a police station.

Thrilling classic side-by-side racing action and multiple connection points to connect to your other Hot Wheels sets, too!
Features two dramatic kid-favorite nemeses, an angry gorilla and hungry pterodactyl, for additional imaginative, storytelling opportunities

Escape the flying pterodactyl or risk being captured in its nest!
Hot Wheels 50-Car Gift pack
Reward your child— or inner child— with this massive pack of Hot Wheels cars! From sleek sports cars to exotic race cars and popular roadsters. It's the ultimate starter pack for collectors or kids. If you're looking to start a collection of the world's greatest cars, this set gets you racing on your way!
One of the biggest Hot Wheels packs available with a total of 50 cars!

The vehicles in the collection feature realistic details and authentic decor

Features 50 Basic Hot Wheels cars with branded Hot Wheels storing case

The sleek branded Hot Wheels box is perfect for gifting

Cars are individually packaged so they can be shared for any occasion or kept as one collection
Hot Wheels 20-Car Gift pack
Reward your child or your inner child with Hot Wheels cars!
This pack is trunk loads of fun with 20 Hot Wheels vehicles included.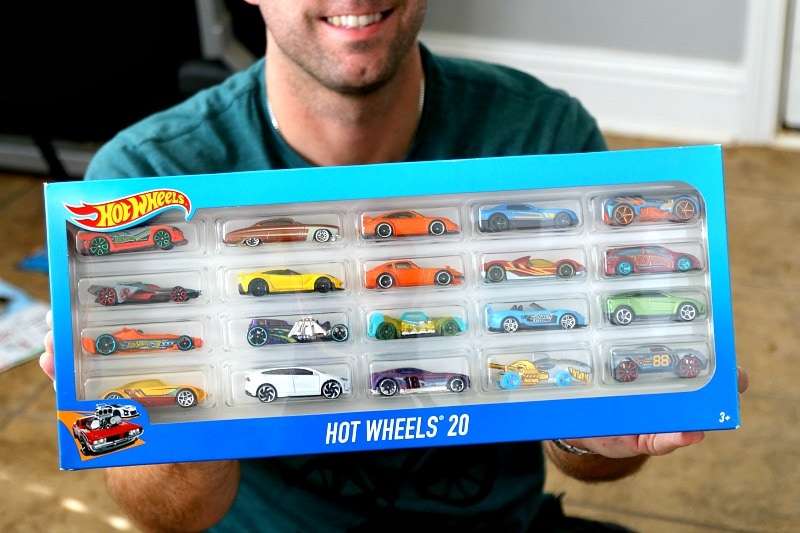 Collectors and car enthusiasts admire these amazing 1:64 scale vehicles with fondness and reverence.

Kids love them to play with their track sets or to enjoy push around play.

These cars feature classic decos and hot designs.
Check out current holiday pricing by heading to Walmart right now and picking up this WOW gift that is sure to take over your Christmas holiday!
Ready for another HOT Christmas toy?
Try the Hot Wheels Ballistik Racer Vehicle! Click below to learn more and see a video of this amazing racer that will BLOW YOUR MIND!