Are you looking for the perfect power wheel for a 2 year old? When Charlotte was little we had our share of "power" toys. Aside from everything the neighbors owned she started out with a Dora the Explorer Go-Kart and graduated to a one woman jeep.  She also had a BMW Peddle car. One thing I have learned over the years is that buying a power wheel is like buying a pair of $30 jeans for a 2 year old. They are OH SO CUTE in the moment but grow out of them quickly. It's really easy to get a power wheel that is too small just the same as it is to get one that is too big.
Things to note when buying a Power Wheel for 2 year olds:
Most Power Wheels at this age do go backwards
Look for a push button versus a foot push
You can buy motorized power wheels with a remote that parents can control
One of the best you can buy for this age group is actually a Go-Kart. Because the car is low to the ground, its super easy to get in and out. A Go-Kart version also allows a childs legs to stretch out, giving you maximum capacity on these typically smaller set of wheels. Kids grow quick so if you choose to get one this young, you likely will be purchasing a new one by the time they are 3.5 years old. 
Push-button operation for each stop & go 2 mph (3.2 km/h) max. forward only

Drives on hard surfaces and grass

Includes 6-volt battery and charger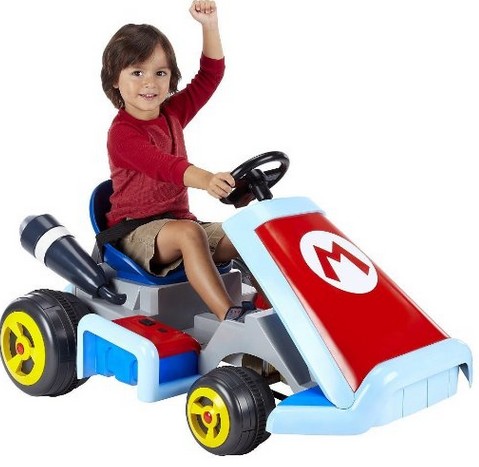 The Super Mario Ride On Kart is a 6 volt single seat toddler battery powered 6V ride on based on the popular video game.

It is specifically designed for toddlers with it's easy to use operation.

It goes 2.5 mph.

It features signature sounds effects from the video game.
Single push-button operation for simple stop & go

Wide door openings for easy in & out

Three sounds modes let you choose English or Spanish phrases plus cool racecar sounds, or racecar sounds only

Drives 2 mph max. forward on hard surfaces and grass

Includes 6-volt battery and charger
Purchase this power wheel here
Here is Phoenyx riding his for Halloween.
Storage case in the back

Headlights and sirens

6V rechargable battery
It has forward and backward, a foot press that is simple to push, a cute light that has a police siren, and is overall perfect for his long legs. Please note that this has a FOOT press vs a steering press, but still easy to use. It also charges pretty quickly and has so far held a charge for a long time. This is NOT a heavy duty power wheel and will not last forever, but it gave us quite a bit of fun and was easy to use in the house as well as outside. Other choices are little quads.
Peddle Cars: Maybe not!
While super cute and we had a fun time with it, you are looking at the extent of her experience with it. You have to have some pretty long legs to actually use the peddles. We found it when she was under a year old but she was nearly 4 before she could ride it on her own. Peddle cars have a long range from the seat to the peddle so her legs were just way too short. By the time she got old enough to ride it, she was far more into a bike. Overall I would skip a peddle car for a young age, but if you are looking for one, the  InStep Fire Truck Pedal Car is very cute.
Stylish, nostalgic fire truck pedal car for children ages 3 and up
Solid steel frame with authentic detailing brings back old memories

Adjustable pedal drive fits a wide range of children; lead-free paint

Rubber tires and chrome hub caps feel smooth and look great

Easy-to-control steering wheel; 70-pound weight limit; some assembly required
Remote Control Power Wheels
Did you now they have power wheels for your child that include parental controls? If your child is old enough to love cars but not quite old enough to handle them, check out remote controlled power wheels. While more expensive, they make a very fun gift that even adults can enjoy!
Tips when deciding what Power Wheel To Buy a Toddler
While kids grow quickly, they don't grow THAT quickly. I always thought I would buy a power wheel a little "bigger" so they could "grow into it" but these types of toys are not like clothing. Buy the size that is good for your kid now or it will be a fancy decoration.  The smaller your kid is, the cheaper they are as well.
I have personally found that the vehicles like the motorcycle and go-kart last longer because their legs have more space.
For younger kids, having a push button on the steering wheel seems to work the best. When they get closer to 2, the foot press is OK as long as its not too far for them to press. On the motorcycle their foot rests on it. On larger cars like an Audi power wheel, it requires too much force.
Younger kids have a hard time understanding forward and backwards but if there is an option on your age appropriate power wheel, get the one with backwards too.
Shop more Power Wheels for Toddlers here