Can you believe that January is almost halfway over and it's only a month until Valentine's Day?
Honestly, I love Valentine's Day. I think I always have. Even clear back to when I was young enough that I was calling it "Valentime's Day"!
Speaking of when I was young, wasn't one of the best things decorating a bag or box for Valentine's Day when you were in elementary school? Trying to get everything looking just right with paper, glue, and maybe a few other items from the craft box. Doilies were always my go-to. I was fancy, what can I say?
And of course carefully picking out, writing, and preparing the valentines that would be passed out to all your friends that day was always so exciting! Then you'd anxiously await to see what sort of valentines you got in your own box.
Obviously, I don't get to make my own Valentine's Day boxes anymore. But my kids still do! We have a lot of fun working together to make their special valentines.
And one of my favorite things is how creative things have gotten since I was a child. The ideas for valentines you can give to your friends seems endless. And so clever!
So today, we're going to kick off a whole series of Valentine's Day printable valentines that you and your children can make with ease. And this first one is simply adorable.
You're My Main Squeeze
First things first print off the You're My Main Squeeze printable valentine that you can find in PDF form right here.
Helpful hint: Everyone has different printers, settings, preferences, etc. but I've tried to make my printables work for what the majority of people are using as their settings at home. Which means you shouldn't need to do anything special when you print. Just open the PDF and click print. If you find edges and words are getting cut off, double check that your settings are no bigger than 100%. You might also want to try clicking the "fit to page" option.
Second, cut out each circle. We used pinking shears to give it an extra special touch.
Third, gather some twine, jute or ribbon and some squeezable fruit packets. Traditionally they're applesauce, but nowadays you can find many different fruit flavor mixtures.
Fourth, help your child sign their name somewhere on their valentine.
Next, use a hole punch to make a small opening in the top of the circles
Then, insert the twine into the hole and tie it around the squeezable bag, just under the twistable cap.
Repeat for as many kids as you'll be handing valentines out to. And maybe save a few for your family as well!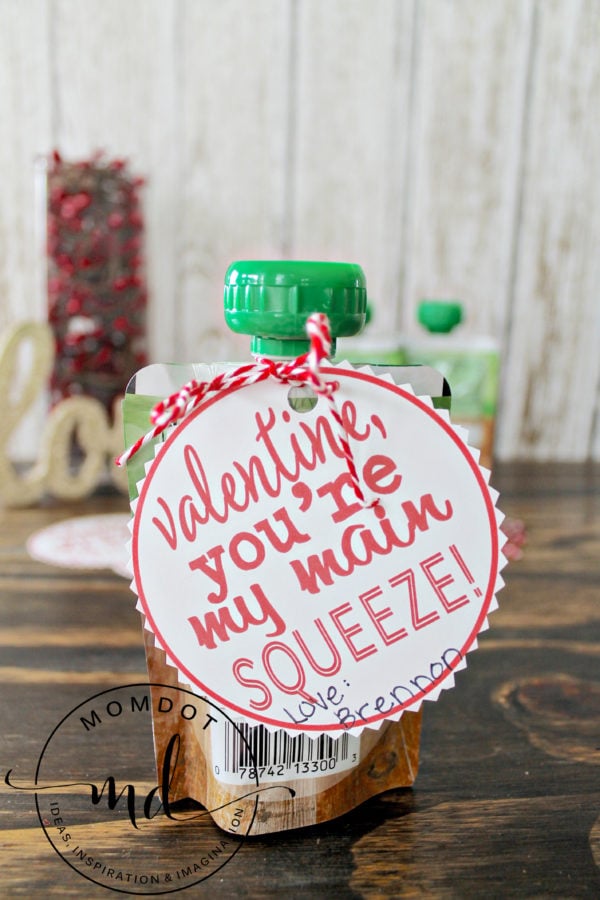 And that's all there is to it! A cute and quick way to share some sweet (yet slightly healthier) valentines with friends and family.
Let me know in the comments below if you used pinking shears to decorate your printables of if you found a different way to fancy things up!
~Kimberly
More Homemade Valentines
DIY Melted Crayon Heart Valentines
EOS Valentine Printable and Free Silhouette File