With school back in 2 weeks, I am working on creating fun after school snacks and today Charlotte and I hit up the kitchen, courtesy of Country Crock, to create something fun and kid friendly.
First, let me tell you about the new Country Crock!  You can save time AND make amazing meals with the real ingredients of Country Crock.  You can pick yours up at Kroger like we did.  With no artificial flavors, preservatives, and simple ingredients, its even easier than before to give your favorite recipe a boost!
Now, what recipe did we come up with?
Well, our original idea was to do a different take on PB&J, a favorite of kids everywhere. We created a Peanut butter and jelly roll, cut in pinwheels and fried up for a french toast version, but didn't like the take on it so we started over. However we really enjoyed these "Peanut Butter and Jelly Fries" and Charlotte gave them two thumbs up for a fun snack so that is what we are going to share with you!
---
When you are ready to serve, try something fun like this!
24pcs Striped Paper Popcorn Boxes for Party
Disposable Paper Food Tray for Carnivals, Fairs,
---
PB&J "Fries"
Ingredients:
Bread
Peanut Butter
Jelly
Country Crock
Powdered Sugar (optional)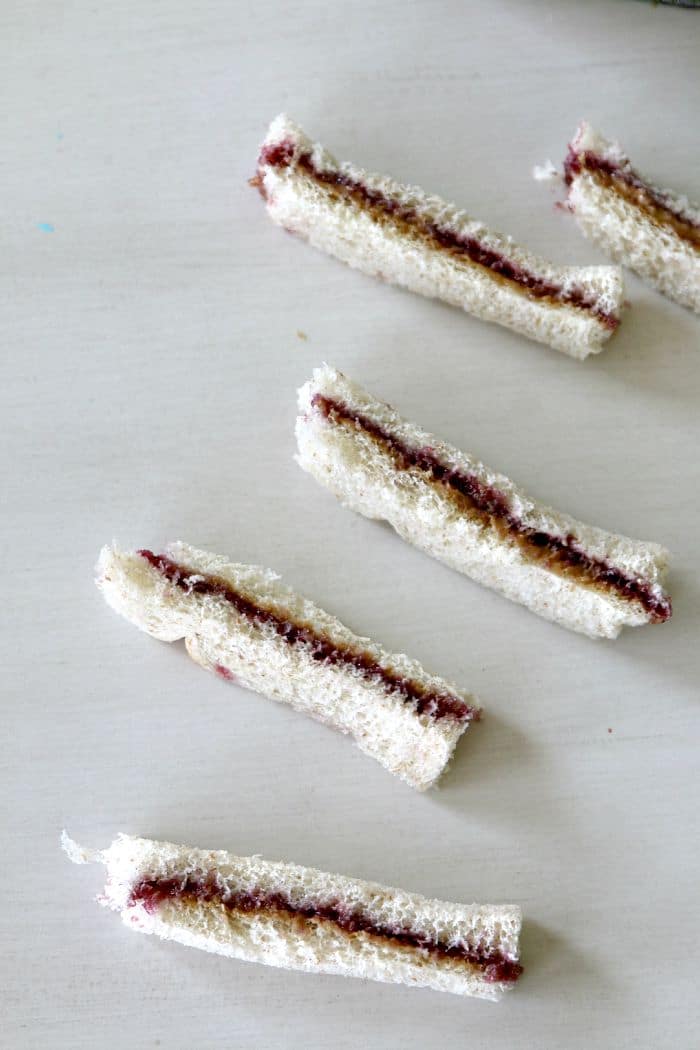 All you need to do is
Make a PB&J Sandwich and then cut off the crusts. Don't overfill it-
Flatten out with rolling pin and then cut into strips.
Throw in a spoonful of Country Crock into a medium heat pan and melt
Add your strips of PB&J and fry up and both sides
Sprinkle with powdered sugar and serve!