As the end of August nears, the time is now to start thinking about all the holiday fun. I know Halloween seems far off, but with so much awesome Halloween crafting adn DIY you can do, plus planning for parties and get together's, it helps to be prepped. I am going to do my part to help you make something really disgusting and awesome this year: Pink Sludge.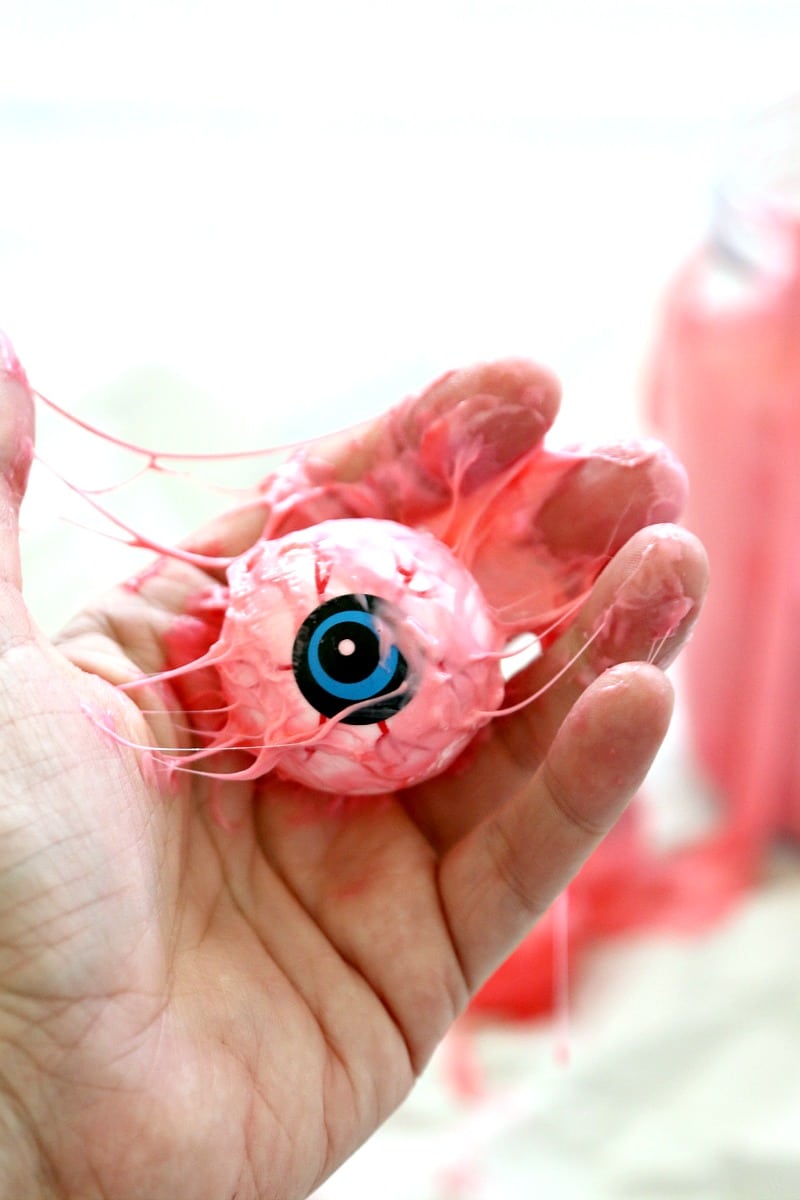 You know pink sludge right? It's inspired by the pink slime river in Ghostbusters II
(my sons favorite movie) and perfect for either decor or play.
Remember when we were kids and they would pass around a bowl under the table and you had to guess what it was? Spaghetti for brains, grapes for eyeballs…this takes that to a whole new level by adding some icky gooey sticks to you slime and its super easy to make and washes off your hands (and out of the jar) easy as well.
Pink Sludge: DIY Disgusting Eyeball Slime
To make this eyeball slime you will need the following ingrediants:
I chose to make mine in an unlabeled mason jar.
Personally, I like the ones with the words on them and you can grab these at pretty much any craft store or Dollar store. The fancy Ball ones are great for food canning but if you want to see your craft, get the cheapy glass jars. I didn't MEASURE the slime so consider this an experiment.
Pour about 1/3rd of your mason jar bottom with Elmers White Glue
. Then add a few drops of red food coloring. Stir with a stick. Doesn't need to be perfect.
Now pour in about 2 capfuls of starch
. Put lid on mason jar and SHAKE SHAKE. You wills tart to see it form immediatly. The formula is stickier if you add more glue and less starch or harder and more compact if you add more starch. I like it on the gross sticky side.
Once you have the consistency you want, add your fake eyeballs, put lid back on and shake!
Now your slimey pink sludge with eyeballs are ready! Sit on a shelf for a gross Halloween decor or dump out slowly for disgusting play.
Because this slime is made with starch, it is NOT friendly to eat. Take care and only for older kids that are past putting things in their mouth stage.
To get rid of your sludge, simply rinse in sink and it will disintegrate easily.