Sponsored post by Lunchbox
"Mom, may I help you?"
This is a pretty common statement in my home and with two kids, I never lack for an extra set of hands in the kitchen. But one thing neither of my kids do super well is basically anything out of a jar. If it takes a knife and digging out, it just isn't happening. So when Hellmann's let me know of their new squeeze jars and asked if our kitchen wanted to give them a test, I said of course!
In addition, because it's a holiday this weekend, we wanted to share a fun family idea that will make what you bring to this weekend's party stand out!
Red, White, and Blue Deviled Eggs
Need
Eggs
Mustard
Paprika -optional for color
Vinegar
Water
Red, Blue food safe kitchen dye OR if you have an old Easter Egg kit w/ the tabs, that works too
1) Cut up your hard boiled eggs (make sure they are cooled down) placing yoke in a bowl.
2) Add vinegar and water to a bowl in a  3 to 1 ratio. For us, the vinegar had almost no bearing on the egg flavor, but you only dye them for short periods at a time. If you do leave your eggs for very vibrant dying, the white portion of the eggs can taste more tart.  As you can likely see by the photos, I put dye direction on the eggs attempting to make a striped flag….um. Ok, so here's the thing. The dye goes RIGHT INTO the egg so you could do this for super dark eggs, but it also spreads so any attempt on making a stripe is pretty much out the window unless you use a paintbrush. And that it's entirely too much work for deviled eggs.
Now the fun part~ We use a super simple recipe for our Deviled Eggs and there has never in the history of ever in our family get together's been one left over egg. Its approx 1/4th Hellmann's Mayo combined with 1 tsp of mustard.
But because I have made this 100 times, I just let Phoenyx wing it.
Hellmann's/Best Foods brings you the best squeeze experience EVER: The Hellmann's/Best Food's squeeze bottle lets you get more mayonnaise out. The unique design allows you to get more mayonnaise out without all the shaking, banging and mess. All with the same unmistakable taste of Hellmann's/Best Foods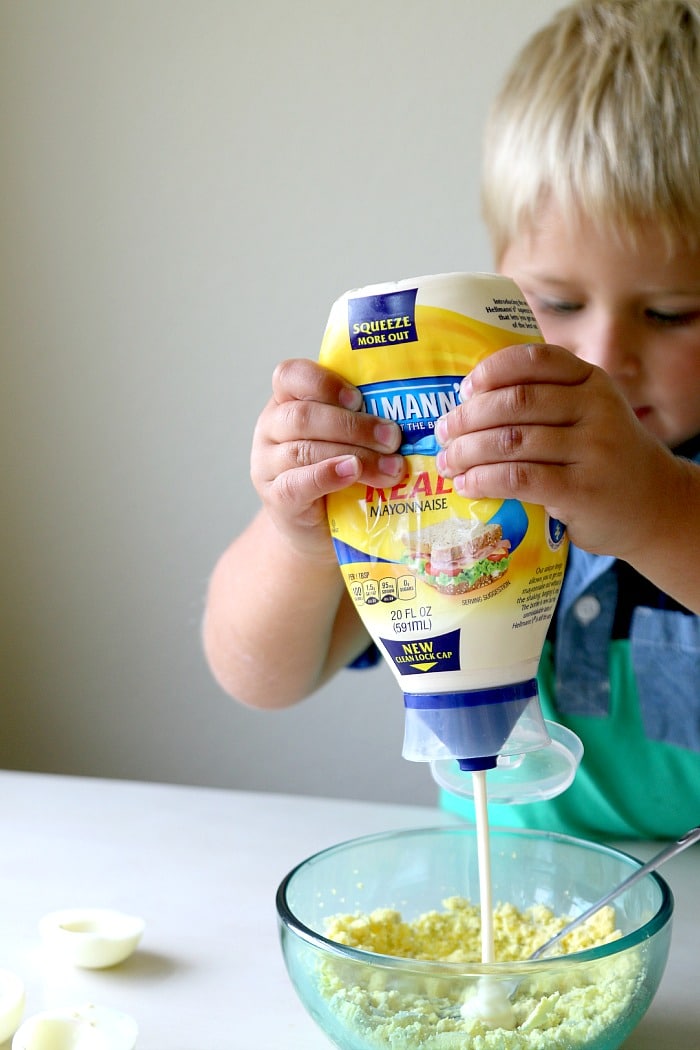 This is him "waiting his turn".
Once they are done to the color you want, you just take out, pat dry with a napkin, fill with your deviled egg mixture and enjoy!
Other reasons to love Hellmann's
Hellmann's/Best Foods Squeeze Bottle Features & Benefits:
Less waste: Squeeze more out.
Less mess: Clean Lock Cap
Less waste: Squeeze more out
Now get your discount here! Kroger and Kroger owned stores like  Ralphs, Smiths, Dillon's, Fred Meyer have a  $1 off Hellmann's/Best Foods Squeeze bottles right now! You can pick up your coupon right here. 
And now you can enter to win a Kroger Gift Card and enjoy your favorite Hellmann's recipe, on us!
Just click below to enter!
Learn how to Hard Boil Eggs in the Instant Pot {Here}