Before P was born every craft I did had a girly ting to it.
Tutus and bowholders and sparkly stuff.
And while P has no problem dumping glitter all over the house, from time to time I like to make something that is a little more him. And since he loves loves loves his Matchbox cars and inevitably breaks a few, I decided that we should repurpose them into Airplanes. The whole process is easy, fun, and great for any age as long as you have someone old enough to do the final (hot) gluing stage.
Repurposing Matchbox Cars into Moving Airplanes
What you need to Make Clothes Pin Airplanes
clothespins
paint
old matchbox cars (so you can take off the wheels)
bead or pom pom
Popsicle sticks in two sizes (one for front wings, smaller for tail)

First do the fun stuff…paint! I let the kids have at it and paint the wings and the clothespins.  It got a bit messy. Once the kids painted the clothes pins and sticks, I just laid them on a plate to dry.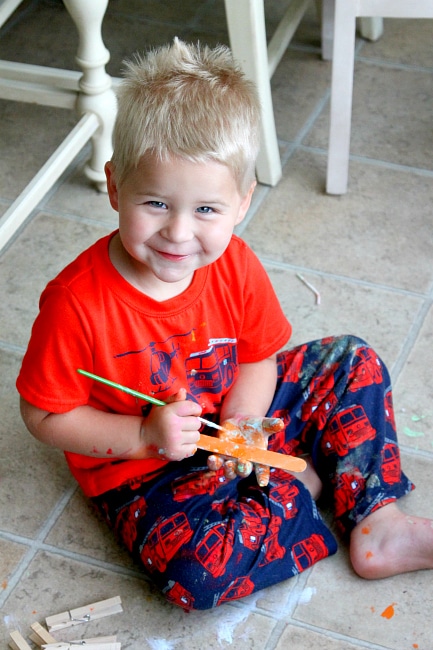 Now lets move on to assembly. I am going to use my plane as the example.  All you need to do is take your clothes pin and two large popsicle sticks for your bi plane wings. Center one over the clothespin and glue on the top and then, making it even, glue one on the bottom. Those are your wings.

Next take your smaller stick and glue on the backside of your clothes pin. This is your planes tail.
Now dissemble your old matchbox cars and pull off the wheels. It was pretty easy to pop the top off the car and then remove the wheels.  Hot glue one set on the back and one on the front. You will need two sets to make sure your plane balances.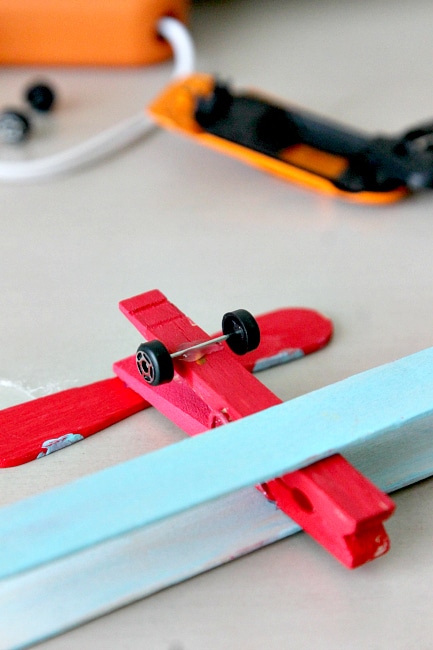 That's it! Now you can play with them!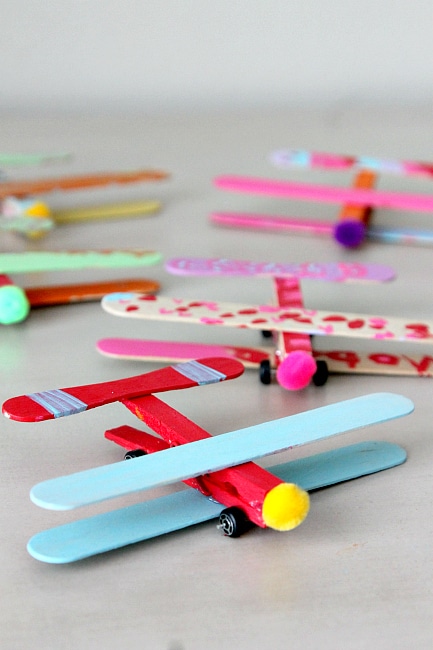 WHEEEEEEEEEEEEEEEEEEEEEEEEEEEEEEEEEEE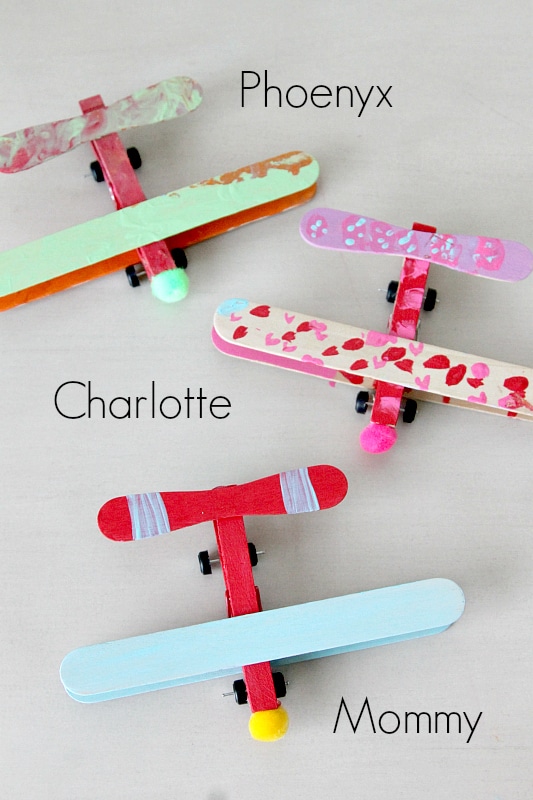 Fun, right? I love that we could do this with all ages in my house. P is 2, Charlotte is 9 and Mommy is 29…right….
And a great way to not let those broken toys go to waste!
Other articles you may want to see before you go
~Trisha