I can remember it clearly. It was 2 days after Christmas last year and my dishwasher decided to no longer turn on. There is nothing like purchasing a major kitchen appliance right after spending way too much money on your kids for Christmas.
To compensate, while searching, we decided to find a mid grade model. Nothing on the low end and nothing on the high fancy end, a good budget dishwasher. It proved to be a TERRIBLE decision.  This year my "new" dishwasher, at just under a year old, has undergone 3 warranty repairs, a full motor replacement, and a light board change. Just to be clear, it was not a Samsung. After all of that, you can imagine my excitement when Best Buy offered to send us a Samsung StormWash Dishwasher to test in our home. I could not say YES quick enough. After literally months of dishes that were just flat out dirty, having clean dishes to put away would be any kind of improvement.
Fortunately, Samsung exceeded my needs and provided a dishwasher that has not only cleaned my dishes but took them to an entirely new level of clean.
Samsung StormWash Dishwasher Review
The reviewer has been compensated in the form of a Best Buy Gift Card and/or received the product/service at a reduced price or for free
Installation of the Samsung StormWash Dishwasher, model DW80K7050
As a long time customer at Best Buy, this was not my first time working with Best Buy Delivery. Just last year I purchased a TV for my spouse and they had it delivered, unboxed and set up before my husband had even gotten up from a nap. This time was no exception with their fantastic service and from beginning to end. The installer and the Geek Squad worked hard to make sure my other dishwasher was removed with care and placed in a designated area, as well as installing the new one. We had a few issues with the installation and the location of the cord under my counter, but Best Buy made sure it was resolved before they left and everything was in good working order. I also had some unlevel floor due to the builder of my home not putting tile under the back of the dishwasher area and the installer was able to use some other pieces I had laying around to make sure my dishwasher was flat and level. My home was treated with the utmost respect and like all of the other past deliveries, it went smoothly and without hassle.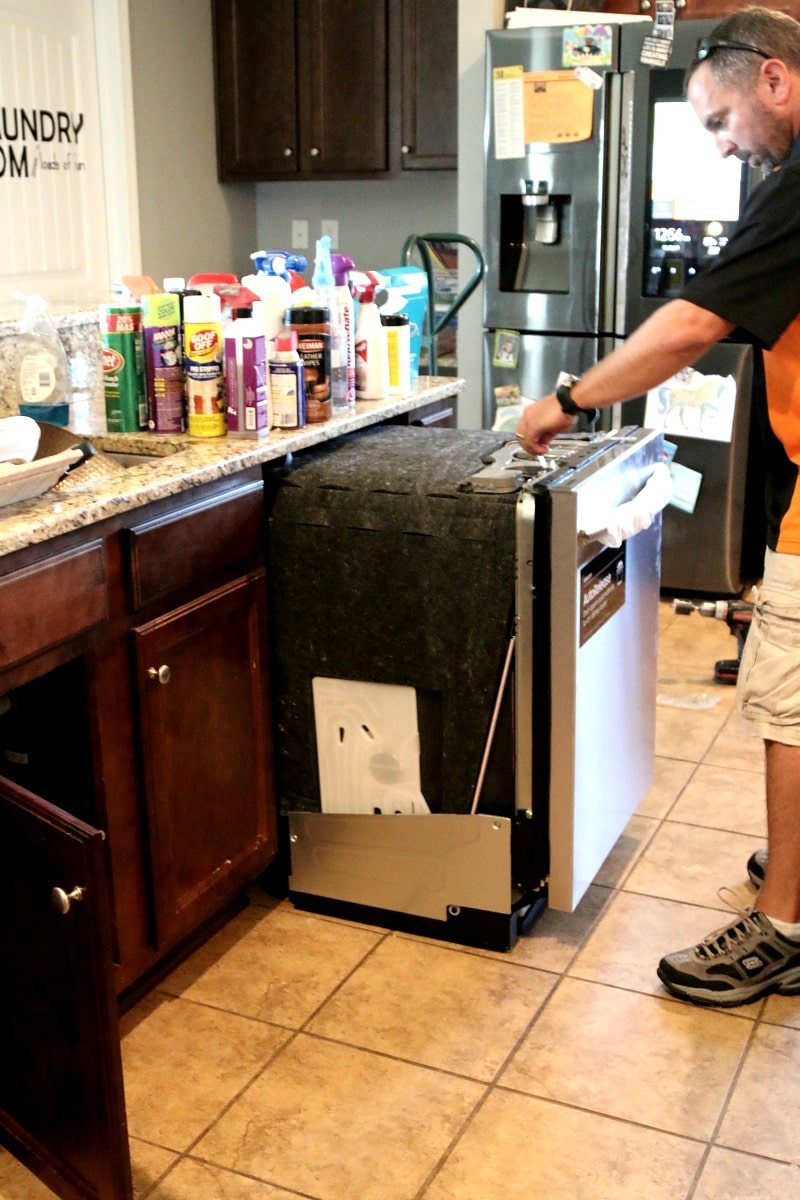 Integrated panel with touch control: Makes it easy to select functions with a gentle touch. Located on the top of the door for easy access, it offers simple control and is clear and easy to read.
Bar handle; For easy grasping.
Quiet operation: A 44-dBA rating means a quiet performance every time, so you won't interrupt your household while running loads.
FlexLoad racking: Flexible racking system makes it easy to fit various dishware shapes and sizes.
StormWash system: Cleans the messiest pots and pans without the hassle of pre-washing. This heavy-duty system has powerful rotating spray jets to clean at every angle for even tough to reach spots.
Energy Star Certified
AutoRelease door: At the end of a cycle the door automatically pops open to circulate air and accelerate drying time.
Auto, heavy, normal, express 60, delicate, rinse only: 6 cycle options offer a variety of cleaning choices.
StormWash™- A heavy-duty wash gets the messiest pots and pans thoroughly clean without pre-washing.
Our test on StormWash™:  Prior to this dishwasher, we had to wash every dish by hand before it went into the washer and sometimes they would even come out dirty! Now with the Samsung, we have been able to go from dinner to dishwasher, making it one of the most effective appliances in our home. Putting it to the test, I added everything from a few left over macaroni noodles in the bowl to flat out nasty food on the plates and it has held up, providing sparkling and clean dishes every step of the way. Even my daughter remarked how clean evertyhing is. Before we would have to inspect the dishes prior to putting them away and now we know with confidence they are clean. You can use StormWash™ with lots of the settings, not just the long settings, as it provides a huge of heavy duty wash regardless of the length of the cycle.
·
2. AutoDoor Release™– at the end of a cycle the door automatically pops open to circulate air and accelerate drying time.
AutoDoor Release™ took a little bit to get used to. Once the cycle is done, the door pops open slightly and let's out the heat. It also means your dishes are cool to the touch and ready to put away in a lot less time than before. Letting the steam and air out allows the dishes real drying time and not in a closed box. In our house, we can go through 1-3 cycles a day and having dishes ready to put away and a new set ready to be cleaned is a big deal. I was originally concerned this would pose a hazard in my kitchen, but it has not. It unlatches and opens on its own. If you have young kids and this may be a hazard, this is a setting you can turn off.
3.  3rd Rack- Dedicated space for cutlery and utensils adds 30% more usable space to your dishwasher.
3rd Rack has undoubtedly become my very favorite part of the dishwasher. It has taken some getting used to to check the top rack, but being able to put extra long utensils, grill utensils and even lids from coffee cups and sippy cups has been WONDERFUL. No more lids falling through cracks, no stuffing them in the silverware spot, they now have a spot to be truly cleaned. I am not sure how EVERY dishwasher doesn't have a standard 3rd rack. It's a must, must, must now that I have experienced it. I would not go back.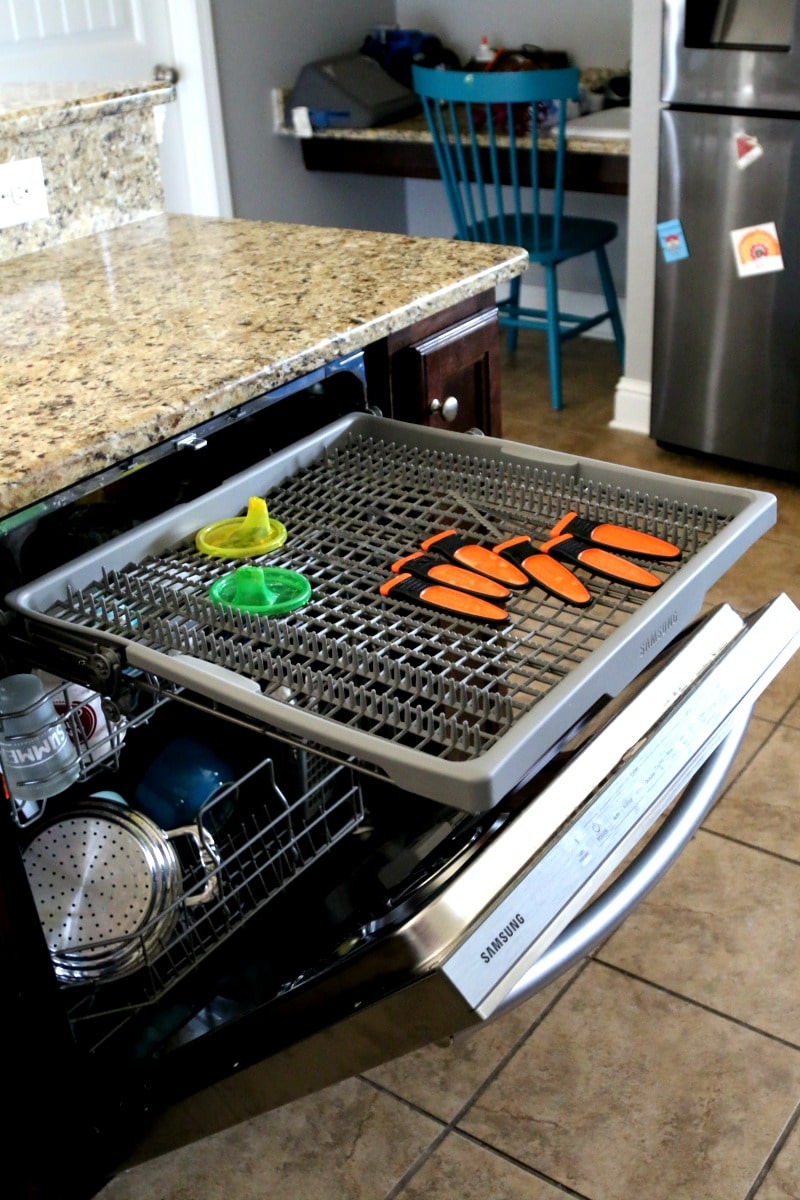 Last, but not least, I wanted to mention the space-saving utensil racks on the side (coupled with the 3rd rack) have allowed us to get the most space out of our dishwasher. They are slender and easily removable and have made it so we can still wash full pots, pans, and plates easily without the need to move the racks.
Are the Dishes clean?
YES. The past few weeks we have given our dishwasher a run for its money. Running it up to 3 times a day, the dishes have been 99% clean and spotless. On occasion, we have pulled out a dish that due to our horrible loading capabilities has created a spot of not clean, but it's been so few I can't even give you a specific example. Would I purchase this washer? Without a doubt. It's incredibly quiet and does exactly what its meant to do: Keep your Dishes Clean.
Total side note but I own a Samsung Microwave, TV, washer/dryer and fridge. I love all the music jingles they put on their products. The dishwasher has a little song it sings that I have learned to differentiate from my washer and dryer. It's a really cute touch. 
You can learn more by  heading to Best Buy and seeing a great video as well as check out all the products available.
Trust me, Buy with confidence!