When Phoenyx was two, we got him his first bike. I had high hopes of seeing him peddle around the driveaway. Except…it didn't happen like that. He was afraid of it, frustrated by the inability to get it to move, and it was more about us pushing him around than him riding it. Due to that, we all put that bike back in the garage and he hasn't touched it since. But now at nearly 5, it was definitely time to restart this adventure. Riding a bike gives kids such a sense of freedom and is a great way to exercise as well as have family time. His sister rides her bike every day so I knew once we could get him to ride, it would open a world of fun play around our house.
This weekend we set out to make it happen.
First, you should know that this post is in partnership with Schwinn. We were lucky enough that they have this new SmartStart bike with some pretty snazzy features (available at Toys R Us) and they sent us one to make this journey as simple as possible for Phoenyx. They also provided some great tips, which you can see below in this post, to help get him on the seat and peddling.
(Phoenyx posing with his bike)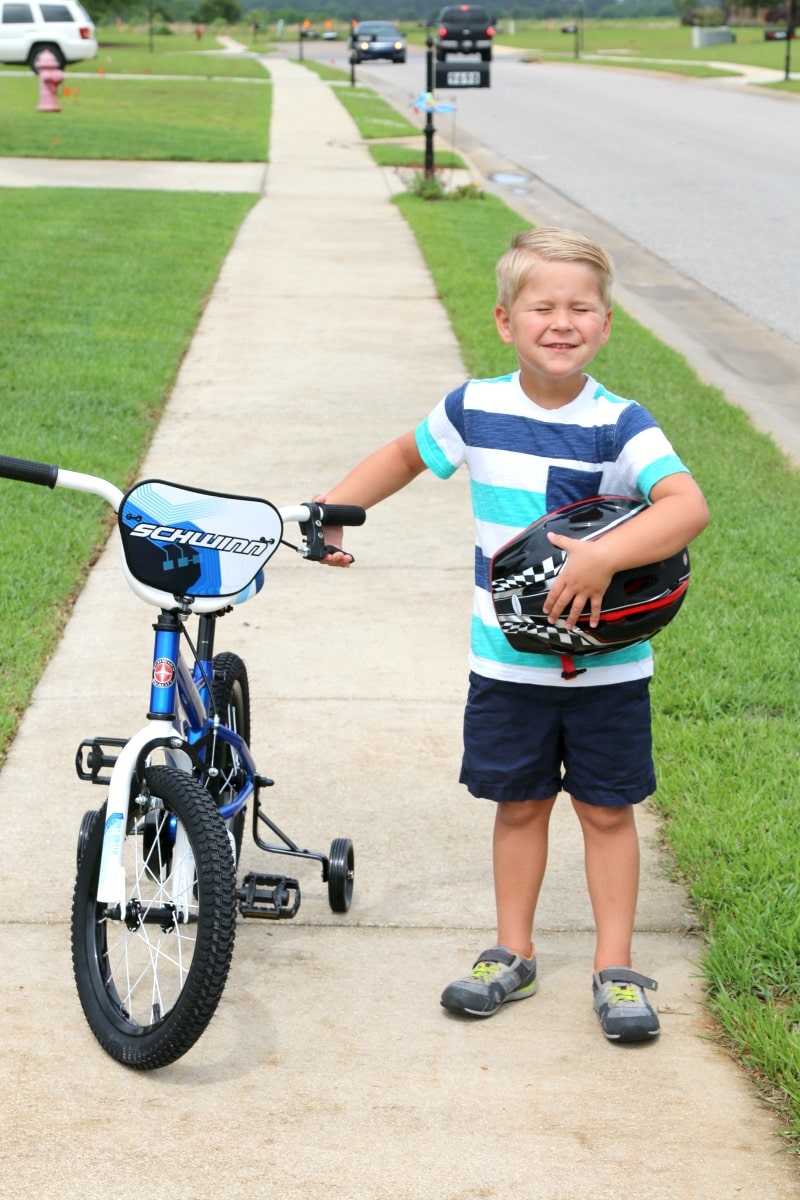 Of course, before we got started, safety first. Yo would think it would be easy to get a kid to wear a helmet. After all, they are pretty cool looking and pretty much every major sport has a helmet of some kind. Phoenyx hemmed and hawed about the whole process until we found the perfect fit.
Luckily helmets are adjustable so once we had it correct, we got him to forget about it for a little bit. You are going to laugh but he was worried he would mess up his hair. We did explain not only is it the law, but its to keep him safe and is absolutely required in our home if you want to ride.
Once he was ready to go, Chris helped him get his feet set up properly. The training wheels were a must, keeping the bike steady. I noticed the bike had pretty good balance and even when were pushing it around the driveway seemed to stay pretty even with the road.
See how he did:
After several tries, he started to get the concept and SUCCESS!!
As a parent, seeing your child accomplish what they set out to do was so rewarding. He was just grinning away as he finally got it to peddle! Now we are still in practicing mode but so happy with the progress. We are planning on about 10 minutes a day. Enough to get him used to the bike but not enough that he would feel frustrated. I forsee a new rider this summer!
Choosing the Right Bike
Boys 16 Inch Schwinn Burnout SmartStart Bike
Product Description: The Schwinn Burnout 16 Inch bike is a great choice to get a new rider started on their cycling journey. Not only does it come with colors and graphics that will win them over, but it has hidden benefits that will make it easier for little bodies to pedal and ride. Each Schwinn SmartStart bike is built with a child's proportions in mind. The grips are smaller, the pedals are closer together, and the seat is angled in such a way that the body is positioned to make pedaling less stressful. If your child is more comfortable, then they will want to ride, and learning will be less frustrating for everyone involved. Plus, you can't loose with the Schwinn name, since it is backed with a limited lifetime warranty for as long as you own the bike, and Schwinn has been building great kids bikes since 1895.
Features of SmartStart Bikes
16" wheel size – classic learn to ride size.

Easier to learn to ride-better balance

Safer because less wobble

Light-weight for stability

The seat is shaped and sized to fit a child

When a SmartStart seat is raised to fit a growing child, the distance from the seat to the handle bars increases. This increases the reach distance and will allow the bike to grow with them

The grips are smaller for smaller hands

The geometry matches the pedal width to a child's hip width

Like all Schwinn bikes, SmartStart bikes have a limited lifetime warranty for as long as you own the bike
Tips for Learning to Ride a bike
Post sponsored by Lunchbox but all opinions are my own