This is a sponsored post written by me on behalf of Sky Zone for IZEA. All opinions are 100% mine.
Save your house, let them bounce at Sky Zone instead! With summer fully heated up, my kids are literally bouncing off the walls.  And the beds.  And the family room floor.  When the temp starts to hit the 90's before lunch time, it's just way too hot for the backyard or playground or just about anywhere else I take them to get their wiggles out.
Enter Sky Zone.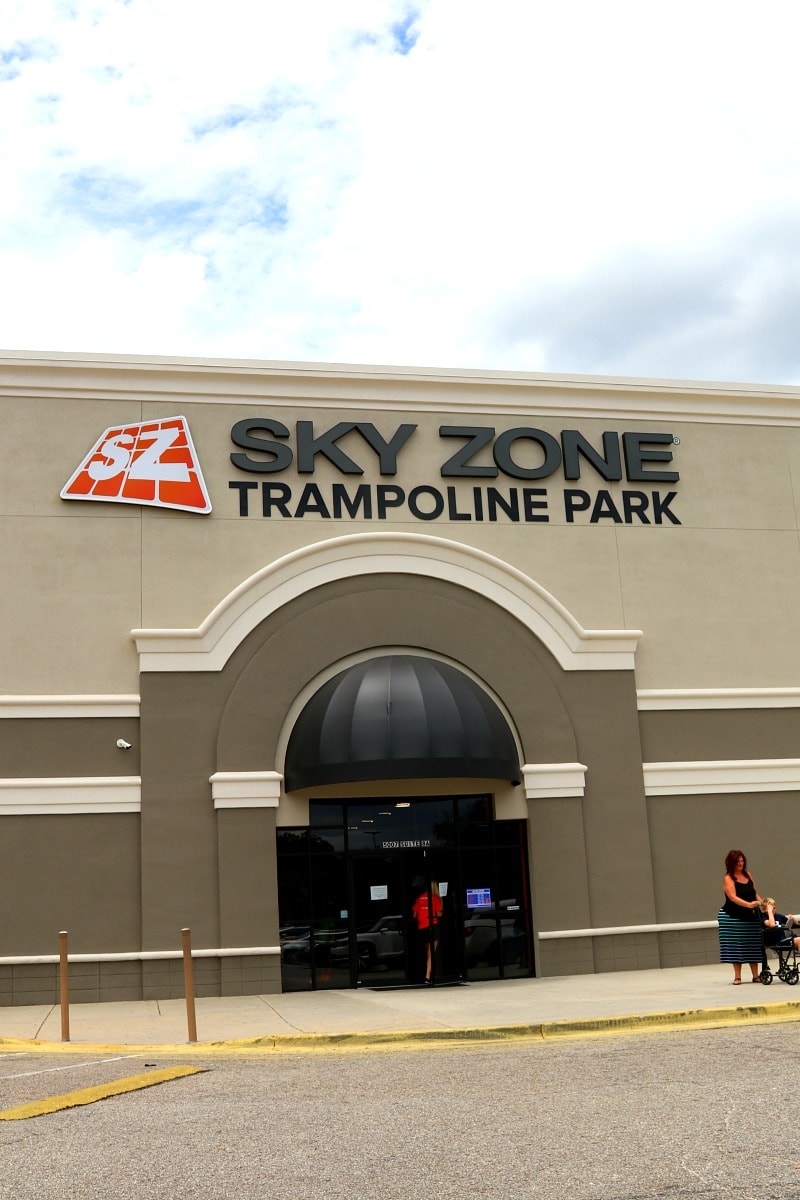 Sky Zone Pensacola
Recently SkyZone invited us out to check out its facility in Pensacola, Florida. I'm just a humble parent who from time to time is confronted with two children doing gymnastics on the sofa, so I "jumped" at the opportunity to see what they were about.  
And there is nothing like some quality time on a trampoline to ensure everyone is in bed on time and sleeps all night.
What is Sky Zone all about?
Find your local Sky Zone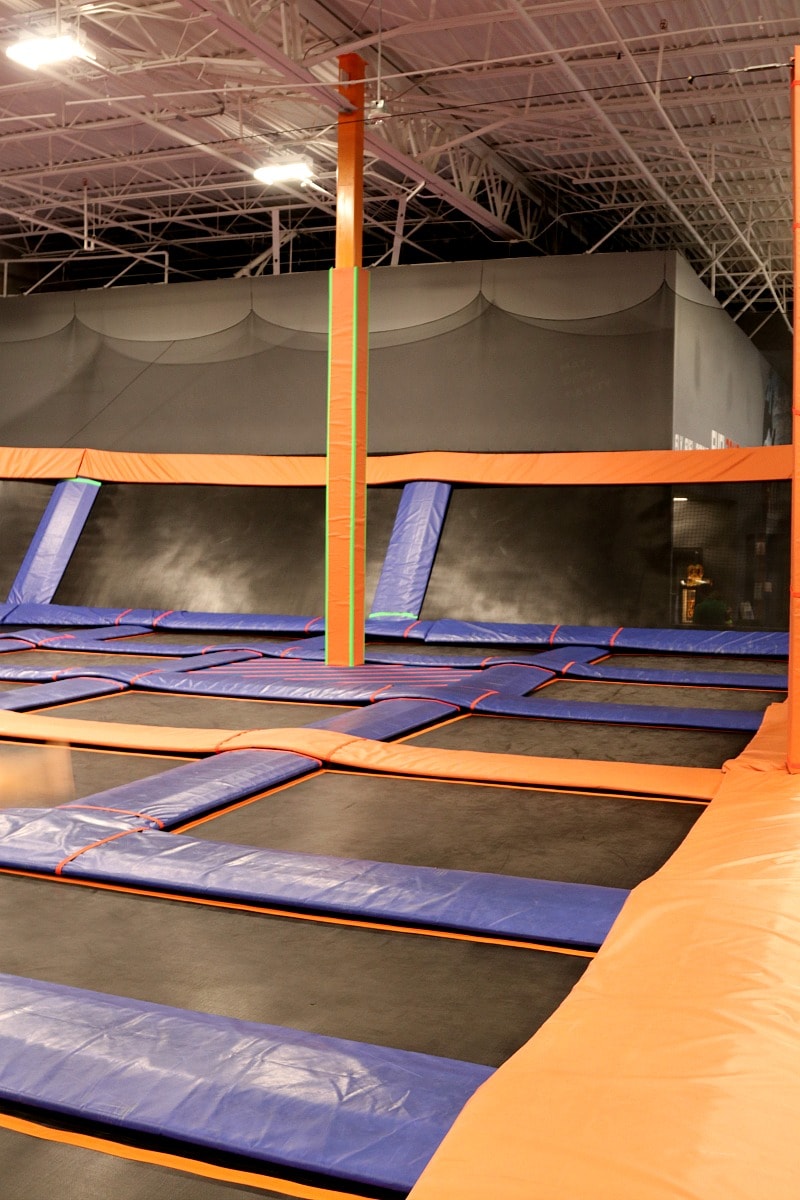 So maybe you've driven by or heard a friend talking about it, but you haven't investigated more.  Sky Zone is an indoor trampoline park, with a ton of different rooms or "attractions" that will keep the entire family busy jumping.
To give it a try, start by visiting their website, and find the park nearest you.  Each one differs slightly, but you can find updated information about your specific park, the prices, attractions, any promos they might be running, etc.  Some parks include the cost of the special Sky Zone socks all jumpers must wear; some don't.  Most admissions prices don't include applicable sales taxes.
On the website, you can purchase tickets for your jump session – I recommend buying online in advance as you never know when a particular session will sell out or whether they'll have room for all your jumpers at any given time.  I don't know about you, but showing up to an ultimate super awesome kid thing and having to wait or not getting to do it is akin to walking the parent plank.  Plan ahead and buy tickets in advance.  You can also fill out the required waver form online, saving you time when you arrive.
Different parks have different session lengths, ranging from 30 minutes to 120 minutes.  Tickets are typically non-refundable or exchangeable.  They recommend arriving at the park at least 30 minutes before your jump time.
Different parks also offer special evening jump sessions, including irresistible glow-in-the-dark jumping.
What can you do at SkyZone Pensacola?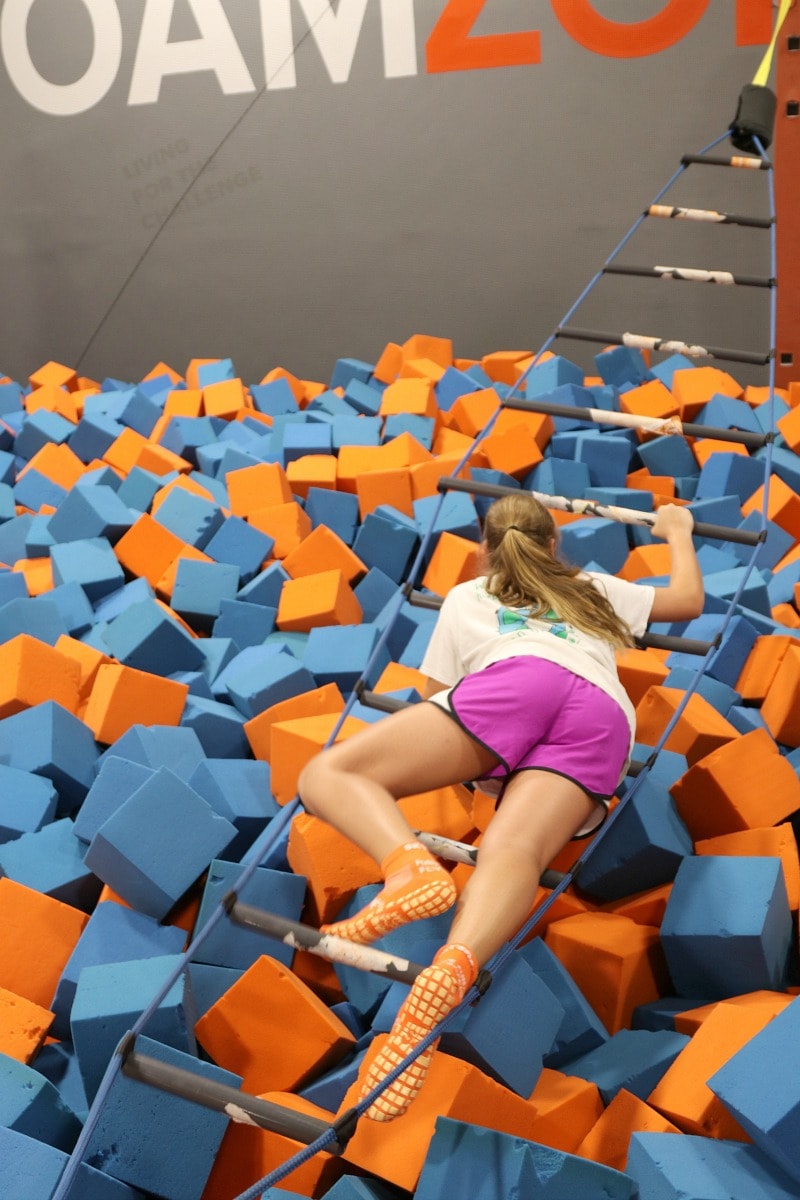 While each Sky Zone is slightly different, each offers a set of attractions that you can visit.  These can include rooms for free jumping, basketball, dodge ball, a foam zone with trampolines on one end and a huge foam pit on the other, and an area for kiddos under 5.  Again, check with your specific park for the attractions they offer and what the age requirements might be.  For example, some parks have certain rooms designated for older or younger kids to play dodge ball or certain times of the day when only a specific age set can jump in a given room. Charlotte was required to go to the older section, while Phoenyx the younger. 
During your jump session, you can visit any attraction for as little or as long as you want.  If you're keeping an eye on multiple kiddos, you might want to have a meeting place or have them stay together before leaving a room. With the exception of the free jump squares, the sections had lines so each child could complete the activity without endangering another child. The facility was full of employees that manned each section. 
As for jumping, pretty much everything goes!  While each jumper stays in their own "zone" or on their own tramp, you can literally bounce off the trampoline walls, flip, and fly to your heart's content.  While it might be a bit ungraceful at the beginning, everyone will be flying high by the end.
Managing your visit to SkyZone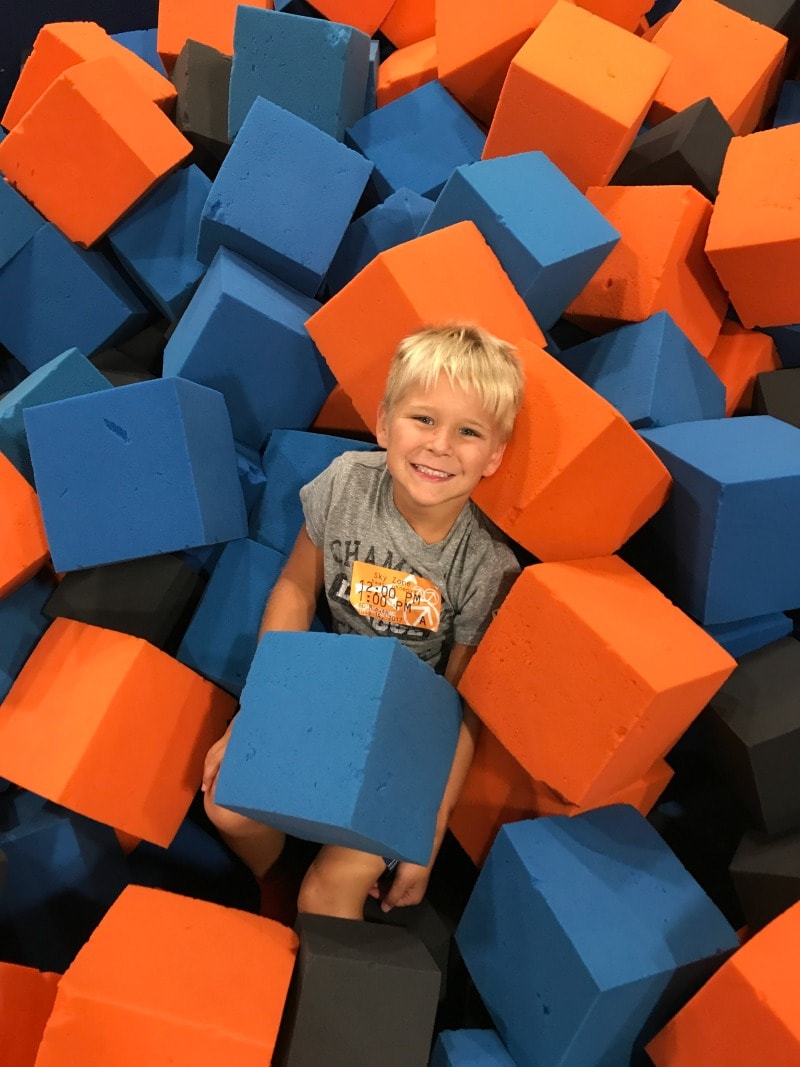 While technically any kid can visit Sky Zone, there are some things to keep in mind when you come.  First, while there is a specific toddler area at most parks, this is restricted to kids 4 and under.  While this is great for littler ones, this can be tricky for a parent supervising kids above and below this age group, so make some kind of a plan for this ahead of time.
Also, while toddlers are separated out, there is a huge difference between a 6-year-old and a 16-year-old sharing the same trampoline space.  I might have a brief conversation about finding kids their age or size bouncers to jump near, and steering clear of older kids doing more daring stunts. If you have a kiddo who struggles with sensory overload, some parks even offer specific hours for kids with sensory issues to jump without the crowds and boisterousness. For kids who do well during your visit, you can also check out day camps offered at some parks.  
Can you imagine how worn out they might be after a half day on the trampoline?
 

Staying safe while jumping  at Trampoline Park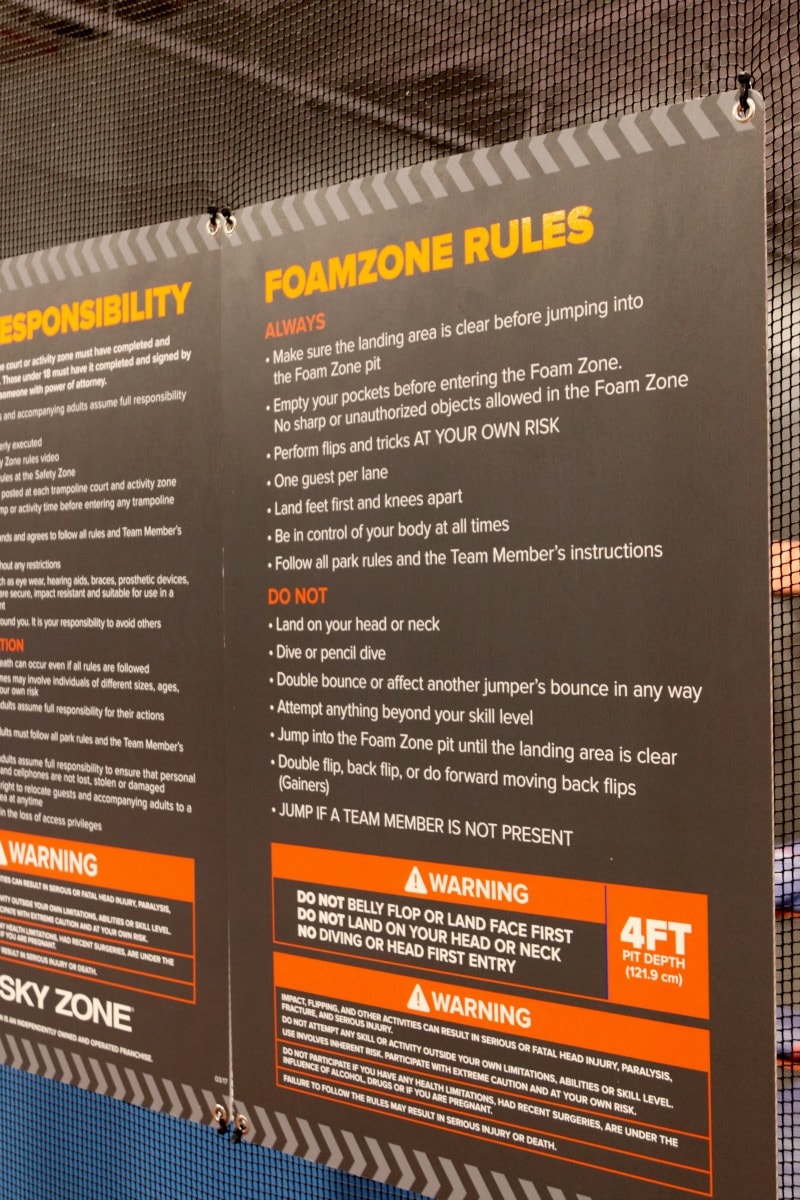 I like to let go as much as the next parent, but I had a lot of safety concerns about visiting.  However, they take safety very seriously at Sky Zone, and the rules are pretty clear.  Jumpers are required to pay attention to those around them, stay with similarly sized jumpers, stop jumping when someone is entering or exiting their trampoline, or jump without a staff member present.  Obviously, any kind of pushing or shoving or horseplay is not allowed.
 Kids should stay in their own space and not touch or contact any other bouncers. While we were there, there were also summer camps present which meant tons of kids.
When it comes to a lot of kids, sticking with your own is best to make sure they are following the rules and staying out of unintentional horseplay. 
As for ensuring they don't injure themselves, it really comes down to your kids knowing their limits and not exceeding them, even in the heat of the moment. Another concern I had was related to cleanliness.  I don't know how many kid attractions we've visited where my germa-phobe bubbles up, and we have to entirely avoid a specific area.
However, they do pay attention to keeping the park clean, and it shows.  Owners say they clean the foam pits monthly, taking out each piece and cleaning up any treasures they might find.  This process apparently takes a team nearly an entire shift to complete.
 Pads, trampolines, and more are cleaned nightly with a hospital disinfectant.
Also, if you see something less than pleasant during your visit, let a staff member know so they can take care of it ASAP. 
In all, with a bit of planning and attention to safety, Sky Zone is an amazing place to burn off extra energy while avoiding the scorching summer sun.  Save your sofas and your sanity.
Have you visited a Sky Zone in your area?  What was your experience?