Snuza Hero Portable Baby Monitor Review, learn more about this baby movement monitor and if this is a good fit for your nursery in our personal baby product review.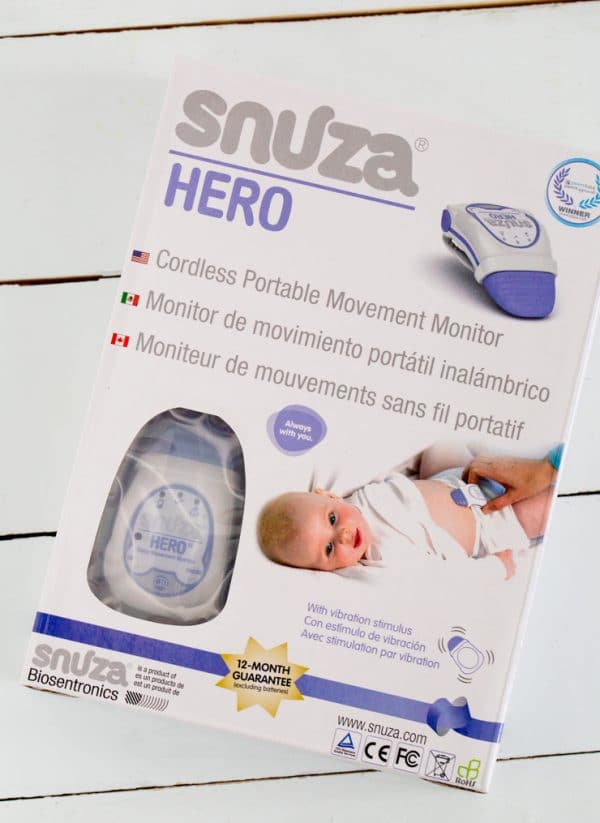 Hello! I'm Kiersten and I'm expecting my first child, a daughter, this May.
Because her kids have outgrown the whole baby stage, Trisha asked if I'd like to stop by MomDot once in a while to share my thoughts about products for infants and toddlers. My response was, "Of course!" Because I'm agreeable like that. And also because I have lots of opinions about things. Opinions that must be shared with the world!
Aside from a crippling fear of childbirth, the most stressful thing about this whole baby thing for me is the registry. Who knew you needed eleventy-billion things for a baby? It's not like when your friend from college moves in for a week between apartments and you're like, "Hey, you can sleep on the couch, help yourself to anything in the fridge."
This baby needs everything and also, this baby isn't going to have leftover pizza for dinner. (Unless your baby is super advanced and was born with teeth and a taste for pizza. I don't know, it could probably happen?)
During one of our many trips to the store to work on the baby registry, my husband and I spent what felt like an hour perusing the baby monitors.
Portable Baby Monitor
I told him that I wished there was a monitor that had some kind of arm that reached out and poked the baby. He gave me the side-eye, but really: paranoid first-time mom here. If I'm not creepily lurking in the nursery to make sure the baby is okay, I'm going to want a monitor that will do the work for me.
The Snuza Hero Baby Movement Monitor
does that. It's not a typical baby monitor with a speaker and camera; it clips onto your baby's diaper and monitors their movement.
While you'll probably still want a monitor that allows you to hear the baby too, the Snuza is superior to traditional monitors because it's made to detect irregularities in breathing. If it senses irregularities or a pause in breathing altogether for 15 seconds, it vibrates to wake the baby; if the baby doesn't wake up, an alarm sounds so you can take action.
The peace of mind this affords a first-time mom like me is priceless.
Now that I know the Snuza Hero exists, I can't imagine not having one. Although I can't test it out on the baby for a few more months, I did play around with it myself and had no issues—it's pretty self-explanatory and easy to use.
Portable Baby Movement Monitor
I also love that it's self-contained, so there are no dangerous wires or cords, just the 4-inch long Snuza Hero (which only weighs 1 ounce!) and nothing else. The movement sensor is at the top of the unit; below that are 3 lights, one for the battery, one for the movement indicator (which flashes green every time it senses an abdominal movement, orange for weak movements, and red for no movement), and one for the alarm. The on/off switch is on the side and the monitor clips onto your baby's diaper from the back.
Probably the best endorsement for the Snuza Hero are the hundreds of positive Amazon reviews
—including testimonials from many parents who feel the Snuza Hero saved their babies' lives.
The Snuza Hero is available at Babies R Us for $119.99.
~Kiersten