Make a Turkey Hat Thanksgiving Headband this year! Sure you can buy one, but it's totally easy to do with paper and is an easy art project for most kids. All you really need is colored cardstock, a pair of googly eyes, and scissors. Check it out!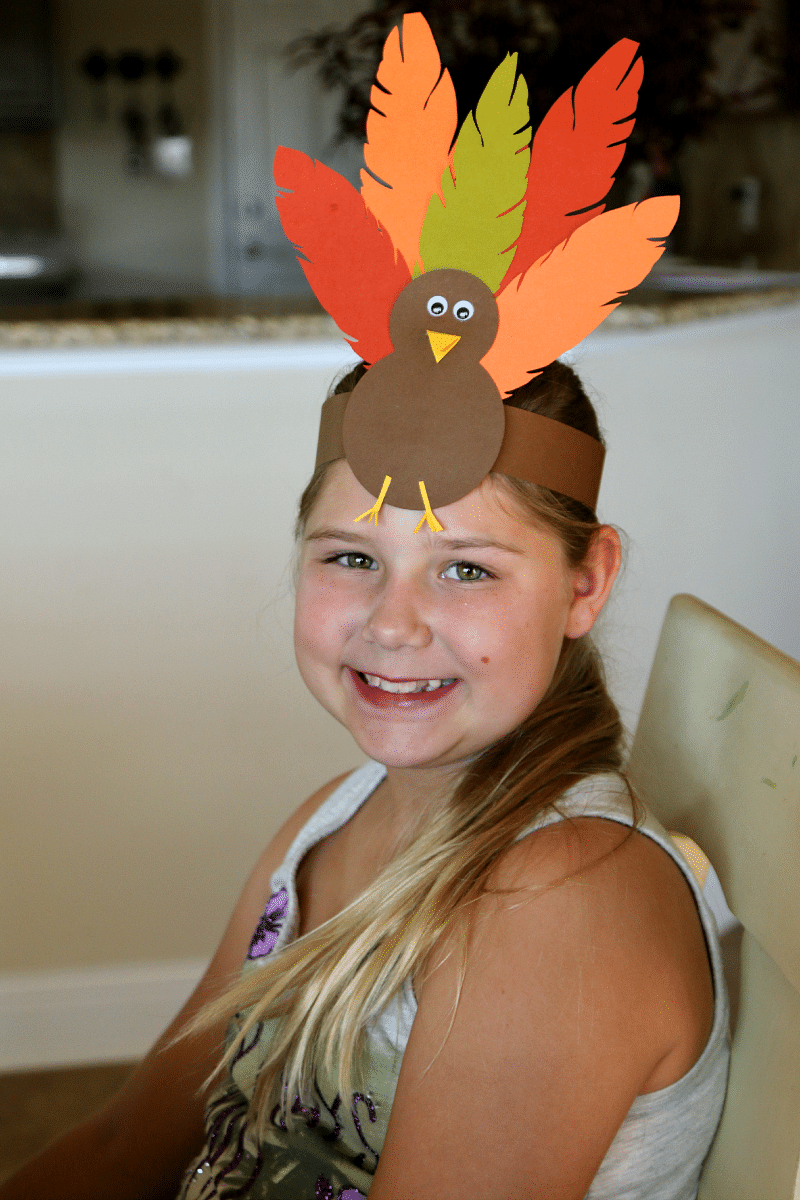 Alright yall, I am winding down from thanksgiving crafting. It seems everyone goes from Halloween to Christmas, so I feel a little behind, even though we haven't even gone past the holiday yet!
I am going to try to push in like 5 more thanksgiving crafts this week (HAHAHAHA, no, but really) but other than that, I think we have to move on to December.
Plus, I am a Thanksgiving failure. I haven't even begun to plan dinner and oh – I am hosting this year. I should probably hide the glue from myself and start searching Pinterest for some food ideas, but what fun is that??
Now, this is one of those ideas we just started working on and let it develop itself. I wanted to make a hat of some sort so we just got some feathers and glued them until we figured out the direction it was gonna take.
This ended up turning out so much cuter than I thought it would be and here is the thing- you do NOT have to make a hat.
You can simply make the turkey and wrap your headpiece around jars instead for a centerpiece. Or glue it to a Popsicle stick
for a puppet.
The beauty of kid crafting is you do not have to get stuck in a whirlpool – create the way it feels natural to you!
---
Silhouette: My Favorite Alternative to Scissors
Before we get started, let's talk about the Silhouette Machine
. This thing is insanely fun, easy, and can create pretty much any shape – which means any type of project you want. It cuts, draws, does vinyl… and it's worth every penny.
You also don't need cartridges like you do with other cutting machines.
I go to their downloadable website and buy shapes for as little as 50 cents for special things and have learned to create my own. If you have been thinking about getting one, just do it!
Silhouette Cameo 3 Bluetooth Starter Bundle with
Silhouette Portrait
Silhouette CAMEO 3
---
Make a Turkey Hat Headband
To make this thanksgiving craft you will need the following items:
If you visit here a lot you know that I prefer to SHOW you rather than conform you to some directions that will have you second-guessing if you are doing it right or wrong. The gist is that you need to cut out some feathers.
I used a machine so my feathers would look super pretty, but you can hand cut some or heck, you could even buy REAL feathers if you chose – that would be very pretty too. So, if you don't have a cutting machine, grab your scissors!
Then starting with the feathers we made a pattern till it looked "turkey" like.
Now take your Turkey Body, glue it onto the front of the tail, and glue googly eyes on the turkey face.
Googly eyes make all things better. Seriously. All things.
Then add some feet and a beak.
I just hand-cut those with a pair of scissors. It's quick and easy.
Make the Thanksgiving Headband
For the head attachment, I cut two long strips of brown paper and attached them in the middle of the backside of the turkey.
These are two separate pieces but if your paper is long enough, surely you can cut one.
Center your turkey on the front of the head and bring your headpieces to the back. Cut if too long. Hole punch the two pieces and secure them with twine. Now you can tie in a bow in the back!
Now that you have read the instructions, check it out!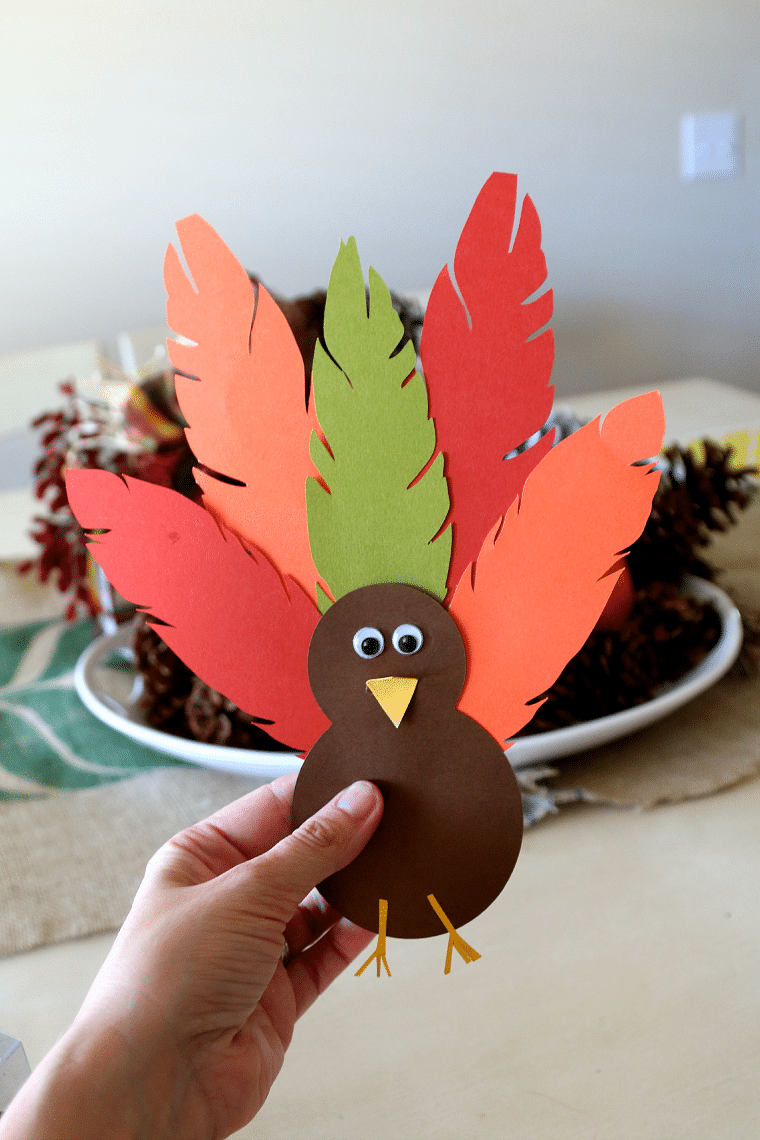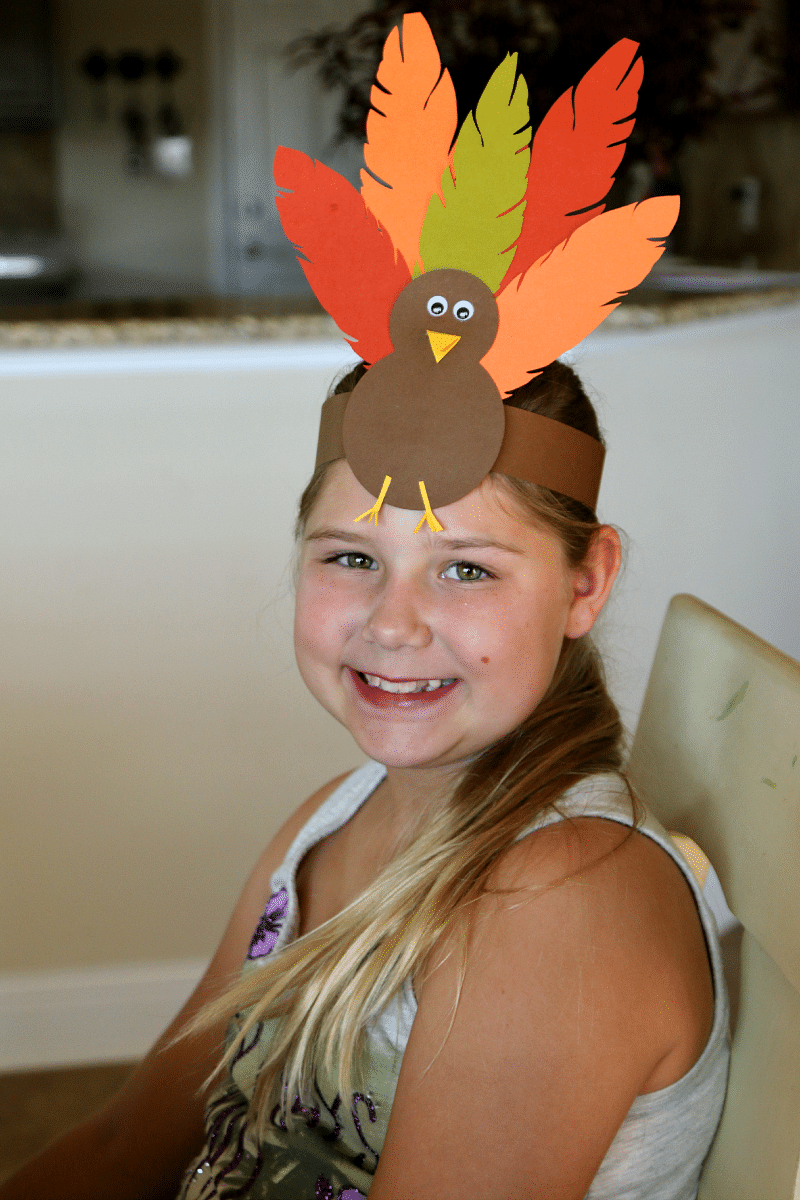 That is it!
Now do not forget this machine! You will LOVE everything it can do for you this holiday season!
Silhouette Cameo 3 Bluetooth Starter Bundle with
Silhouette Portrait
Silhouette CAMEO 3
————————–
Craft Along With Me and Hang Out!
Love my turkey craft? Do not forget to follow my other Thanksgiving Crafts here or catch up with me on Facebook where I include crafts, contests, and idle chit-chat (just for fun).