How to make a Towel Swan (Tutorial)
The towel swan is one of the easiest towel animals to create.
I like to make two and place them nose to nose on our guest bed whenever a couple comes to visit.
You will need:
1 bath towel or sheet
Sunglasses (optional)
Step 1:
Lay out the bath towel horizontally then fold the top two corners down to meet at the center

Step 2: Press the diagonal folds flat then roll the towel tightly along the diagonal edge. It's easiest to do this one side at a time.
Step 3: Once both diagonal sides are tightly rolled, flip the shape over
Step 4: Bend the rolled point to form a curved neck. Use a lot of pressure (sit on it if you have to!) so it will stay positioned.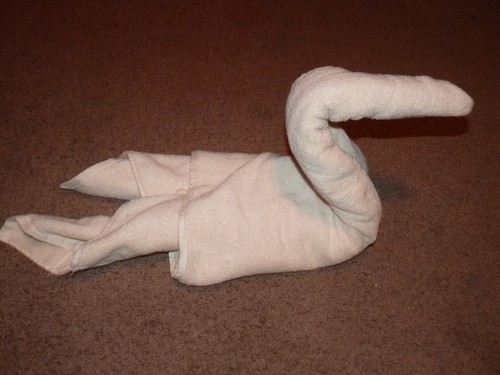 Step 5: Twist and "fluff" the tail to create the illusion of wings.
Enjoy your new feathered friend!
If you're only making one you might want to add sunglasses for a fun effect. If you are making two, place them nose-to-nose for an elegant look. Want more towel animal tutorials?
Learn how to make a towel animal monkey and a towel animal elephant at Sweet T Makes Three.