5 Teacher's Day Gifts that I Hate Receiving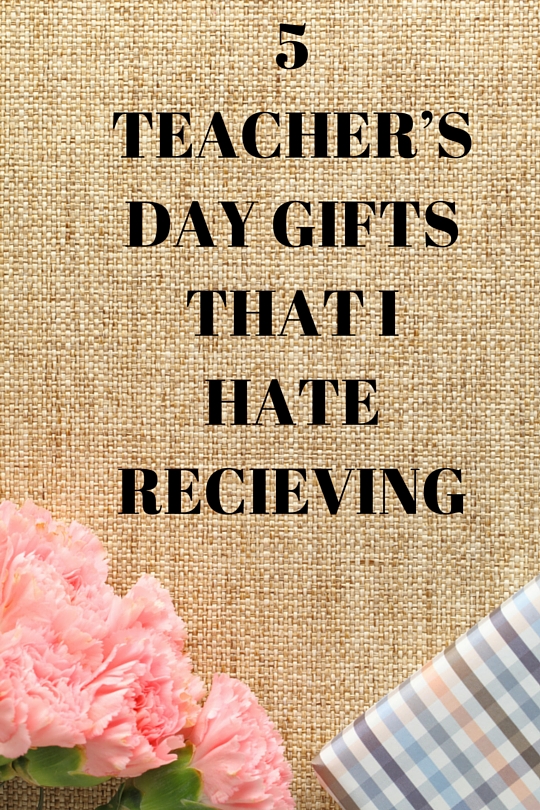 In a few weeks time we will be celebrating Teacher's Day again. This year Teacher's Day is exceptionally special as Teacher's get their off day on the 2nd of September instead of 1st September. This relates to an extended holiday for the kids as it Teacher's Day marks the start of the term break.
Being a teacher for more then 10 years I have my fair share of Teacher's Day celebrations and gifts from my students.
Here are some gifts which I really really hate to receive.  These are real!
#1- Teacher's Day Mugs
Flirty looking Teacher's Day's Mug
I don't know what's with Freezer Mugs but this one is certainly not my favorite. As you can see it's still in it's original packaging. It's really intimidating having to face such a mug while seated at my desk marking student's homework.
#2- Extra Small Stationary Holders
I know that it looks cute but is it practical? I do have quite a lot of stationary and having that on my desk would really occupy relate to not optimizing the table top space.
#3 Photo Frames
I shudder when I open up the gift and find a photo frame inside. I do not fancy them as they take up space and get dusty very easily.
#4- Plastic Flowers
Plastic flowers may seem pretty to you but to me I rather take fresh flowers anytime.
#5- Totally Unrelated Stuff
Golf balls
Golf balls.
Yes, I received it as a Teacher's Day gift one year. I guess that the child must be desperate for a present that he raided his dad's golf bag and fished out some new balls.
What other presents do you as a teacher hate to receive?
Dominique Goh, Singaporean Elementary school teacher and mom to three. Catch more of her personal parenting tips, writings at Dominique's Desk