Unicorn Poop Fluffy Slime Recipe with No Borax and Shaving Cream.  A twist on Unicorn Poop Slime Recipe, this easy to make but very bouncy and fluffy slime, is less messy and easier than its counterpart. With only three main slime ingredients, its nearly impossible to mess up this slime recipe, making it a favorite in no time. The shaving cream additive puts in an extra fluffy layer, making your slime feel more like a big batch of whipped cream than the sticky peanut butter feel you have likely made when it comes to slime.
Scroll down to get your unicorn poop fluffy slime recipe! Free Printable E-Book PDF file at bottom of article…easy to print instructions!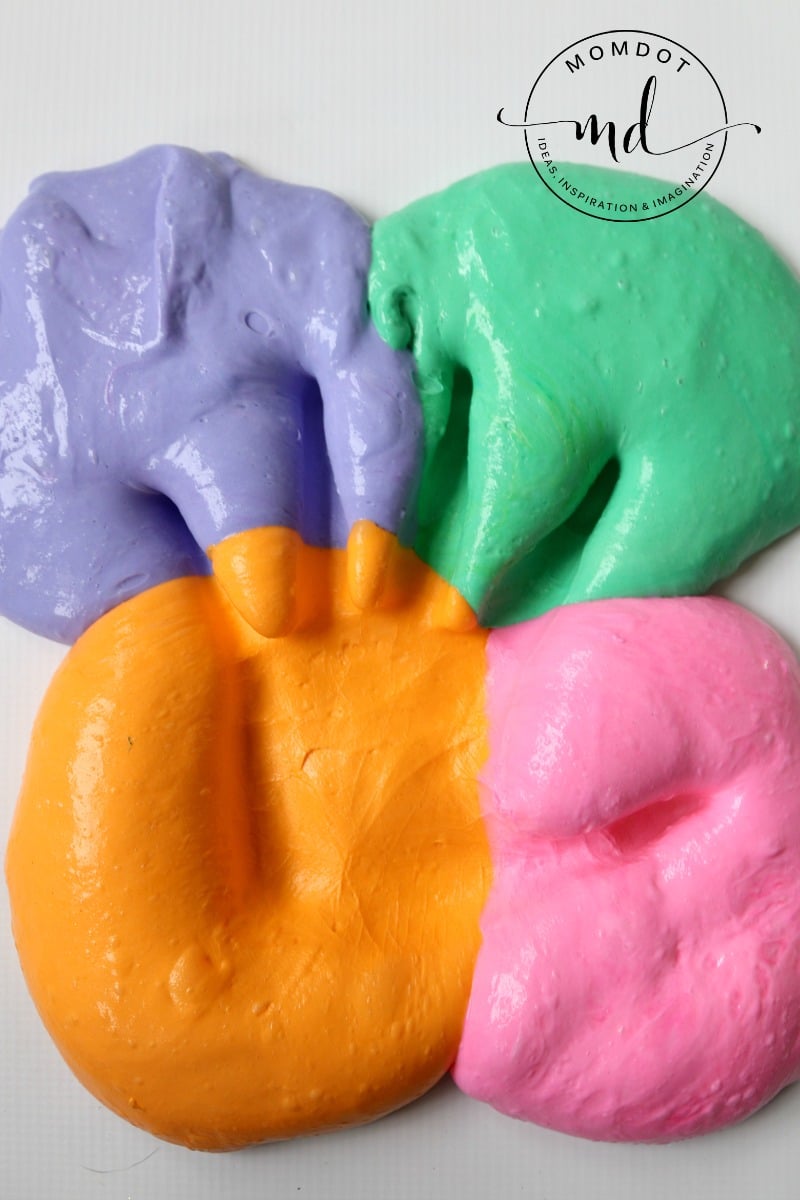 ---
SLIME BOOK AVAILABLE!!
Love the Slime Recipes on MomDot? Our first book has been published and you can pick up a copy right on Amazon for yourself or to gift to a slime fan in your house! It features not only some fun basic slime recipes and how to get started on creating your own, but also some ways to use slime for holidays and gifts! Check out the book here! 
---
Unicorn Poop Fluffy Slime Ingredients
To get started on making this fluffy slime, you still need the traditional slime ingredients. For us, that is a Gallon of Elmer's Glue, Liquid Starch, a colorant (I prefer Wilton's Food Coloring) and for this, the additive that makes fluffy slime work, extra moisturizing shaving cream. If you want to learn more about this kind of slime, read this tutorial:  fluffy slime recipe. This unicorn poop fluffy slime is made with liquid starch.
White school glue – I always use GALLON SIZED GLUE. Tiny bottles do not produce a lot of slime and this is an addicting project. Go ahead and get the gallon size. You cannot find this in stores.
Liquid Starch – This can also be impossible to find, so I always grab a bottle when I order glue
Food coloring – I use Wilton's Color Right for the best and brightest results
Elmer's School Glue, Washable, 1 Gallon
Purex Sta-Flo Liquid Starch, 64 Ounce
Wilton Color Right Performance Color System, 601-6200
---
Unicorn Poop Fluffy Slime Recipe
When it comes to making fluffy slime, first things first…make sure you have at on of glue!! When I suggested the gallon glue
 , I meant it.
Nothing is more disappointing than making a tiny bit of slime.  There is no perfect recipe when it comes to slime, so here is a basis that you can start with and adjust to find YOUR perfect unicorn poop slime! I start with about 2 cups of glue per color so its nice and thick. Now its time for color!
The Wilton's colorant
makes it super bright and doesn't dilute your slime.
Here is the fun part! Spray in about a 1 cup worth of cheap shaving cream
. I do not use the gel kind, just the good old fashioned dollar poof shaving cream. Mix these three items together. You will notice your glue puff up like puffy paint.
You are on the right track!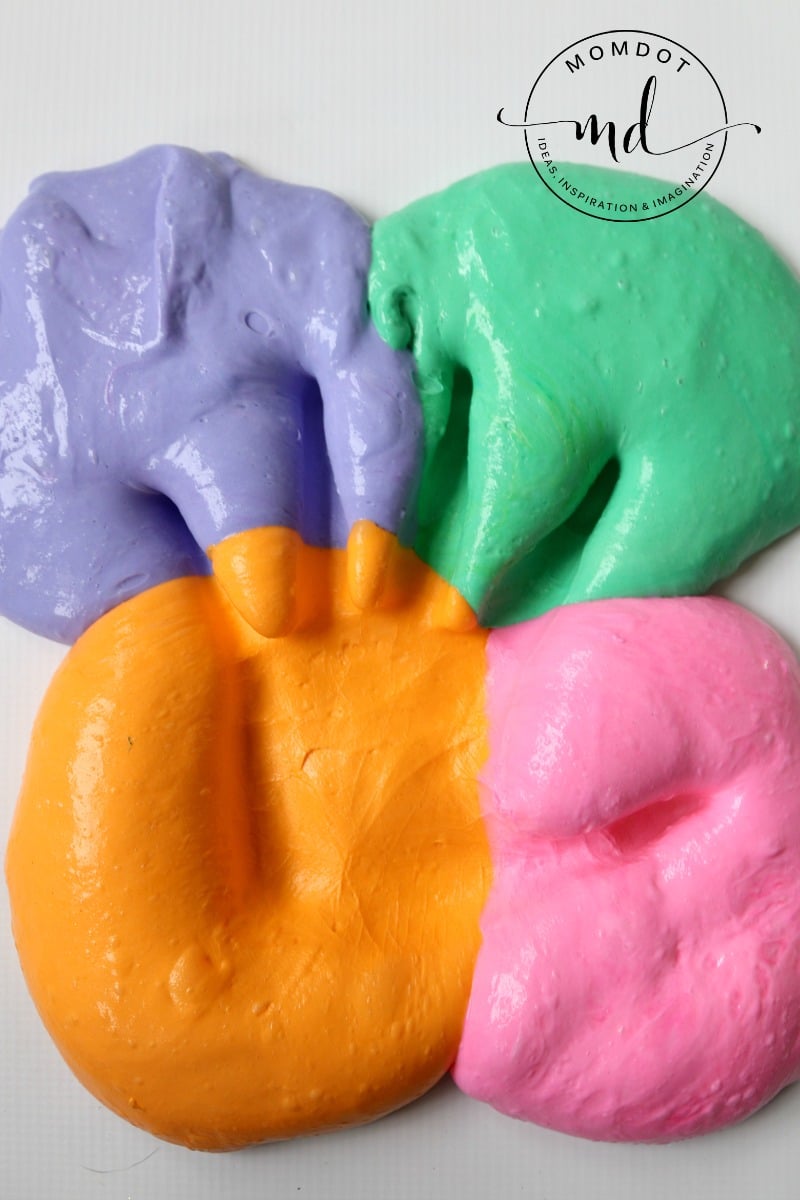 Now add your liquid starch
. I wing this part, but I would start with about 1/4th-1/3rd cup and stir together.
The slime will form almost immediately. Then you can take out and knead.
Dip back in starch if its not hard enough. Do this for every color! Done!
To make your "unicorn poop" slime, simply fold your varying colors together in stripes and enjoy.
NOTE: ADDING WHITE SHAVING CREAM WILL DILUTE YOUR COLORING– YOU MAY NEED TO ADD MORE AFTER THE SHAVING CREAM IS MIXED IF YOU WANT IT BRIGHTER.
One thing I adore about this kind of slime is that it retains shapes well so its super fun to press in your hand, cookie cutters, or even cut with scissors!
Just because its fluffy slime, doesn't mean you cant thin it out and let it drip!
You can keep this homemade slime recipe poofy but if you lay stripes of it down, it will still flow pretty well like regular slime recipes- just puffier.
See how slime is made in this helpful quick video
If you are still having trouble, talk to me and see some of the stages! Check it out~
---
Download FREE Unicorn Poop Slime E-Book! There are so many great unicorn poop slime recipes here on momdot, that I put this original one and a few others in a simple full color download file! Just print off here so you can enjoy from home. This file is for personal usage and contains a recipe for unicorn fluffy slime as well as this original unicorn poop slime and other links back to the other unicorn slimes. Your kids or classroom will love it! Do not worry, the PDF file has links that will send you right back to the original posts for more instructions and images.
Just click HERE or below to begin an instant download.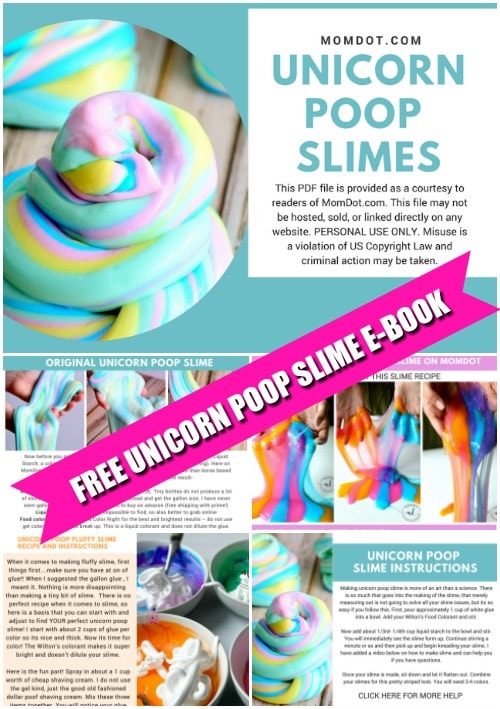 ---