DIY fluffy slime, a perfect 3 ingrediant fluffy slime with shaving cream and no borax for slime perfection! Around here, we have the slime recipe thing down. We have made unicorn poop slime, multi-colored slime, glitter slime, rainbow slime and about everything in between.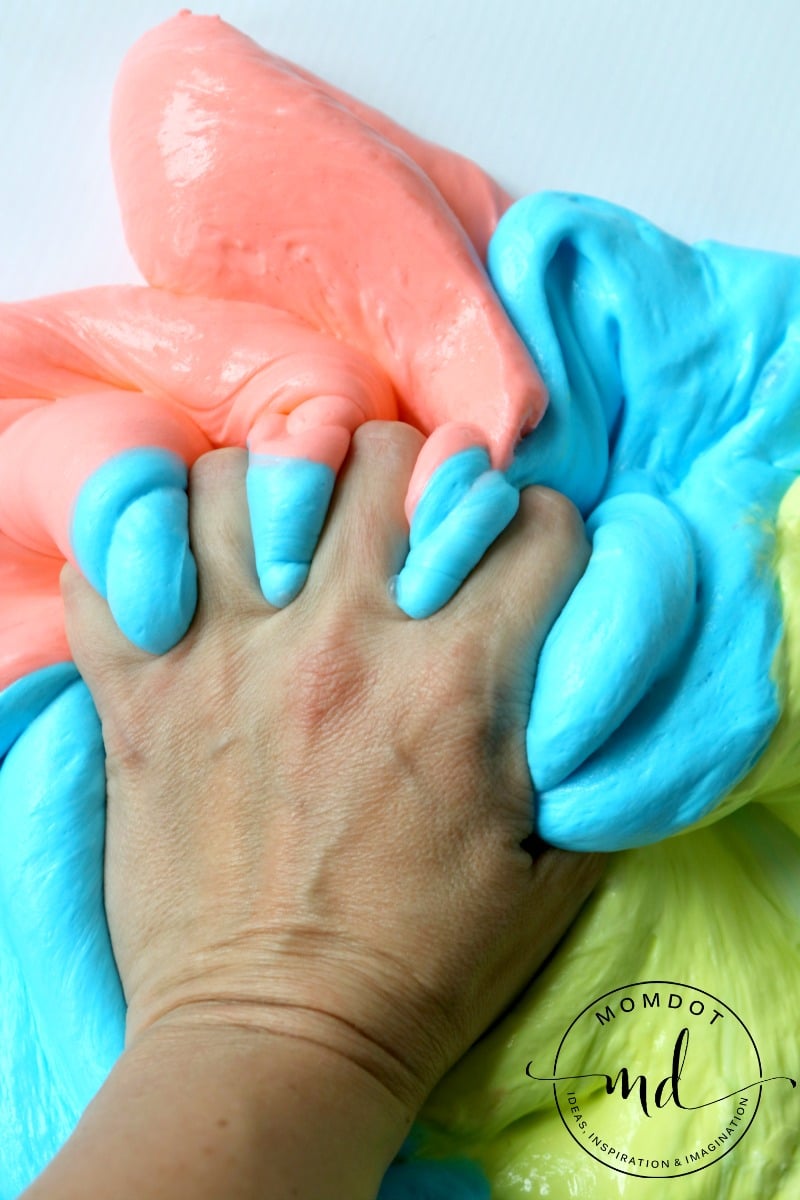 ---
SLIME BOOK AVAILABLE!!
Love the Slime Recipes on MomDot? Our first book has been published and you can pick up a copy right on Amazon for yourself or to gift to a slime fan in your house! It features not only some fun basic slime recipes and how to get started on creating your own, but also some ways to use slime for holidays and gifts! Check out the book here! 
---
Now it's time to show you a super poofy, super fun, totally different sensory experience that will even get the adults playing all day: Fluffy Slime. This 3 ingredient fluffy slime recipe takes the traditional long gooey slime and instead makes it puffy and easy to retain shapes, making the play time even more fun!
You can cut this fluffy slime or squeeze it and see hand prints! Its big and squishy, made so by shaving cream, and is so much fun. Once you make fluffy slime, you may not go back to regular slime any time soon.
DIY Fluffy Slime Ingredients
To get started, you still need the traditional slime ingredients. For us, that is a Gallon of Elmer's Glue, Liquid Starch, a colorant (I prefer Wilton's Food Coloring) and for this, the additive that makes fluffy slime work, extra moisturizing shaving cream.
Here is a list of items you will need for your fluffy slime recipe. This fluffy slime is made with liquid starch. I have found that its EASY to reproduce whereas slime with borax as the thickening agent can go badly quickly and leave you with a hard rock of slime.
Do not wonder what went wrong- just use liquid starch.
White school glue – I always use GALLON SIZED GLUE. Tiny bottles do not produce a lot of slime and this is an addicting project. Go ahead and get the gallon size. You cannot find this in stores.
Liquid Starch – This can be impossible to find, so also better to grab online
Food coloring – I use Wilton's Color Right for the best and brightest results.
Elmer's School Glue, Washable, 1 Gallon
Purex Sta-Flo Liquid Starch, 64 Ounce
Wilton Color Right Performance Color System, 601-6200
---
Noisy Slime Recipe
Why call it noisy slime? Because this is the perfect poking slime recipe! Fluffy slime is so fun for ASMR slime noises.
As I have explained in other slime recipes, making slime isn't an exact science, but understanding the basics can get you on the road of a good base and you can adjust it easily to make your perfect slime. When making fluffy slime, you absolutely want a LOT of glue. I suggested getting the gallon glue
and I mean it.
I start with about 2 cups of glue per color so its nice and thick. Then add your colorant. The Wilton's colorant
makes it super bright and after testing hoards of food dyes, while it cost more than some, I have found it works the best.
Now spray in about a 1 cup worth of cheap shaving cream
.
Do not use the gel kind, just the good old fashioned dollar poof shaving cream. Mix these three items together. You will notice your glue puff up like puffy paint. Incidentally, this is how you make puff paint for other art projects. But you are not done yet!
Now add your liquid starch
.
I wing this part, but I would start with about 1/4th-1/3rd cup and stir together. The slime will form almost immediately. Then you can take out and knead. Dip back in starch if its not hard enough.
Do this for every color! Done!
NOTE: ADDING WHITE SHAVING CREAM WILL DILUTE YOUR COLORING< YOU MAY NEED TO ADD MORE IF YOU WANT IT BRIGHTER.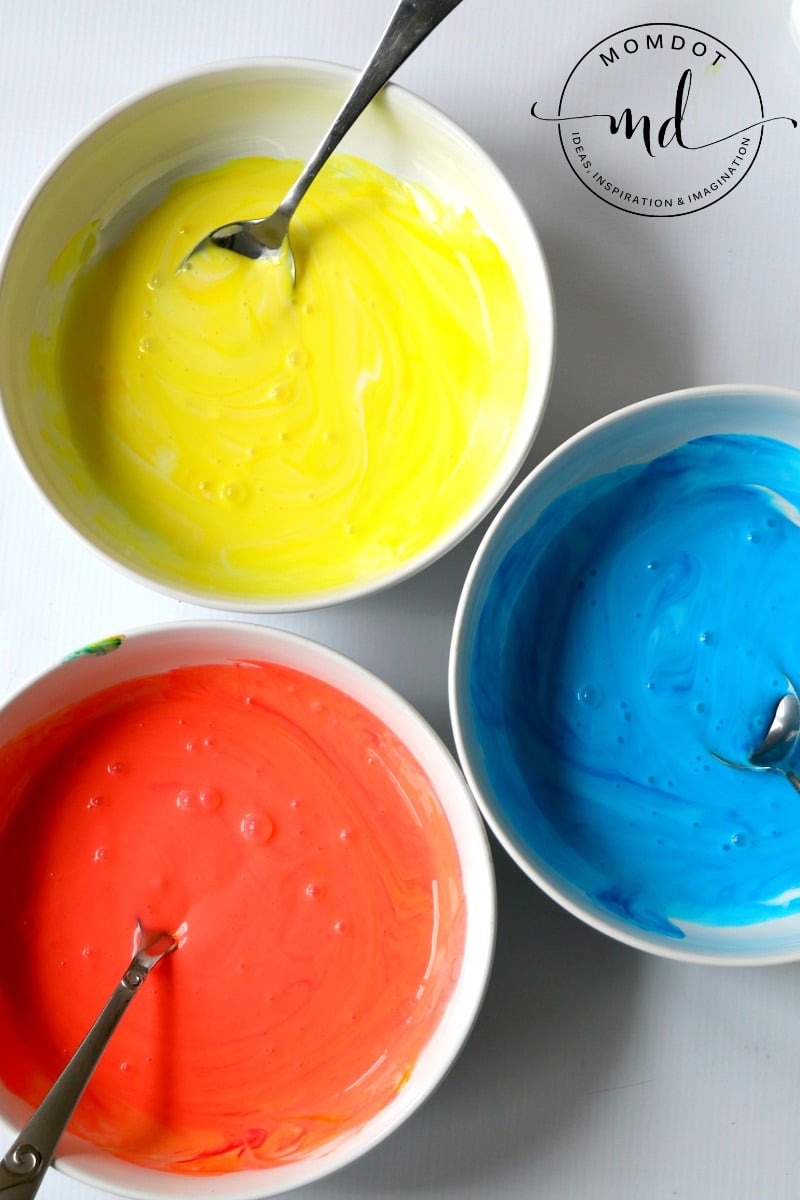 ---
DIY Flubber Slime Stays
The consistency of this slime is so much fun because its more of a flubber.
It's easily moldable and while still flows like a slow slime, leaves impressions and can even be cut with scissors!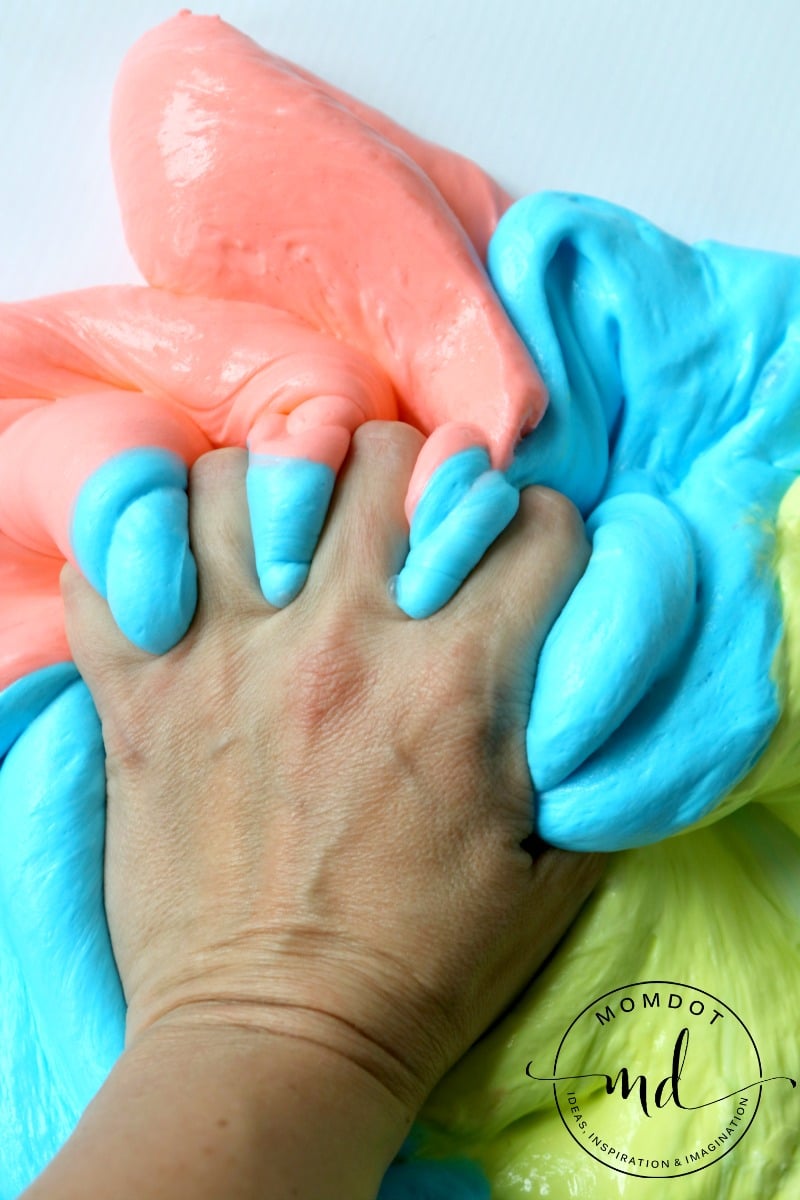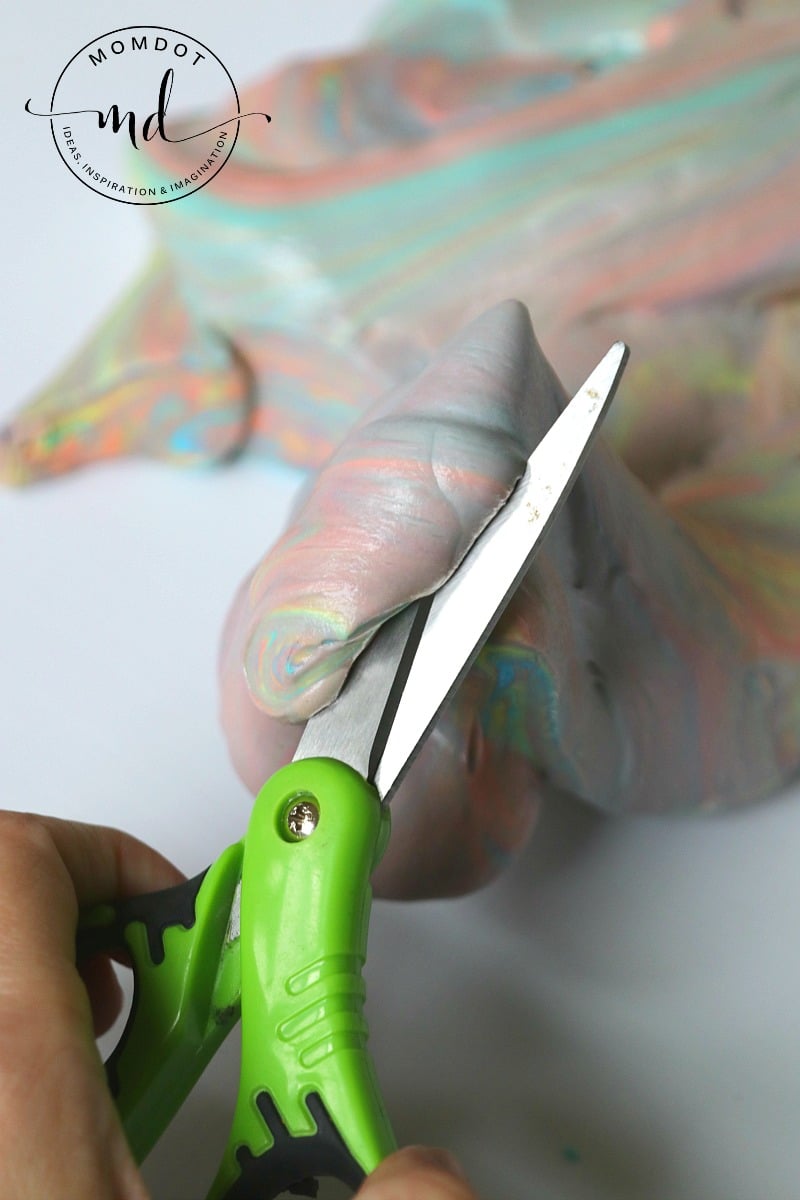 I also wanted to show you some cool fluffy slime my friend Jennifer made! Just click below to head to her site:
Make sure you pin!'
Love this? Try Unicorn Poop Fluffy Slime